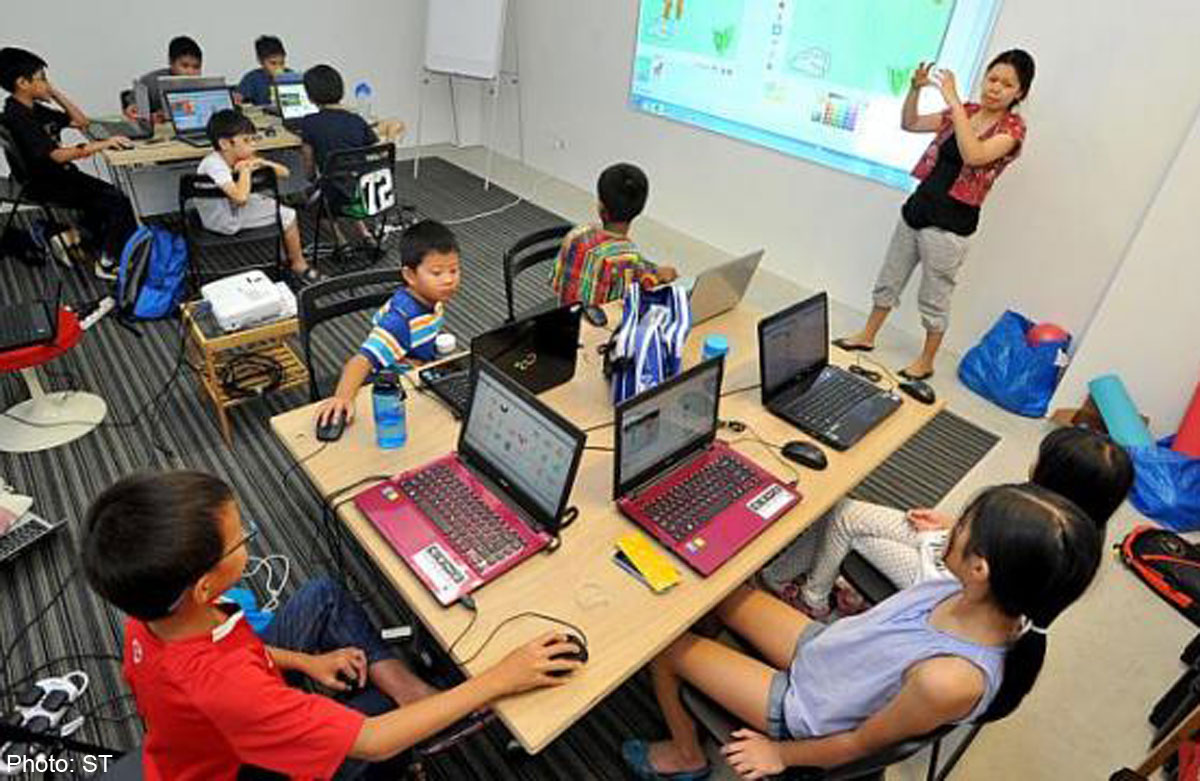 The last thing parents may want their children to be doing during the holidays is to be hunched over a keyboard, staring intently at a computer screen while typing and clicking away.
But more are sending their children for holiday boot camps and workshops that teach them to code and programme their own games and applications.
The Sunday Times spoke to coding centres, including Saturday Kids, The Kid Coders and CompuThink, which said they are increasing the number of workshops for six- to 12-year-olds because of a rise in demand.
When Saturday Kids launched in 2013, the centre offered only two workshops during the June holidays for about 20 students. This year, it will take in 90 students over nine workshops.
"We had initially decided to offer only three workshops this year, but the demand was so high that we had to hold nine," said co-founder Adeline Chu, 44.
Similarly, when Ms Juliana Ung, 30, started The Kid Coders two years ago, she had just three students in her first class. Today, she runs three classes with 28 students during the holidays.
The workshops cost between $200 and $300 for about 10 hours of lesson time, held over several days during the holidays.
Centres said parents are becoming increasingly aware of the importance and relevance of coding.
"Parents are more attuned nowadays to technology and programming," said Ms Chu. "They see it as quite a healthy intellectual pursuit for their children."
Instead of using advanced computer languages like Java or C++, the centres teach young students using Scratch, a programming language based on visuals and animation, rather than lines of code.
Foreign start-ups have also noticed Singapore's demand for coding lessons. Hong Kong-based First Code Academy, which opened two years ago, has launched nine workshops in Singapore during the current holidays.
"Singapore is a good choice because the Government is supportive of coding, and the start-up scene here is growing - they need a lot of programmers," said its business development manager Kevon Cheung, 25.
About 70 students have signed up for First Code's classes, which start from $800 for 20 hours of lessons spread over two weeks.
Demand has also grown beyond holiday camps or workshops, with centres saying that they have received more requests for weekend lessons throughout the year.
Ms Fong Siew Meng, 39, signed up her eight-year-old son Isaac after reading how coding can be taught through video games, such as Minecraft, which he enjoys.
The supply-chain planner said: "The value of coding will come into play when he grows older. If classes help kindle an interest in coding, it might help him in the future."
For Isaac, his foray into coding has been fun. Instead of immediately playing Minecraft when he gets home from coding class, he spends time working on his code.
"We do a lot of things, like making quizzes or animals walk and talk," he said. "I can be creative and think of my own stuff to make."

This article was first published on June 14, 2015.
Get a copy of The Straits Times or go to straitstimes.com for more stories.