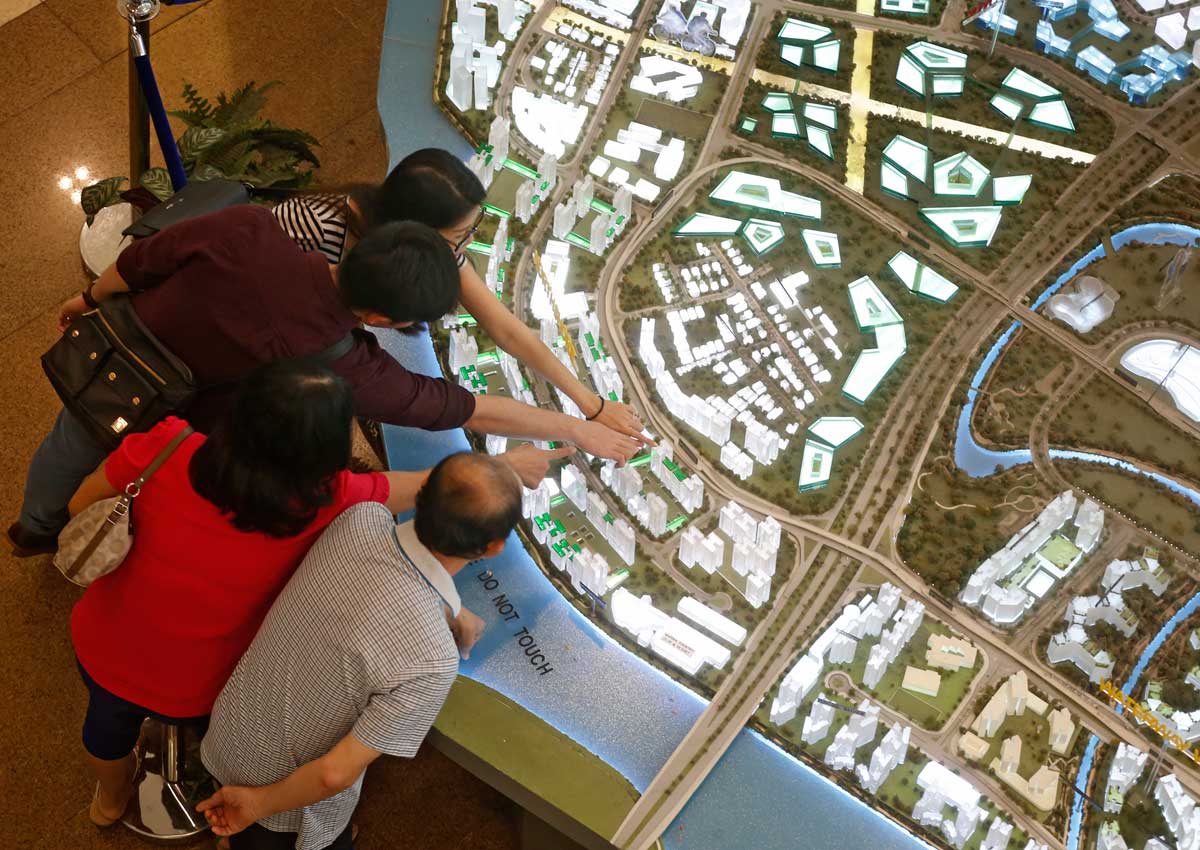 Applicants for new Housing Board flats and executive condominiums (ECs) need not worry about greater competition now that the income ceiling has been raised, as supply can be tweaked accordingly, National Development Minister Khaw Boon Wan said yesterday.
"We have leverage over the supply and we can always adjust the supply - expand and reduce as necessary," he told reporters at the HDB Hub in Toa Payoh.
Mr Khaw was responding to concerns about whether the higher income limit would create more competition, as more buyers qualify to apply for Build-to-Order (BTO) flats and ECs. From yesterday, the income ceiling for Singaporean households to buy new flats and ECs was raised by $2,000, to $12,000 and $14,000 respectively.
Mr Khaw said this change had not been possible three years ago as the authorities were still addressing a demand backlog for BTO flats.
"Now that we've cleared the queue largely, I think it's (a good time)," he said.
Asked if EC developers might raise prices as more buyers qualify under the new income ceiling, Mr Khaw again pointed to the Government's supply control.
"It's like a tap," he said. "If I were an EC developer... I would think three times. Many of them I know are thinking about adjusting (the prices) downwards to meet the increased supply of ECs versus the demand that has now largely been satisfied."
The Ministry of National Development (MND) and HDB said 21,000 families benefited from the last income ceiling rise in 2011.
Mr Khaw also dismissed notions that the latest housing policy changes were timed just ahead of the coming general election (GE).
"If you have been watching what we've been doing since I entered MND more than four years ago, we've been making adjustments, practically every year, because my objectives are quite clear: That home ownership is a very important part of the governance of Singapore.
"But as society evolves, salaries adjust, you need to adjust the policies as we go along," Mr Khaw said, adding that the focus shifts across different groups each time.
"So that is how I approach the problems. And has it got to do with GE? I could not care less when the GE is. But problems need to be resolved."
He also stressed that housing policies are "never at the expense of the lower-income group".
"Even as we extend upwards to the higher-income group, we are also improving or enhancing the subsidy for the low-income group. What it means is that, in totality, more Singaporeans get to benefit from housing subsidies. "
Mr Khaw added that an upcoming scheme to help rental families buy their own flats again will require "a lot of thinking through".
The Fresh Start Housing Scheme, announced during Sunday's National Day Rally, will target families with young children who used to own a flat, but sold it and now live in public rental units.
They will be offered two-room flats with shorter leases and stricter resale conditions.
The public and social work agencies will be consulted on the details of the scheme.
Mr Khaw said: "We are not ready for implementation yet, but it's something that I'm confident we'll be able to sort out for implementation over the next few months, which means probably next year."
yeosamjo@sph.com.sg

This article was first published on August 25, 2015.
Get a copy of The Straits Times or go to straitstimes.com for more stories.