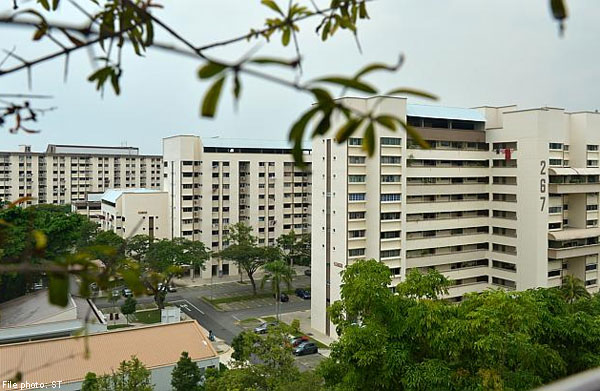 SINGAPORE - Upgrading programmes for Housing Board estates will be ramped up, with more neighbourhoods undergoing revamps, older flats upgraded quicker, and more modern lifts with safety features.

Get the full story from The Straits Times.
Here is the press release from HDB:
HDB Enhances Upgrading Programmes to Benefit More Homes and Improve Living Environment in HDB Towns
The Housing & Development Board (HDB) will make three enhancements to its upgrading programmes, to benefit more homes and improve the living environment of Singaporeans in HDB towns. Minister for National Development Khaw Boon Wan announced these enhancements at the HDB Awards Dinner on 10 September 2014.
Ramp up the Home Improvement Programme (HIP)
First, HDB will ramp up the HIP, to select and of fer HIP to another 100,000 flats next year, for implementation within the next two years. The pace of HIP will be stepped up from 35,000 to 50,000 flats a year. This will allow more homes to benefit from HIP earlier. With the ramp-up, HDB expects to complete selection of all eligible flats by 2018, rather than 2019. In 2015, HDB will also select flats for HIP for both 2015 and 2016 for implementation within the next two years. The early selection will help residents who plan to renovate their flats to better decide whether to wait for HIP or proceed with their own renovations first.
With the ramp up in HIP, Enhancement for Active S eniors (EASE), which is implemented with HIP, will also be stepped up. Elderly residents will benefit from EASE earlier, and enjoy grab-bars, ramps and slip-resistant treatment to floor tiles to help make their homes elderly-friendly.
Extend and Enhance the Neighbourhood Renewal Programme (NRP)
Second, HDB will extend the NRP to cover blocks b uilt up to 1995. Currently, NRP only covers blocks built up to 1989. The 6-year extension will benefit an additional 100,000 households in over 1,300 blocks. These are mostly in middle-aged towns such as Choa Chu Kang, Pasir Ris and Tampines.
HDB will also expand the scope of NRP works to include repainting of blocks and other repairs. The NRP budget will be increased from $3,400 to $4,700 per flat to fund the additional upgrading works. The expansion will allow better coordination of NRP works with the Town Council's routine maintenance programme. Blocks and precincts can then be more comprehensively rejuvenated, without inconveniencing the residents twice.
Introduce the Selective Lift Replacement Programme (SLRP)
Third, HDB will introduce a new Selective Lift Re placement Programme (SLRP) to help replace about 750 old lifts with modern lif ts that come with more energy-efficient motors, vision panels and infra-red doors with motion safety sensors for added energy efficiency, safety and security. These lifts were installed between 1987 and 1997, and are in blocks that are already barrier-free and do not need upgrading under the Lift Upgrading Programme (LUP). However, they lack certain safety and security features that come with modern lifts. HDB will help co-pay for the replacement of these lifts when the Town Council is ready to replace them. This will benefit about 33,000 households, living mostly in Choa Chu Kang and Pasir Ris towns.
HDB Upgrading Programmes
HDB refreshes and revitalises HDB towns where majo rity of Singaporeans live, through various upgrading programmes, such as the HIP, EASE and NRP.
HIP
The HIP was introduced in 2007 to help address common maintenance problems. Flats are eligible for the HIP if they we rebuilt in 1986 or before and have not undergone the Main Upgrading Programme (MUP). About 300,000 flats are eligible for HIP. Of these, more than 120,000 flats have been offered HIP and are in various stages of implementation.
HIP includes essential improvements and optional improvements. Essential improvements include (1) repair of spalling concret e; (2) repair of structural cracks; (3) replacement of waste pipes; (4) replacement of pipe sockets with clothes drying racks; and (5) upgrading of electrical supply. Optional improvements include (1) upgrading of toilets/bathrooms; (2) replacement of entrance door; (3) replacement of grille gate; and (4) replacement of refuse chute hopper.
The budget for HIP is $25,600 per flat. The Government fully funds the essential improvements and subsidises between 87.5 per cent and 95 per cent of the cost of optional improvements for Singapore Citizen households, with more help given to smaller flat types.
EASE
The EASE programme was introduced in 2012 to enhance the safety and comfort of seniors living in HDB flats. Under EASE, home owners can choose a range of elderly-friendly fittings to help elderly family members move around in their flats with ease. These fittings include slip-resist ant treatment to the floor tiles of two existing bathrooms/toilets, grab bars to two existing bathrooms/toilets and ramps (where technically feasible).
The EASE programme is available to residents through two ways:-
(i) Home Improvement Programme (HIP) with EASE
EASE items are offered as additional Optional Improvements under HIP.
(ii) Direct Application for EASE
Singapore Citizen households that have an elderly member aged 65 years and above or with at least one member aged between 60 and 64 years who requires assistance for one or more of their Activities of Daily Living can apply directly to HDB for EASE.
The budget for EASE is $2,500 per flat. Similar to other upgrading programmes, the Government subsidises between 87.5 per cent and 95 per cent of the cost of the EASE improvements for Singapore Citizen (SC) households, with more help given to smaller flat types. SC households only need to pay between $125 and $312.50, depending on their flat type.
NRP
The NRP was introduced in 2007 as a "ground-up" initiative and a community building programme to actively engage residents in the shaping of their living environment through block-level and neighbourhood-level improvements. Block-level improvements include (1) new letterboxes, (2) residents' corners, (3) seating area at void decks, and (4) lift lobby tiling at 1st storey. Neighbourhood-level improvements include (1) sheltered drop-off porches, (2) covered link-way, (3) playground, (4) footpath/jogging track, (5) fitness corner, (6) street football pitch, (7) pavilion/shelter, and (8) landscaping. The list is not exhaustive and residents can propose other improvements which they value for implementation. For example, NRP can be used to fund seating areas and public toilets at the void deck and in the neighbourhood to help make the estates more elderly-friendly. This is a suggestion many elderly have made at focus group discussions on how our public housing estates can better support an ageing population.
NRP works are fully funded by the Government at a budget of $3,400 per flat. Residents do not have to pay for any of the NRP improvement works. Under the current eligibility criteria, about 187,000 flats are eligible for NRP. 134,000 flats have been announced and are in various stages of implementation.