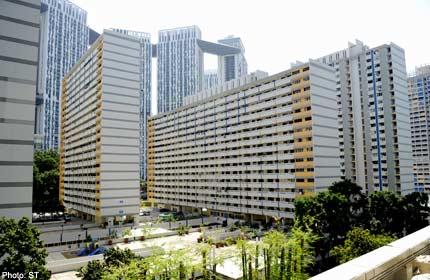 SINGAPORE - The Housing Board will be making more tworoom flats available for singles.
The first offer of 519 build-toorder (BTO) two-room flats attracted applications from about 8,800 singles.
"We expect to see such huge oversubscription for many more BTO exercises," National Development Minister Khaw Boon Wan (right) wrote on his blog on Monday.
"But we will work to address the demand." He said HDB will offer for sale all the two-room units in non-mature estates left over from previous BTO exercises. This will add about 1,100 flats to this month's launch of about 190 units.
It will also launch another 450 units in November.
In all, some 2,500 two-room flats in non-mature estates will be launched this year, Mr Khaw wrote.
HDB has also tweaked the design of BTO projects to include more such flats. This means next year's supply will be doubled to 5,000 units.
Singles, who could only buy resale flats previously, have been allowed to apply for BTO flats since July.
There are more than 220,000 single Singaporeans aged 35 and above. "Most are living comfortably with their families in HDB flats or private properties," Mr Khaw wrote. "Not everyone would be eligible, or want to buy a flat."
But the increased supply "will enable more singles to realise their dreams of owning their homes".

Get The New Paper for more stories.