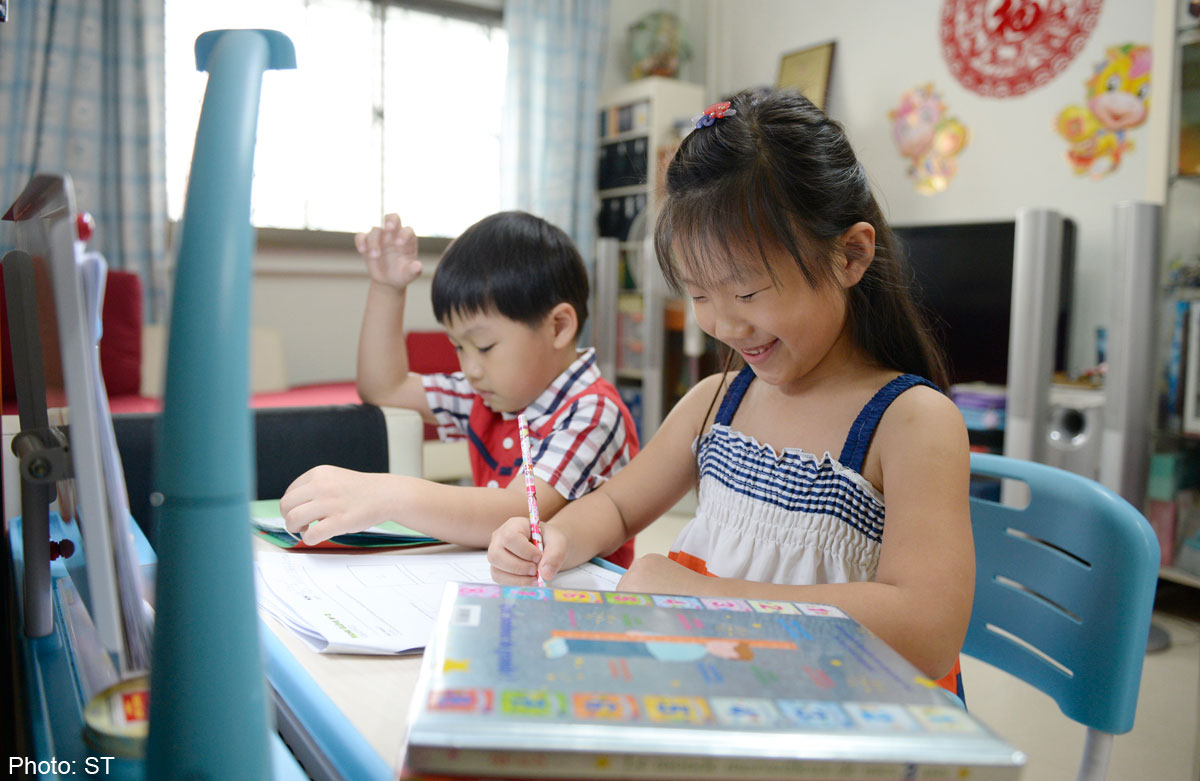 SINGAPORE - Move over, bilingualism - the number of children aged 12 and below learning a third language is inching up.
More parents are sending their children to pick up French, Spanish and Japanese, among other languages, at foreign language schools or pre-schools.
At the Goethe-Institut Singapur, a German language school, up to 30 children aged between seven and 11 years old are taking German as a foreign language. This is up from only six pupils in 2012, said the school's language department head, Anja Geissel.
Spanish language school Las Lilas now has 60 Singaporean pupils - aged 12 and below - learning the language, up from 45 in 2012.
And at Bibinogs Preschool, which has four branches in Singapore, more non-Mandarin speaking families are choosing to send their children for third-language Mandarin classes. Its education director, Lee Yee Ping, said that the number of such pupils has gone up by 30 per cent this year, compared to last year.
French language school Alliance Francaise de Singapour is now teaching French to 188 Singaporean children aged between one and 12 years old, said director of studies Emmanuel Laine. This is out of 480 children in total, he said, adding that more Singaporeans are learning French now, although he could not provide figures.
Over at EtonHouse pre-school, up to 30 per cent of pupils learn a third language. They can choose to take up Japanese, Malay or Hindi, on top of their bilingual programme.
Parents whom My Paper spoke to believe that sending their children for third-language lessons early means a faster pick-up rate.
Said Loy Zhi-yang, 36: "The younger (they are), the better and easier (it is for them to pick up a language). It also helps to stimulate the brain and improve linguistic abilities."
Dr Loy's two children, Xing-Han, five, and Xing-Yi, seven, started learning French at two years of age and 18 months, respectively. Both also speak some Japanese and Tagalog, and the family has hired a private tutor to help the children with their French homework.
Radiologist Adeline Hong, 36, whose two children - aged 10 and 12 - are learning German, said: "I think learning a third language is an investment for my children's future. When you start them younger, it's less pressurising and more interesting because they don't learn it as an academic subject."
But some voiced caution against teaching a young child too many languages.
Christina Koh, managing director of ArtKidz International, a pre-school brand with two branches here, said: "It's not really effective for local kids to sit in during foreign language classes because they can't participate or practise speaking at home."
ArtKidz offers Japanese or Korean as a third language to only a select few each year, she said. Pupils have to be very good in their first two languages before they are allowed to pick up a third.
But others - like Audrey Lim, senior lecturer for early childhood and special needs education at the National Institute of Education - agree that starting early is a good thing.
"Children who start learning a third language at a younger age can 'tune in' to its sounds better and have better pronunciation, compared to children who pick it up later," said Dr Lim.
Using storytelling or play will better ease kids into learning a third language formally, she added. "We should make learning fun, instead of turning them off."

Get MyPaper for more stories.