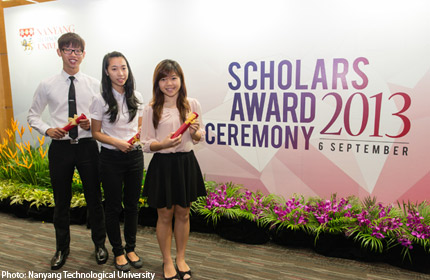 SINGAPORE - The Nanyang Technological University (NTU) has seen a 42 per cent increase in the number of university scholarships awarded this year, compared to two years ago.
According to the university, "this is a reflection of the higher quality of students enrolling at NTU".
There has also been a 60 per cent jump in the number of top A-Level students enrolling at NTU this year compared to two years ago, said the school in a media statement. This year, NTU also enrolled its first cohort of medical students at the Lee Kong Chian School of Medicine.
The university welcomed a new cohort of scholars and scholarship recipients at the 2013 Scholars Award Ceremony held today.
In all, 271 outstanding students were selected out of thousands of applicants, to receive NTU's top scholarship, the Nanyang Scholarship and/or be accepted into NTU's three premier scholars' programmes - Renaissance Engineering Programme, C N Yang Scholars Programme and University Scholars Programme.
Students enrolled in the three scholars programmes can look forward to attending special seminars led by eminent professors and Nobel laureates as well as workshops by accomplished speakers from various fields.
A hallmark of these premier programmes is guaranteed overseas exchange opportunities at top universities, such as the University of California, Berkeley.
Of the 364 University Scholarships awarded this year, 195 students were awarded the Nanyang Scholarship, while 169 received the College-level Scholarship. NTU's three premier scholars programme took in a total of 147 top students this year.
candicec@sph.com.sg