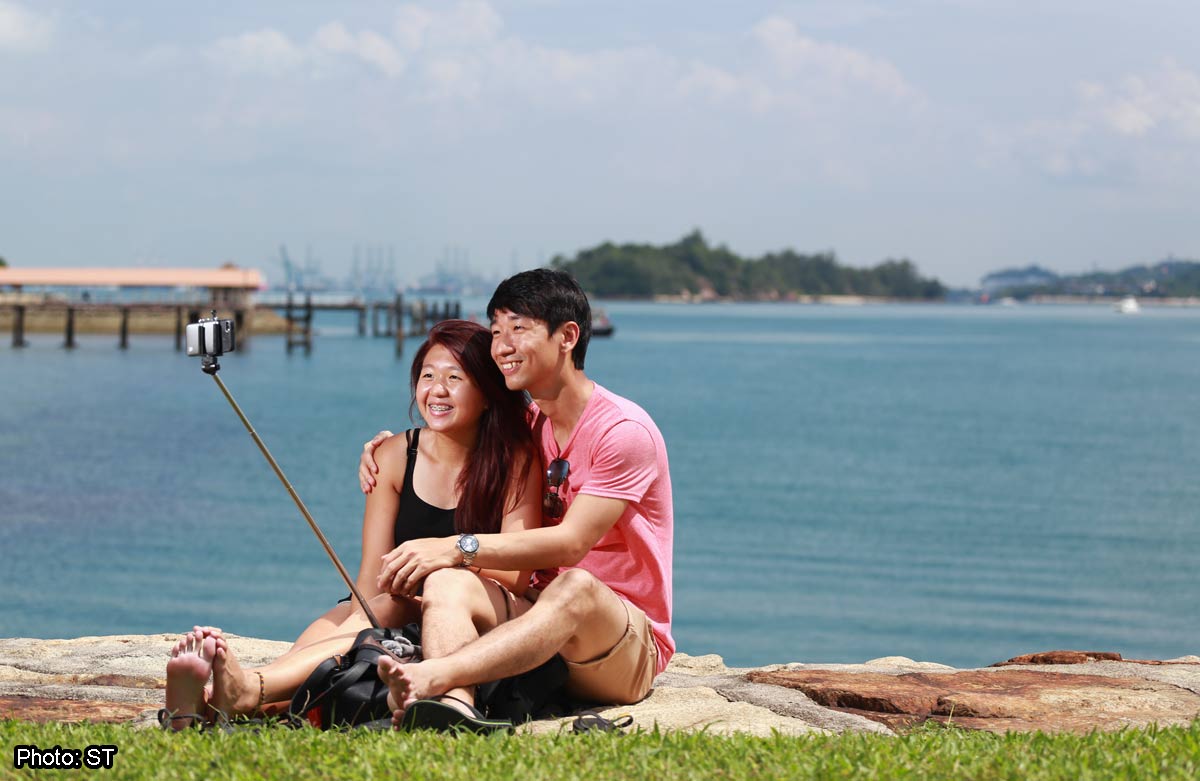 Former national sailor Thomas Leow wanted the photo shoot for his son's upcoming wedding to be especially memorable.
So, two Sundays ago, the 60-year-old managing director took his son Norvin, a 28-year-old civil servant, and his future daughter-in-law to the Southern Islands on his personal yacht.
The party docked at Lazarus Island - an uninhabited islet linked to St John's Island by a narrow causeway - for a photo shoot.
"Not many Singaporeans know about this place because it is so far out, but Lazarus Island has a very lovely beach," said Mr Leow.
"There's really no need to go out of the country to take beautiful photos when you have clear waters so close to Singapore," he said.
Mr Leow is not alone in his discovery. Touted as one of Singapore's last unspoilt beach frontiers, Lazarus Island has grown in popularity with Singaporeans eager for a quiet beach hideout far from the madding crowd.
The Sentosa Development Corporation (SDC), which manages the Southern Islands, estimates that visits to St John's Island and Lazarus Island have almost doubled from 26,000 in 2010 to nearly 40,000 last year.
The 47ha isle, which is about a fifth of Toa Payoh's size, was originally known as Pulau Sakijang Pelepah, literally translated as "Island of One Barking Deer and Palms". It is not clear why or when it was renamed Lazarus Island.
In the late 19th century, Lazarus Island housed several convict prison confinement sheds, only to be abandoned after a prisoner made an escape. The sheds were destroyed in a fire in 1902.
In the 1960s, the island was used as a radar base for civil aviation. However, by the 1970s, management of the Southern Islands was taken over by SDC, and Lazarus Island was earmarked for recreation development.
Although proposals to develop Lazarus Island as a beach resort were called for in 1988, these plans never materialised.
The island is listed for sports and recreation use in the Urban Redevelopment Authority Master Plan 2008. It is also listed as "Park/Open Space" in the Parks and Waterbodies Plan.
As if to accentuate its isolation from the buzz of city life, there is no direct way to get to the island.
The easiest way is to hop onto a ferry at Marina South Pier and get off at St John's Island. From there, one has to walk about 10 minutes and cross the causeway to get to Lazarus Island.
The only other way is to rent a yacht. Yacht rentals start from $590 for four hours on weekdays.
For Glenda Tan, 21, a sociology undergraduate, a trip to Lazarus Island with her boyfriend was their idea of a quiet date.
"The beach is unspoilt and the waters here are cleaner," she said.
Kalyani Basu, a 21-year-old business development analyst, also finds Lazarus a good place to unwind.
"I came here to wind down from a stressful week. It is very quiet here and I find it easy to relax."
For Shannon Lai, a 19-year-old polytechnic student, the increasing online coverage was what drew her and her friends to the island.
"I read about it on the Internet, and it's really what it is; a nice, quiet beach," she said.
Theatre undergraduate Debbie Yew recently rented a yacht for her 22nd birthday and stopped over at Lazarus Island.
"Lazarus Island is a good stopover if you want to chill and get off for a while," she said.
"The water is pretty clear and it wasn't too crowded even on a Saturday," she added.
While most people agreed that the serene, unspoilt nature of the island was cause for celebration, a few hoped for more facilities on the island, which has shelters but no toilets.
"There is no showering point on the island. We have to walk over to St John's Island to use one," said Ms Basu.
"It would also be great if we could get food here," she added.
Said Ms Lai: "It's not absolutely necessary as it's not a long walk, but it will be nice to have a showering point nearby at least."
Dustbins are also few and far between. Although signs were put up around the island encouraging visitors to throw their rubbish in the bins, litter was abundant when The Straits Times visited on a Sunday last month.
Goh Soon Huat, manager of the Southern Islands at SDC, said a cleaning team cleans the beaches daily from Monday to Saturday, but the increased visitors might have caused the litter problem.
"We strongly urge visitors to hold on to their rubbish until they reach the mainland, or dispose of them at the available rubbish bins on the island," said Mr Goh.
Mr Norvin Leow said the island that provided the backdrop for his wedding photos is actually not looking its best these days.
He said: "Lazarus Island wasn't always like this. It has become dirtier and there's a lot of litter. I hope it will get better soon."
lookww@sph.com.sg
miranday@sph.com.sg

Get MyPaper for more stories.