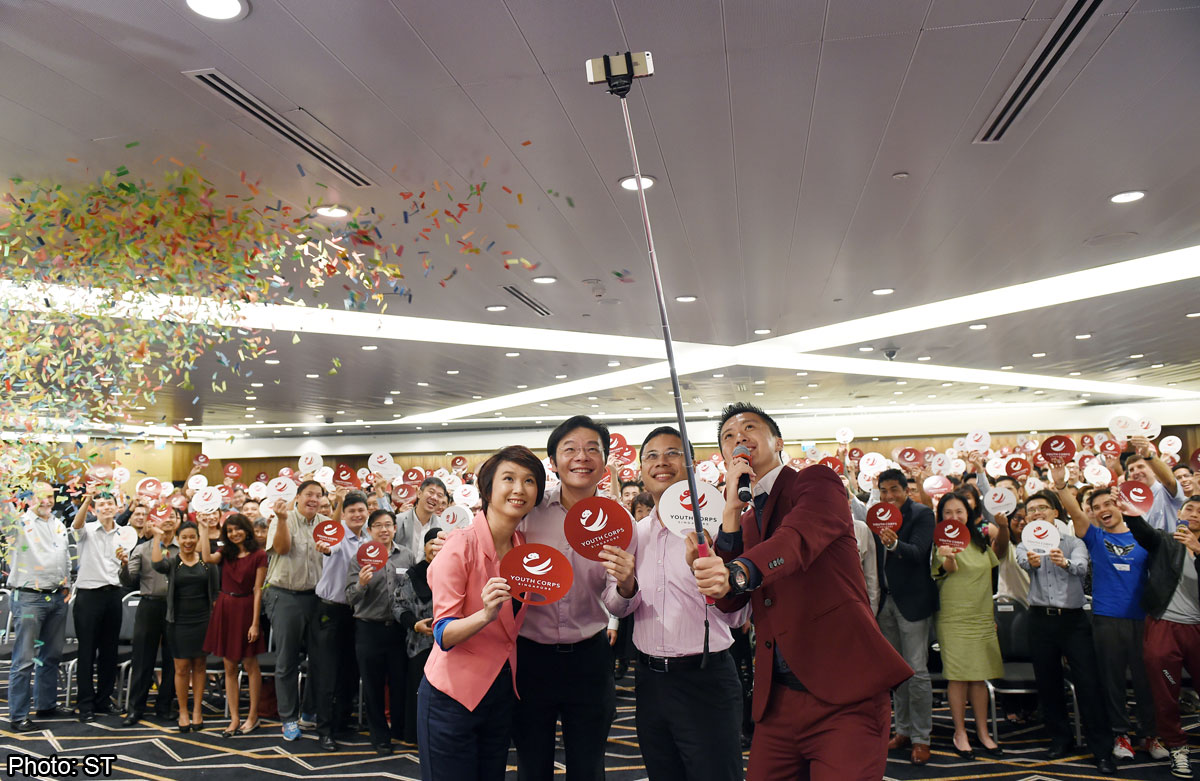 More young people are becoming active citizens, with nearly seven in 10 involved last year in community groups such as those for the arts, sports or social welfare.
One of the reasons is the National Youth Council (NYC), which has been making efforts to grow the youth sector over the years, said Minister for Culture, Community and Youth Lawrence Wong at the inaugural Singapore Youth Conference yesterday.
And with more than 200 youth organisations in Singapore today, the NYC will be restructured into an autonomous agency under the ministry so that it can become a stronger national body coordinating youth development, said Mr Wong, who is also the NYC chairman.
The council was formed under the People's Association in 1989. But there is a more diverse youth landscape today and reaching groups outside the grassroots sector can be difficult when the NYC is under PA, said Mr Wong.
Youth involvement in social groups has grown steadily, up from 58 per cent in 2010 and 44 per cent in 2002.
The latest figures are based on the National Youth Survey 2013, in which 2,843 young people aged 15 to 34 were polled. More findings will be released later this year.
More young people are like undergraduate Mohamed Abbas Sheyed Ebramsa, 23, who said: "More youths are socially aware of community needs, because of more information available on social media, and they want to give back."
He has been volunteering in different projects, such as teaching financial literacy to students, since 2008.
With many youth organisations offering different initiatives, said Mr Wong, "it's useful to take a step back and look at the bigger picture - to see how our various efforts can be better coordinated to complement one another more effectively... and to achieve better impact nationwide".
He was speaking to over 500 people from youth organisations and schools at the conference, held at Suntec Singapore Convention and Exhibition Centre.
Outward Bound Singapore (OBS), which is part of PA and organises adventure-based experiential learning activities for students, will also be taken out from under PA to be part of NYC.
Founded in 1967, OBS trains about 20,000 young people each year, with about 500 taking part in overseas programmes. It is a key partner for NYC and they have much in common, said Mr Wong.
Under the ministry, NYC and OBS will have more financial resources, and OBS' programmes will be expanded so it can reach out to more young people.
But Mr Wong also said that the revamped NYC "cannot and should not do everything alone", and will work with government agencies and community partners to drive holistic youth development.
Other plans for the new NYC include a review of the youth hangout *Scape at Orchard in order to better support young people's interests, as well as stepped-up efforts to support youth actions, such as through the volunteer scheme called the Youth Corps Singapore.
About 90 people were selected from more than 250 applicants for the pilot intake to the corps.
They will begin the first phase of their training programme this month, in leadership and project management skills.
They will then embark on a year-long commitment, in both local and overseas volunteering stints.
The new logo for Youth Corps Singapore - a crescent and stars on a swirl of red which flows outwards into a globe - was also unveiled at the conference.

This article was first published on June 14, 2014.
Get a copy of The Straits Times or go to straitstimes.com for more stories.