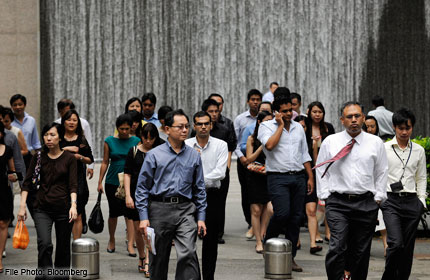 SINGAPORE - Close to half of the 100 organisations in a survey by the Land Transport Authority said they offer flexible work options so that their employees can travel during off-peak hours.
But fewer than one in 10 of their employees said they were aware of such schemes or were allowed to use them.
Minister of State for Transport Josephine Teo, who revealed these findings yesterday, said more can be done to give employees the option to work flexible hours and travel off-peak.
She was speaking at the inaugural Travel Smart Day seminar, which aims to get companies to come up with measures to help change the travel patterns of their employees.
The Travel Smart programme, launched in October last year, now has 12 companies committed to putting in place flexible work arrangements.
Citing a survey of public servants done last year, Mrs Teo said 35 per cent of respondents indicated they would like to change their current working hours, with 7 per cent saying they were willing to start work before 7.45am.
The results of the free morning pre-peak travel scheme on trains have been encouraging so far.
The number of commuters exiting at city stations has dropped by 6 to 7 per cent between 8am and 9am and increased by 18 to 19 per cent between 7am and 8am, she said.
Get The New Paper for more stories.