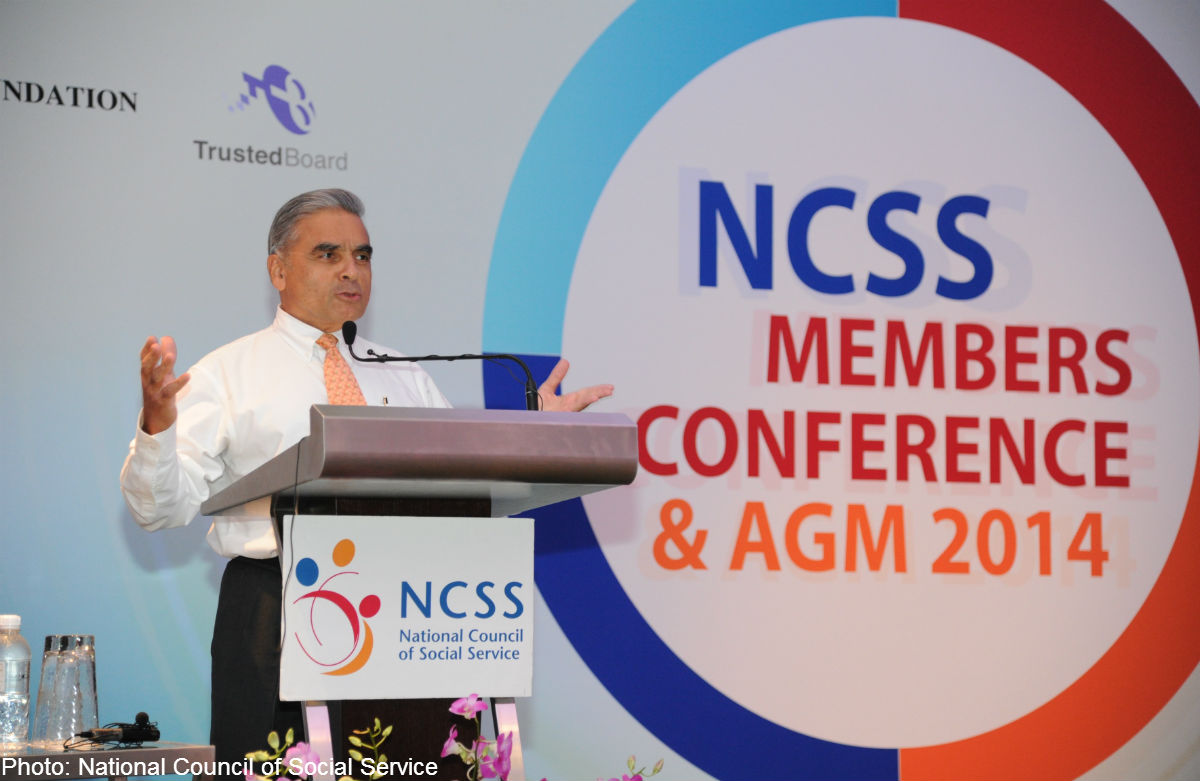 SINGAPORE - It's not about bleeding hearts and helping the downtrodden.
The social-service sector will play an increasingly important role as Singapore faces a widening income gap and as more foreigners move here, said academic Kishore Mahbubani, dean of the Lee Kuan Yew School of Public Policy.
Speaking at the National Council of Social Service (NCSS) Members Conference and Annual General Meeting, Professor Mahbubani said that the income gap and the influx of immigrants would create "social stresses" and tensions.
He said: "Your work becomes much more important, in making sure that the people at the bottom don't feel abandoned, left behind as society changes so rapidly in front of their eyes.
"It's not just about helping the individual, it's not just about making sure an 80-year-old person gets taken care (of). If you can create a much more caring society, a society in which people treasure and value each other, then you create a much stronger Singapore society that will withstand the challenges that we will inevitably face."
Indeed, the social-service sector will have to "move into a mindset of capabilities, solutions and resources", said Hsieh Fu Hua, president of NCSS, which has over 400 member voluntary welfare organisations (VWOs).
The operating expenditure of NCSS members has grown over nine per cent every year since 2007, to more than $700 million last year.
"With so many resources being pumped into the sector, and more coming. We have to move beyond looking to models like Mother Teresa, to a variety of other models," said Mr Hsieh.
"A heart of gold is not enough. It is not enough to operate as we used to do, with a poverty mindset and looking at charity as almost alms-giving."
To this end, the NCSS aims to set up a sector-wide system by next year to help VWOs manage volunteers better in terms of recruitment, training and deployment. A "structured" system for volunteer management will help in the sector's manpower crunch as resources are better utilised.
Lions Befrienders executive director Goh Boo Han added that the programme can raise awareness of the various programmes that VWOs have.
He said: "With more publicity, hopefully, we can attract more people to come forward. A lot of people want to volunteer, but they may not know which organisation is handling what programme."
Minister for Social and Family Development Chan Chun Sing, who was the guest of honour at the event, agreed that the social service sector "is not just about helping the poor".
Mr Chan said: "Very often, we talk about nation-building in the defence and security sphere. We talk about it having a strong economy, having companies to create jobs for our people, we talk about institutions like our health services, our housing services.
"But let us elevate social service to the same level as we talk about defence and economic success."
limyihan@sph.com.sg
Get MyPaper for more stories.