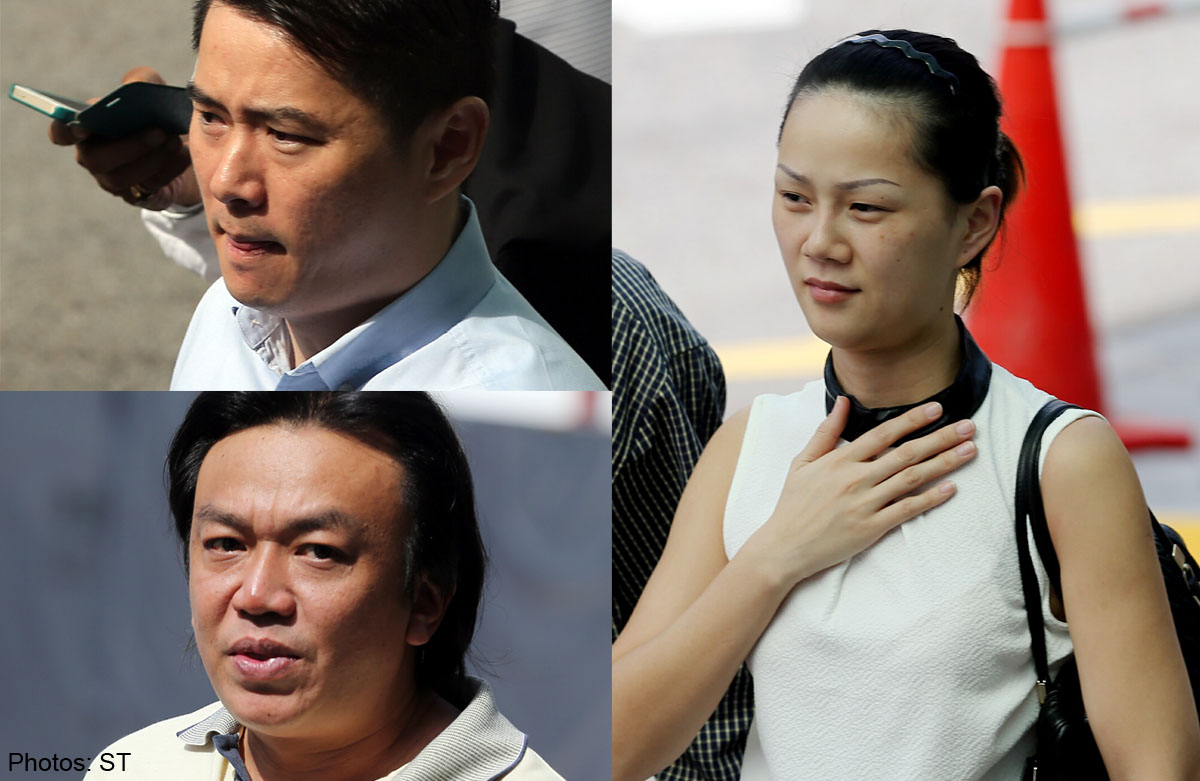 Nineteen more people, including a couple, were in court yesterday for allegedly taking part in motor insurance scams.
They faced conspiracy charges of defrauding insurance companies into paying them after they had staged accidents.
Last Friday, Koh Teck Ann, 37, was charged with two counts of conspiring with three others to cheat NTUC Income Insurance Co-operative of over $12,000 in 2009, when he claimed he had been in an accident in Ang Mo Kio Avenue 1.
His case has been fixed for a pre-trial conference on Dec 26.
Yesterday, one of Koh's alleged conspirators, Su Chia Ern, 44, faced 28 charges. Su was accused of scheming with up to four others to cheat NTUC Income and Tenet
Insurance into making payments for third-party property damage and injury claims in 2008 and 2009.
In one of the charges, he is said to have lied that he was driving a car that was involved in the Ang Mo Kio accident on Feb 9, 2009, and allegedly deceived NTUC Income into paying him $5,423. In all, the amount involved in his charges came up to about $269,000, in eight staged accidents.
Another of the 19, Chan Chee Wei, 32, who is being held in a drug rehabilitation centre, faced three charges of conspiracy to cheat NTUC Income of over $50,000.
He was also charged with giving false information to the police on Jan 24, 2009, by lying that he had been the driver of a car that was involved in an accident three days earlier in Sengkang.
Godfrey Liew Kok Hon, 39, faced three charges while his Chinese national wife, You Baolan, 26, faced one.
Liew allegedly conspired with Su, Pan Weida Pepin, 31, and Tan Eng Chui, 42, to cheat NTUC Income by saying he was driving a car that had been in an accident with another car in April 2009. NTUC Income paid him a total of $22,183, and $1,400 to Concept Services Enterprise for an own property damage claim.
You, a Singapore permanent resident, allegedly lied that she had been a passenger when the accident happened, and got NTUC Income to process a third-party bodily injury claim of $21,795 against the driver of the other car.
All the cases have either been fixed for a pre-trial conference on Jan 15 or adjourned to Dec 19.
When contacted, the General Insurance Association, whose members flag suspect claims, said the battle against fraud was an endless journey.
"We must continue to educate motorists to guard against fraudulent practices, and intensify our efforts to seek collaboration with government agencies in implementing initiatives to deter fraud and contain inflated claims," said Mr Derek Teo, the association's executive director.
elena@sph.com.sg

This article was first published on Dec 6, 2014.
Get a copy of The Straits Times or go to straitstimes.com for more stories.