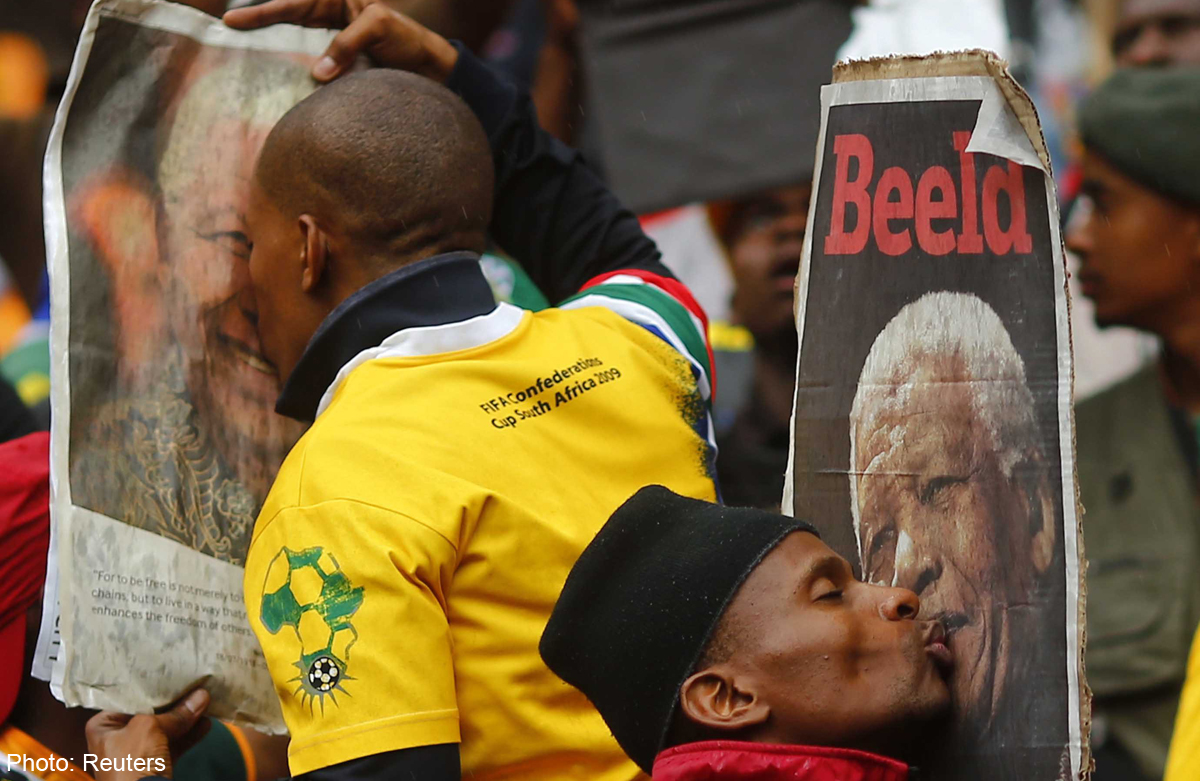 The man was a leader of a country thousands of kilometres away with a totally different culture.
Yet Singaporean Yussof Hussian felt the need to take time to sign a condolence book upon hearing of this man's death.
The man was the late Nelson Mandela.
The former South African president had the ability to relate to people and to bridge differences.
Said Mr Yussof, 29, an auxiliary police officer: "I have great respect for Mr Mandela. He truly deserves respect.
"He made a difference in the world, especially for the South African people."
Mr Yussof said he read about how Mr Mandela brought his country's whites and blacks together, despite being jailed for decades by the whites, and showed no rancour towards them.
He wrote in the condolence book: "You will be greatly missed by people around the world and may you rest in peace."
Mr Yussof was among a number of Singaporeans, including Minister for Foreign Affairs and Minister for Law K Shanmugam, who turned up on Monday and Tuesday to pay their respects and sign the condolence book.
The book is open for signing from 9am to 5pm daily till this Friday at the South African High Commission located at Odeon Towers, North Bridge Road.
Foreign dignitaries, ambassadors and representatives also streamed into the South African High Commission to pay their respects and pen a personal note for Mr Mandela in the book.
Another Singaporean, Mr Davy Young Pak Nang, said he was the second one to sign the book, after the ambassador for Spain.
The 67-year-old retiree turned up early on Monday morning.
Of Mr Mandela, he said: "He is an absolute inspiration. He fought for his country, his people. He persisted and never gave up.
"Despite the hardships he went through, he was able to forgive."
Mr Young said that he was still a student in the 1960s when he heard about Mr Mandela's fight against apartheid.
"I followed his fight throughout and when he finally achieved freedom, I was very happy for him."
Using "superhero" to describe him, he said Mr Mandela is someone he can "look up to and admire".
Singaporean Philip Khoo Cher Sun, 51, was also touched by the achievements of Mr Mandela.
He said: "He was a person who cared for the interests of the majority. And when he took over as a leader, he didn't use his power to take revenge.
"Based on his track record, I feel that he was someone who could handle big issues. He was... a leader of leaders. He was a person whom others should learn from."
'GREAT ICON'
Describing Mr Mandela as one of the "great icons of the world" and a "great friend of Singapore", Mr Shanmugam said: "He symbolised freedom, exuberance, the right of people to live in a democratic, free society.
"And (the notion) that no man should rule over another based on race or skin colour.
"That spirit was very powerful. It moved, I think, people around the world."
He added that Mr Mandela taught people the principle of living with dignity.
He said: "I think he symbolises one of the finest aspects of the human spirit."

Get The New Paper for more stories.