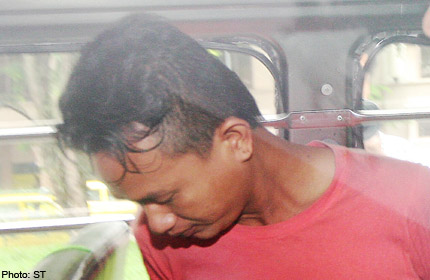 SINGAPORE - All the wounds found on Mr Shanmuganathan Dillidurai's body after his death in May 2010 were inflicted by Micheal Garing, his fellow accused Tony Imba, testified yesterday.
At least 20 wounds were found on the Indian national, who had been slashed with a parang during a robbery in Kallang.
Micheal, 25, had told the court on Tuesday that he had cut Mr Shanmuganathan, 41, twice - on his back and left arm.
He added that he was walking away when Tony snatched the parang from him and headed towards the victim.
Disputing this yesterday, Tony, 34, told Justice Choo Han Teck that he had not touched the parang.
Tony and Micheal, both Sarawakians, are on trial for the murder of Mr Shanmuganathan some time between 12.13am and 7.34am at an open field near Kallang Road on May 30.
They are also accused of earlier robbing and assaulting three other men: Mr Ang Jun Heng, 22, Mr Sandeep Singh, 27, and Mr Egan Karuppaiah, 42.
An accomplice to the robbery, Hairee Landak, 23, was sentenced to 33 years in jail and 24 strokes of the cane in January after pleading guilty to three charges of armed robbery with hurt.
A fourth suspect, Donny Meluda, is still at large.
No weapons 
Tony said that he had told the others not to use any weapons before they left a friend's home at Lorong 12, Geylang, on May 29 to begin their crime spree.
He told an interpreter in Malay: "I (told them), we are many. If we manage to get (our victims), it's good. If not, it's fine."
Questioned by his lawyer, Mr B.J. Lean, Tony admitted he had kicked Mr Shanmuganathan off his bicycle, causing him to be pinned under it.
Micheal then came forward, stepped on the bicycle and swung the parang at the victim several times, he said.
"I shouted at him: 'We are robbing, not to kill.' But he was not bothered by what I said," Tony added.
Mr Shanmuganathan managed to kick off his bicycle and tried to run away.
Tony said he chased after him to rob him, but Micheal reached him first and started attacking him.
After seeing Micheal wield his parang again, he pulled Hairee's hand and asked the younger man to head home with him.
They then walked away, he added.
"He is really cruel," Tony said as he glared and pointed his finger at Micheal who was sitting in the dock.
During cross-examination, Deputy Public Prosecutor Anandan Bala asked Tony why he did not just walk away when Micheal attacked Mr Shanmuganathan with the parang if he had been so against the use of weapons.
Tony replied: "I don't have an answer to that."
The defence and prosecution will make their submissions on Dec 11.
If convicted of murder, the accused will be sentenced to death or life imprisonment.
Get The New Paper for more stories.