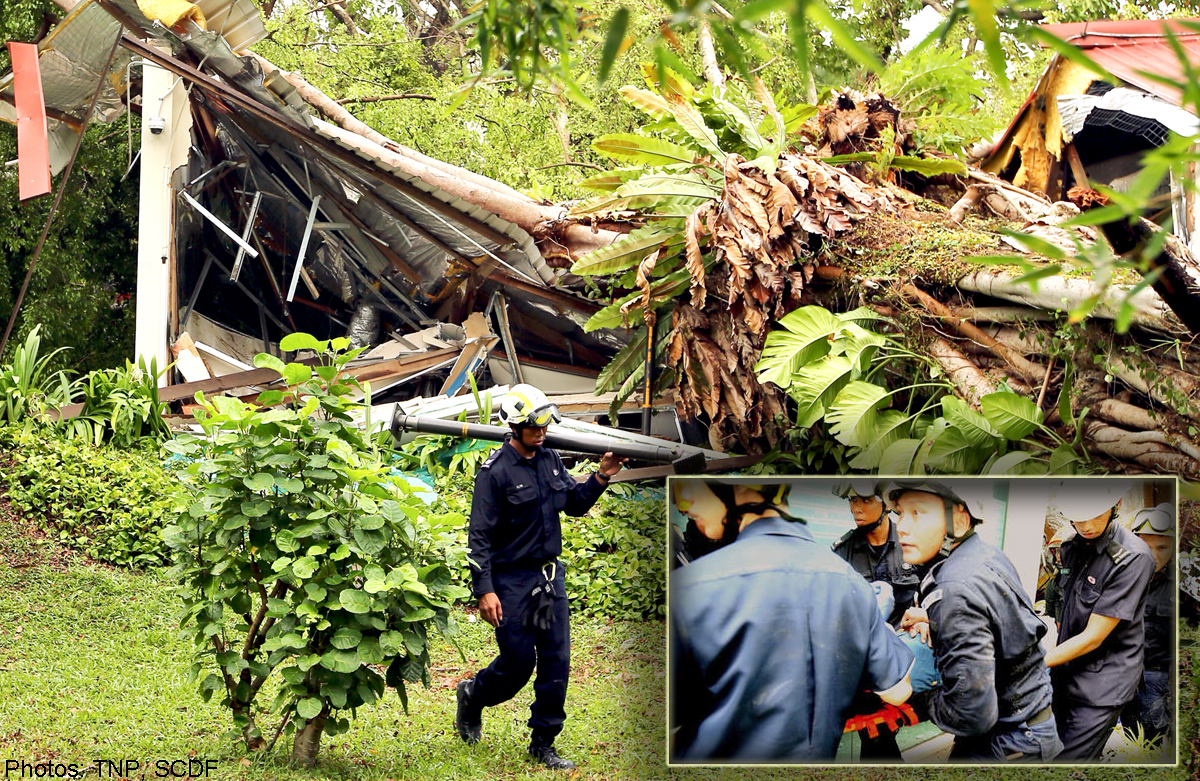 He looked extremely worried as he observed the rescue operation from afar.
A tree had fallen and crashed into a building which his friend had been working in.
"My friend from Myanmar is still inside," muttered the Myanmar national, who looked to be in his 20s.
"Another man, a Singaporean, was already taken out just now."
Both men were trapped in the rubble of the collapsed building, which was within the Alexandra Hospital (AH) compound.
Another two men who were also working in the building, believed to be a Singaporean and a Myanmar national, escaped with minor injuries.
The tree, said to be a ficus, was big - 15m tall with a 3m-wide trunk.
It had fallen on a single-storey pre-war building, near the AH auditorium, a former gym which was undergoing refurbishing works and was expected to reopen as a staff lounge soon.
The Singapore Civil Defence Force (SCDF) said it was alerted to the incident at about 3pm yesterday.
Two fire engines and an ambulance were sent to the scene.
ELECTRICAL WORKS
The New Paper understands that the workers were performing electrical works for AH.
Firefighters and officers from the Disaster Assistance and Rescue Team had to stabilise the fallen tree and the building structure before they could free the trapped workers.
An SCDF spokesman said: "The search and rescue operation had to be conducted cautiously by delicately creating space within the collapsed structure using hydraulic cutting and lifting equipment."
The Singaporean, who is in his 30s, was rescued about 40 minutes later.
The Myanmar national, who was pinned under concrete debris 4m away from the SCDF officers, was extricated some 45 minutes after the first rescue.
The whole operation took about 90 minutes.
The two trapped workers, both technicians, were taken to AH.
The SCDF said the Singaporean man suffered multiple abrasions on his body while the Myanmar national had a fractured spine.
The Singaporean was admitted to the general ward while the Myanmar national was taken to the hospital's Accident and Emergency department.
Besides the two casualties, AH said in a media statement that two others - one of the men's colleagues and a JurongHealth staff - were also in the building when the incident happened.
They sustained minor injuries and were discharged after receiving treatment.
An AH spokesman said the tree had collapsed during yesterday's thunderstorm.
She said it was in "good health with low maintenance".
"We conduct annual checks on the health of our trees by certified arborists.
"The last inspection of the trees around the hospital was done between mid-September and end-October last year.
"As part of our procedure, we will continue to do regular checks on the trees in the hospital," she said.
ashaffiq@sph.com.sg
This article was published on April 11 in The New Paper.


Get The New Paper for more stories.