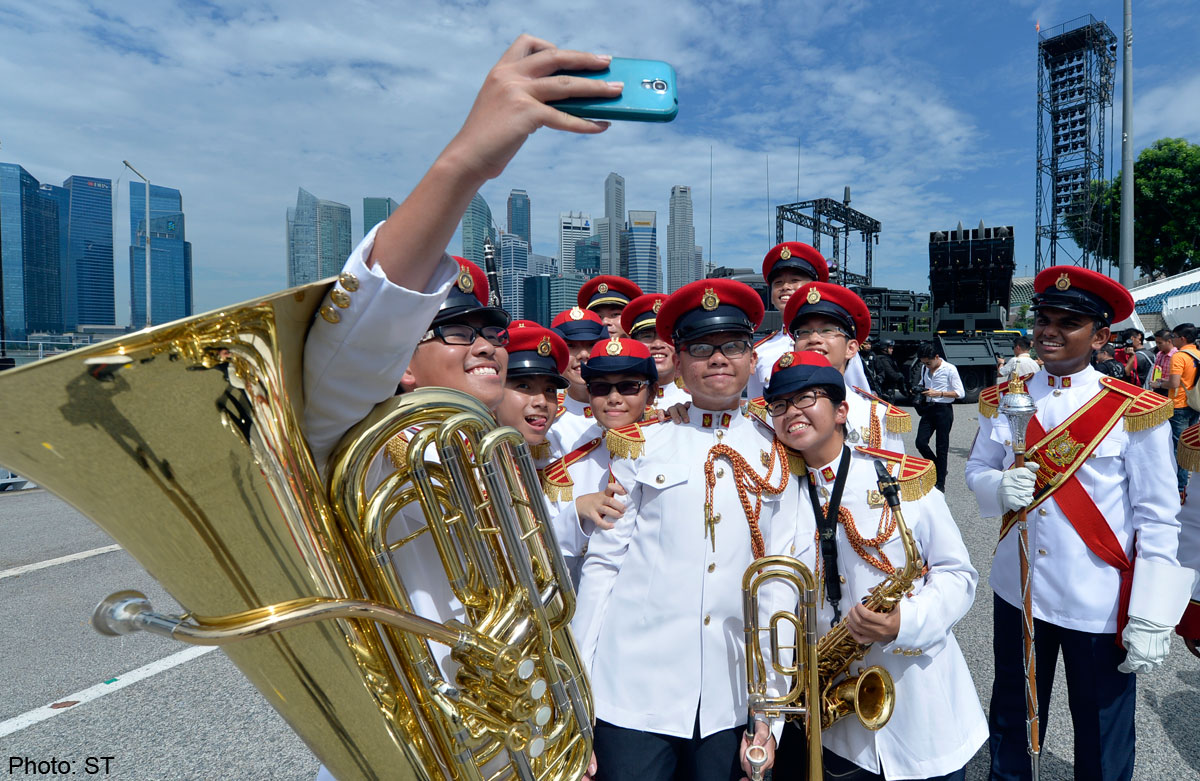 SINGAPORE - Singaporeans who have toiled long and hard to build the country will be recognised and celebrated in video and photo montages screened at this year's National Day Parade (NDP), said event organisers yesterday.
The "Heartbeat" montages will pay tribute to groups like the pioneer generation, and will be screened during the parade and ceremony segment. This is the first time the segment will have such a backdrop.
Traditionally, this segment - which consists of civil and military contingents forming up and marching - is formal and orderly. It is usually led by commands issued by the parade commander and sergeant-major.
But this year's parade is "a parade with heart", said Senior Lieutenant-Colonel Joseph Tan, who chairs the NDP's parade and ceremony committee.
"We want to recognise Singaporeans from all walks of life, past and present, coming together to celebrate what it means to be Singaporean," said Lt-Col Tan, at a media preview of the parade.
"We want to pay tribute to our pioneers, to recognise their struggles... and our caring families and communities that give us strength."
The contingents will lead the 30,000-strong audience to sing along to a medley of familiar songs - such as One People, One Nation and We Will Get There - to welcome President Tony Tan Keng Yam, who usually arrives during the parade segment.
The marching parade will feature close to 2,000 participants - the most since the event has been held at The Float @ Marina Bay.
It is the seventh and possibly the last time that the show will be staged in front of the city skyline. A potential venue for Singapore's 50th anniversary next year is the new Sports Hub in Kallang.
Parade participants include eight marching for the first time from the Movement for the Intellectually Disabled of Singapore. Ranging from 24 to 48 years of age, the eight are also playing drums in the seven-minute-long military band display that opens the parade.
Five out of the 14 civilian contingents this year are taking part for the first time. They will join the 21 other military and uniformed contingents marching this year.
The segment will wrap up with a display of military vehicles from the army, air force, navy, police and civil defence forces.
Following it will be the show segment of the parade, which will be directed this year by singer-songwriter Dick Lee.
The parade will be commanded by Lieutenant-Colonel Wong Pui Pin, 36, who is the brigade second-in-command of the 54th Singapore Armoured Brigade.
This article by The Straits Times was published in MyPaper, a free, bilingual newspaper published by Singapore Press Holdings.

Get a copy of The Straits Times or go to straitstimes.com for more stories.