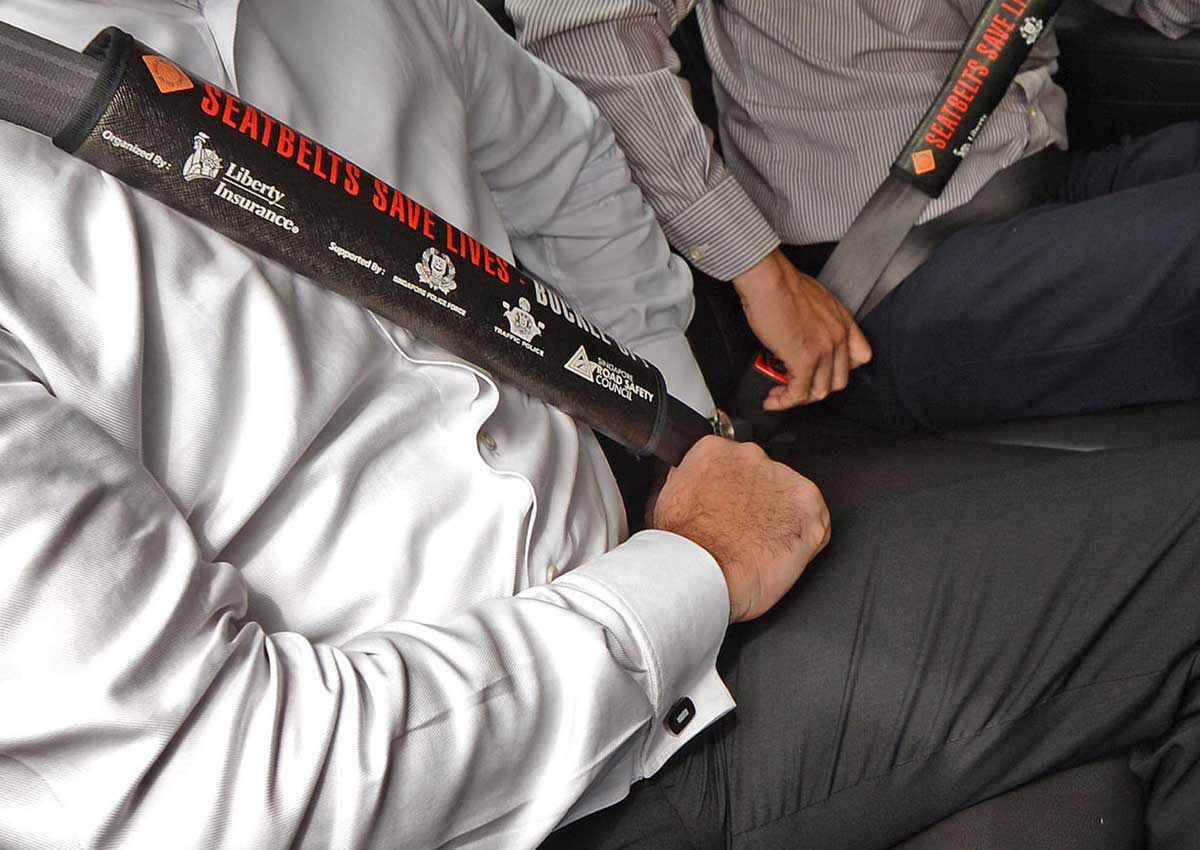 The courts may have to rule if cab drivers are obliged to wait until passengers belt up before driving off.
A woman passenger who claimed to be in the process of belting up when the cab moved off suffered serious injuries when the taxi collided with another car.
Lawyers say the test case would address the point in time that the liability to ensure seat belt use would kick in - when the car is stationary or when it is in motion.
Under the Road Traffic (Motor Vehicles, Wearing of Seat Belts) Rules 2011, the driver of a car has to ensure that every passenger is belted up, with some exceptions such as medical cases.
Dr Natsuko Ishikawa, 37, suffered skull, spinal and facial fractures when the cab made a right turn out of Leonie Hill into River Valley Road and collided with a Lexus heading in the direction of Clemenceau Avenue.
Dr Ishikawa, a Singaporean, was taken to the Singapore General Hospital following the March 2012 accident, where she stayed for two weeks, underwent surgery and had further treatment.
She is alleging negligence and seeking damages for medical expenses and treatment, loss of earnings and other items from cab driver Goh Pheng Choon as well as the driver of the second car.
She had boarded the cab and was fastening her seat belt after settling her things in the back seat when the collision took place, said her lawyer Renuka Chettiar in papers filed.
High Court suits involve claims of more than $250,000 although the actual sums, if the plaintiff succeeds, are assessed by the court.
Denying the claims, Mr Goh's lawyer Anthony Wee countered that Dr Ishikawa had failed to wear the seat belt when on board the taxi.
Whether or not the passenger should share blame for not wearing a seat belt, the case is understood to be the first reported in which the court would decide on how much the use of a seat belt would detract from the damages payable.
In a 1975 English case, Lord Alfred Denning ruled that if the injuries could be prevented altogether by the use of a seat belt, then the damages payable should be reduced by 25 per cent. If the failure to wear a seat belt made a considerable difference, then the damages should be cut by 15 per cent.
But if the injuries would have been the same if a seat belt had been worn, then the damages payable should not be reduced at all.
That case is believed to be cited, with modifications, as a standard reference in several Commonwealth countries such as Australia and Canada.
vijayan@sph.com.sg

This article was first published on July 10, 2015.
Get a copy of The Straits Times or go to straitstimes.com for more stories.