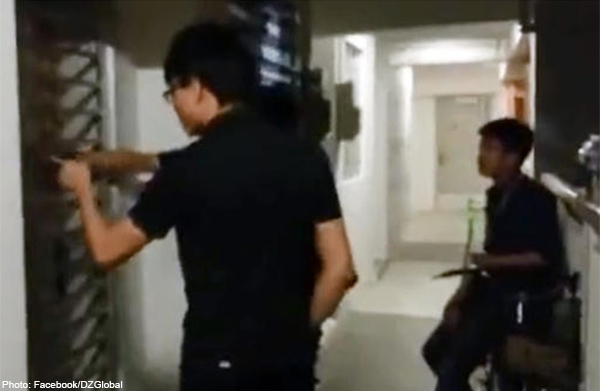 SINGAPORE - First, they raised their voices. Then came the furious banging on the door and grilles, accompanied by Hokkien vulgarities.
All this went on for close to an hour. The four legal debt collectors left after an unsuccessful attempt to collect money from an alleged debtor, who was at home but refused to open the door.
A two-minute video of the incident in Buangkok has been making the rounds online. The collectors' tactics have drawn criticism from netizens, who liken their actions to those of illegal loan sharks.
Several versions of the video have been posted online since Sunday. One particular video uploaded on a Facebook page has been shared more than 3,000 times.
Facebook user Ng Teck Guan Winston wrote: "This is the result when you legalise moneylending. When things are legalised, debt collectors act as though (the) law is in their hands."
The New Paper spoke to the family living in the one-room rental flat in Buangkok - a young couple in their 20s with a four-year-old child.
The target of the collectors, who wanted to be known only as Mr Jonathan, claimed the debt collectors had gone to his place on at least five occasions to harass him since early this month.
They would usually arrive at 7pm and loiter at the corridor or void deck.
Mr Jonathan said that if he and his wife were home early, they would turn off the lights to make it seem like they were not home.
Otherwise, they would make huge detours just to avoid any confrontation with the debt collectors.
"We try to take the lift up a few floors, switch to a different lift and then take the stairs.
"Sometimes, we hide behind a wall at the stairs and take a photo of the corridor with our phones to check if the debt collectors are there.
"We have to act like thieves just to get home," said Mr Jonathan.
The 24-year-old said the debt collectors first contacted him late last month. They asked him to pay them $23,000 - money that a friend had invested in a business venture they shared but did not work out.
Mr Jonathan, who is jobless, does not dispute the sum but feels he should not be held responsible for the business failing.
He said he initially agreed to pay $500 to the debt collectors at the end of the month and then $1,000 every month after that.
"I agreed to it in order to protect my family. If not for my family, I would have solved the matter with violence," he told The New Paper in Mandarin.
"I didn't want things to escalate. But later, I realised I would be admitting I'm at fault if I paid."
But not paying up led to the harassment at his home.
His wife, who wanted to be known only as Ms Linda, 26, started work this month as an administrative assistant.
She said it has got "very tiring and our safety is threatened".
The couple have made two police reports against the debt collectors.
Police confirmed the reports.
The couple said that the two-minute clip, allegedly posted by one of the debt collectors, showed only part of their tactics.
They showed TNP a longer and "worse" version, which had been taken by Ms Linda.
The debt collectors are heard swearing in the video and banging the door grilles continuously.
Mr Jonathan also shared voice recordings containing Hokkien vulgarities that one of the debt collectors had sent to him over chat mobile application WhatsApp in one day.
SHOCKED
Neighbour David Lee, who sells magnetic bracelets, said he could hear the debt collectors from his flat two floors down from Mr Jonathan's.
"I was shocked. I never expected it to be debt collectors," said Mr Lee, 40.
Another resident, who wanted to be known only as Reena, 38, said Mr Jonathan would help her keep an eye on her mother when she is alone at home.
"The debt collectors could have spoken nicely, no need to bang and shout," she said.
The debt collectors were from DZ Global, a licensee agent of legal debt recovery firm JMS Rogers.
Mr Ho Zhen Huan, DZ Global's director and one of the debt collectors in the video, claimed they were provoked before they started raising their voices.
"(Jonathan) scolded vulgarities that insulted my parentage, the usual ones you can hear on the streets," said Mr Ho, 21.
He added that what he did in the video is one of the methods he deals with "difficult debtors" to force them to face the debt.
"It can be quite embarrassing for them, but you will be surprised at how thick-skinned some of them can be," he said.
Mr Roger Rajan N. Nadar, the owner of JMS Rogers, said that what was shown on the videos was not the usual practice.
"All our licensed debt collectors are properly trained before they work in the field and their modus operandi do not involve physical attacks or property destruction," he said.
When asked if he is worried about the debt collectors' actions becoming illegal, Mr Rajan said: "Harassment is a very grey area. My understanding is that a visit or a call a day does not fall under harassment."
The couple, however, denied provoking the debt collectors, saying they did not utter a word when the collectors were outside their home.
Client: 'Debtor duped my son'
She believes her son had been duped into investing in a business venture with Mr Jonathan, the target of debt collectors. She now wants his money back.
The woman, who wanted to be known only as Madam Doris, said she had sought help from JMS Rogers, a debt recovery firm, on her son's behalf.
The job was then passed on to DZ Global, a licensee of JMS Rogers.
Madam Doris, 51, a housewife, alleged that Mr Jonathan had taken the money to fund his own lifestyle.
She claimed he had taken advantage of her son, whom she said has a lower-than-average intelligence.
She declined to give his name.
Her son had borrowed $16,500 from moneylenders to invest in the events management business. The money swelled to $23,000 after interest.
PAID OFF
Madam Doris said she had paid off most of the loan. Speaking to The New Paper in Mandarin on Wednesday, she said: "I went weak in my legs as soon as my son mentioned moneylenders.
"When people call (my son) 'brother', he thinks they are good friends and is willing to do anything for them."
According to her son, Mr Jonathan met him online more than a year ago, and they decided to start a company.
Madam Doris' son then took several loans to start the company. Mr Jonathan had agreed to do the work while Madam Doris' son came up with the money.
Madam Doris said her son had opened a bank account for moneylenders to deposit the loan.
It was Mr Jonathan, however, who held the bank card most of the time, she claimed. She said many entries in the bank's statement showed most of the loan went to places like supermarkets and even a KTV disco.
A WhatsApp conversation between Mr Jonathan and her son also allegedly revealed that the former often borrowed money from the latter.
Such evidence, as well as his 15 years of experience, were what led Mr Roger Rajan N. Nadar, who owns JMS Rogers, to conclude that Mr Jonathan is guilty.
He said he took up Madam Doris' case out of a sense of justice.
Adding that her eyes brimmed with tears as she related the story to him, Mr Rajan said: "We don't jump to conclusions. We do our own investigation as well."
Debt collector: 'We can't be too soft'
Embarrassing debtors with raised voices in front of their neighbours or colleagues usually gets the job done, debt collectors said.
Ms Yvonne Ho, 23, the manager at Singapore Debt Collection Service, said: "Of course we have to be unreasonable, so they know they can't cheat us. Only then will they panic.
"We can't be too soft on them."
To the debtors, the way debt collectors operate may seem out of line, but it is all a matter of perspective, said Mr Andra Chew, a business relations manager from Double Ace Associates.
"From the debt collector's point of view, it's embarrassment. But if you're the debtor, of course you will feel it's harassment," he said.
"For stubborn debtors or those who behave like a 'hooligan', raised voices are a must when dealing with them. We have to be louder to override the conversation."
LAW
There is no specific law regulating debt collectors, but their actions are bound by general criminal law, said a Registry of Moneylenders spokesman.
This includes the new Protection from Harassment Act (Poha) passed in Parliament in March. It will come into effect later in the year.
Under the act, any threatening, abusive or insulting words or behaviour is considered harassment. If found guilty, one can be fined not more than $5,000 and jailed not more than six months.
The spokesman added: "The Registry of Moneylenders ensures that persons who have been engaged in criminal conduct previously are not allowed to assist in any aspect of a moneylending business, including the collection of debts."
For now, debt collectors will only be liable to the Miscellaneous Offences Act, said criminal lawyer Gloria James, and that the Poha will be able to take debt collectors to task.
"Their actions are viewed as anti-social, plus it crosses the line. As such actions cause alarm or distress to the victim, he can even apply for a protection order," she added.
Borrowers who feel harassed by licensed moneylenders or their debt collectors should report the matter to the police or the Registry of Moneylenders, its spokesman said.
"Moneylenders found to have committed offences may have their licences suspended, not renewed or revoked by the registry," he added.

This article was first published on October 18, 2014.
Get The New Paper for more stories.