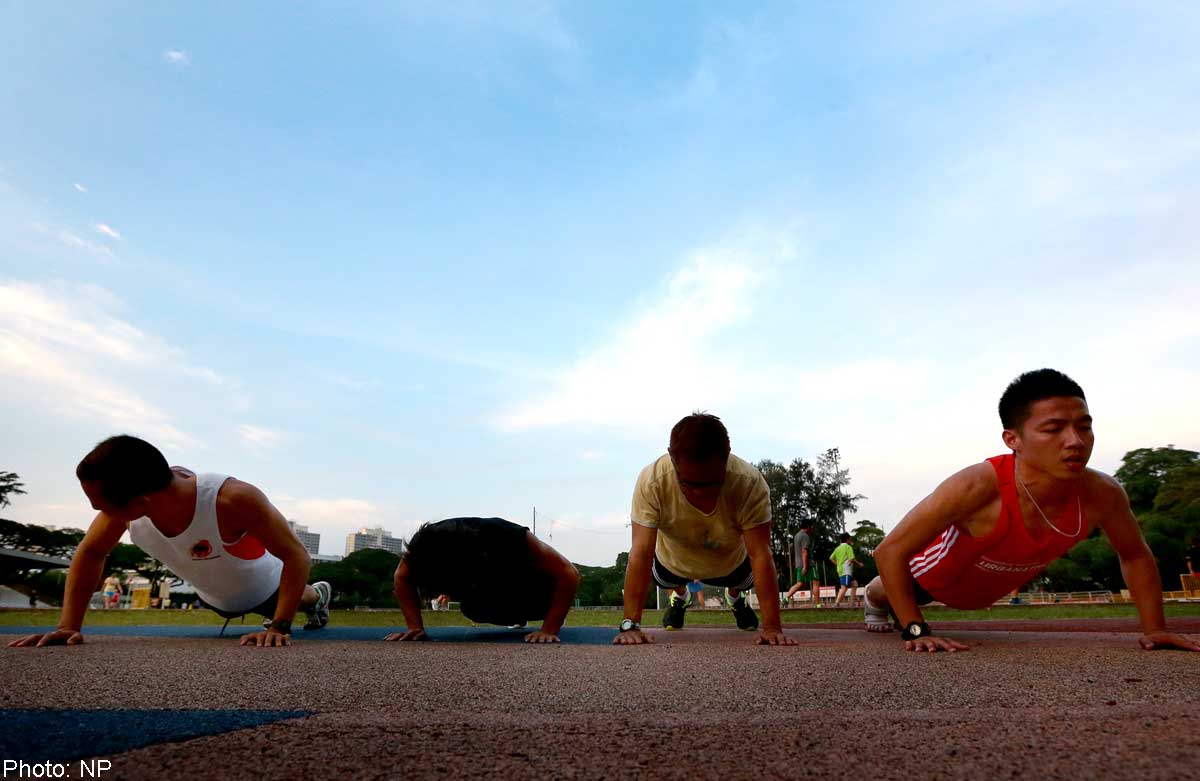 The new Individual Physical Proficiency Test (IPPT) system is simpler, but is it easier?
"I think our servicemen should give this IPPT format a try before they come to any conclusions," the Chief of Army, Major-General (MG) Perry Lim, told the media on Wednesday.
So we put reporter Gregory Loo to the test.
A week ago, before the changes were announced by Defence Minister Dr Ng Eng Hen, Mr Loo had failed his annual IPPT.
Mr Loo, 30, had missed out on a passing grade by one second for his 2.4km run.
We also invited four National Servicemen - Mr Cheng S.K., 26; Mr Chng Wei Siang, 27; Mr Ben Ang, 31; and Mr Cheong B.H. 47 - to try out the new system at Toa Payoh Stadium yesterday.
Earlier this year, the four got silver for their IPPT.
Their results from yesterday's trial: Mr Loo scored a pass with 11 points to spare while the four NSmen scored gold.
With the revised monetary incentives - whose implementation date is still unknown - Mr Loo would have got S$200 and the four S$500 each.
Mr Loo (left) said: "The new format might be easier to pass and the standards are more forgiving, but you still have to work for it."
MG Lim had said the IPPT is being changed because it is "timely" to do so, especially after the Singapore Armed Forces (SAF) had enhanced its combat fitness programmes.
The new standard obstacle course, vocation obstacle course and vocation-related exercises introduced in previous years mean better operational readiness, he added.
The general said: "We want to change the general perception of our physical fitness requirements from one that is an imposition on the lives of our NSmen to one that encourages our NSmen to make physical fitness and training a part of their lifestyle."
But the question remains: Is, as some perceive, the bar being set too low?
MG Lim said the new system is designed to be simpler and not necessarily easier. "Our servicemen will still need to train for IPPT in order to pass. To achieve gold and silver standards, it would be just as challenging as before."
Dr Bervyn Lee, an SAF Fitness Advisory Board member who had a hand in the creation of the new IPPT system, said it emphasises ownership of one's fitness.
The member of the Committee to Strengthen National Service said: "We shouldn't allow three or five stations to define what is required to be fit.
"I personally feel that my fitness is mine and mine alone, and I need to look after that.
"And we shouldn't need the SAF or anyone to tell us that 'I'm going to test you on these items and therefore you should be fit for only these items'.
"I think we need to define our own fitness."
Difficult to measure
While it would be difficult to measure the general fitness of servicemen with fewer stations, one major consideration is motivation, he said.
"I am glad that they've done this because it motivates people. I think if NSmen were to look at it squarely and think, 'I actually have a chance' and feel more motivated, and through being motivated, want to do more (for their fitness), then that is a good thing," said Dr Lee.
MG Lim told reporters that there will be a dry run of the system from September to November involving 3,000 servicemen and servicewomen of different vocations and age groups.
The full implementation is slated for April 1 next year, he said.
The Ministry of Home Affairs (MHA) will also be implementing the new IPPT format for Home Team NSmen next year, an MHA spokesman said.
Said MG Lim: "We don't plan to change the scoring system, but based on the outcome of the pilot implementation, we are prepared to adjust the scoring table.
"But we believe that we have a system designed to uphold the standards of physical fitness."
Q&A with Chief of Army 
How would this new system encourage NSmen to take greater ownership of their fitness?
The new IPPT format is simpler. It comprises only three stations instead of the existing five. So it is something which the NSmen can train for in his own time without the need for specialised equipment. The NSmen can even integrate the three-station IPPT format into his exercise routine on a regular basis.
What is the rationale behind dropping the standing broad jump, shuttle run and chin-up stations?
In the past few years, we've implemented comprehensive combat fitness training as well as test regimes, which is why we feel that we can simplify our IPPT format. In designing the IPPT format, we wanted to focus on three groups - upper body muscular strength and endurance, core body strength and endurance, and the 2.4km run.
According to the scoring table, it seems easier for those who are less fit to gain points by working just a bit harder. Is there a reason there is no linear distribution of points to the performance?
Apart from going for a simpler format, we are also trying to design the IPPT system such that it would also motivate those who are fit to excel.
But we also designed it such that for those who really want to score 25 points for push-ups or sit-ups, or 50 for the 2.4km run, it becomes really challenging.
That is our way of motivating people to do well. In other words, it is not designed for everybody to get 100 points easily.
Does the new format make it easier for NSmen to pass their IPPT?
That is not the intent.
The intent is to simplify the IPPT format so that our NSmen will be motivated to train for it. And when they are motivated to train, more of our NSmen will train and naturally more of them will pass.
Reactions: 'Are we moving in right direction?' 
Reactions from NSmen were mixed, with several claiming online that the new system is a step back.
Netizen Amos Kee commented on Dr Ng's Facebook post: "IPPT is supposed to keep the NSman physically and mentally fit, ready for defence when the need arises.
"But we are tweaking the system to help our unfit soldiers pass. Are we moving in the right direction?"
Cabby Chia Song Heng, 64, who was part of the pioneer generation of NSmen, told The New Paper: "In the past, we had to run three miles (4.83km) while carrying our old SAR 80 rifles.
"That was in the name of physical fitness. And we saw people faint.
"When I hear young people talking about the new system, I feel ashamed. It's really a soft system."
Full-time National Serviceman Nick Tan, 23, who has been getting gold in IPPT, said: "The new system makes it very easy for people to pass. I feel like the gold award is not as prestigious any more."
He added that the new flexible scoring system also makes it possible for people to find a loophole, such as training only for the push-up and the sit-up stations as it is easier to gain points that way.
"With the points table like this, I don't think I want to train as hard for my running," he said.
But the reaction from many working NSmen TNP spoke to was largely positive.
A domestic service company's chief executive officer, Mr Fitzkhoon Liang, 27, welcomed the new system.
"If the Government's aim is to make me feel like I can now achieve more, then it's definitely working. It sure feels like I can achieve something better than before," he said.
Accountant Jeremy How, 26, has been failing his IPPT every year since his operational-ready date in 2008. He has been going for 20 sessions of compulsory remedial training (RT) every year. RT is meant for those who fail their IPPT.
Said Mr How: "I go for the RT sessions yearly because it always seems too difficult to pass in the first place. So this new system potentially makes it more convenient for me if I can finally pass.
"I also feel more motivated to start passing. It's much better than not being able to pass one station, such as the standing broad jump, and in turn failing overall because of that."
Nanyang Technological University undergrad Sebastian Markus Lioewanta, 26, said: "On one hand, the system runs the risk of people being complacent. But on the other hand, I look at my brother-in-law and some of my friends, and I think it's good for them and their family.
"They don't have enough time as it is and with RT, they hardly get to see their family. It gets to the point where some of them would rather get charged for not turning up for RT."
"I go for the RT sessions yearly because it always seems too difficult to pass in the first place. So this new system potentially makes it more convenient for me if I can finally pass. I also feel more motivated to start passing."
-Accountant Jeremy How, 26

This article was first published on July 25, 2014.
Get The New Paper for more stories.