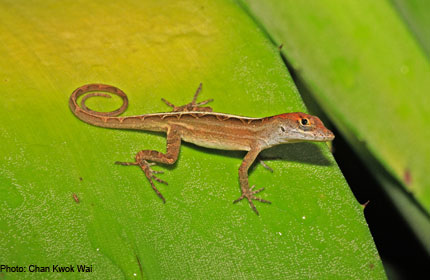 A new foreign talent has settled at Marina Bay: a small brown lizard called a brown anole from the Caribbean.
The pencil-length reptiles are likely to have arrived on shipments of plants for Gardens by the Bay, said researchers who first observed these lizards sunning themselves and courting potential mates there last October.
But will brown anoles cause trouble for native species? The National Parks Board (NParks) is monitoring them to see what their impact on other creatures and plants might be.
Raffles Museum of Biodiversity Research scientific officer Tammy Lim, 25, was at Gardens by the Bay last October waiting for colleagues for an outing when she saw a brown anole and snapped a photo of it, before seeing others nearby.
She had never seen one before so she showed the photo to a colleague, lecturer Tan Heok Hui. "Uh oh," he said. "We might have a new introduced species."
The brown anole is a native of Caribbean islands including Cuba and the Bahamas. It likes warm, open grassy areas and the lower parts of trees and shrubs. It is active during the day and usually dines on insects and even other lizards.
In a short write-up in the museum's journal Nature in Singapore, Dr Tan and colleague Kelvin Lim suggested that they could have come here on plants from their native habitat or other places they have settled in, including Florida or Taiwan.
In Florida, brown anoles prey on the hatchlings of native green anoles and in Taiwan, they have altered betel-palm plantation ecology by preying on ants there.
The scientists say the brown anoles will probably prefer open scrubland to the forests of the Central Catchment Nature Reserve here, keeping them out of the way of native forest lizards and skinks.
"The anoles provide interesting diurnal (daytime) activity to the gardens, and can probably be tolerated," they wrote. The population could probably be restricted to Marina Bay by erecting barriers and making sure lizards do not hitch a ride out of the gardens on plant debris.
NParks said it is keeping tabs on the brown anoles at Marina Bay. "The National Parks Board is aware of the presence of the brown anole, Norops sagrei, in Gardens by the Bay," said National Biodiversity Centre director Lena Chan.
National University of Singapore biodiversity researcher David Bickford and his students are conducting a study on whether brown anoles will affect native species. This should be finished in nine months' time.
"This scientific study will enable us to have a better understanding of the species and take appropriate measures, if necessary," Dr Chan added.
Another lizard that has settled down here since the 1980s is the changeable lizard, a native of southwest Asia which appears to be competing with native green-crested lizards for territory.
caiwj@sph.com.sg

Get a copy of The Straits Times or go to straitstimes.com for more stories.