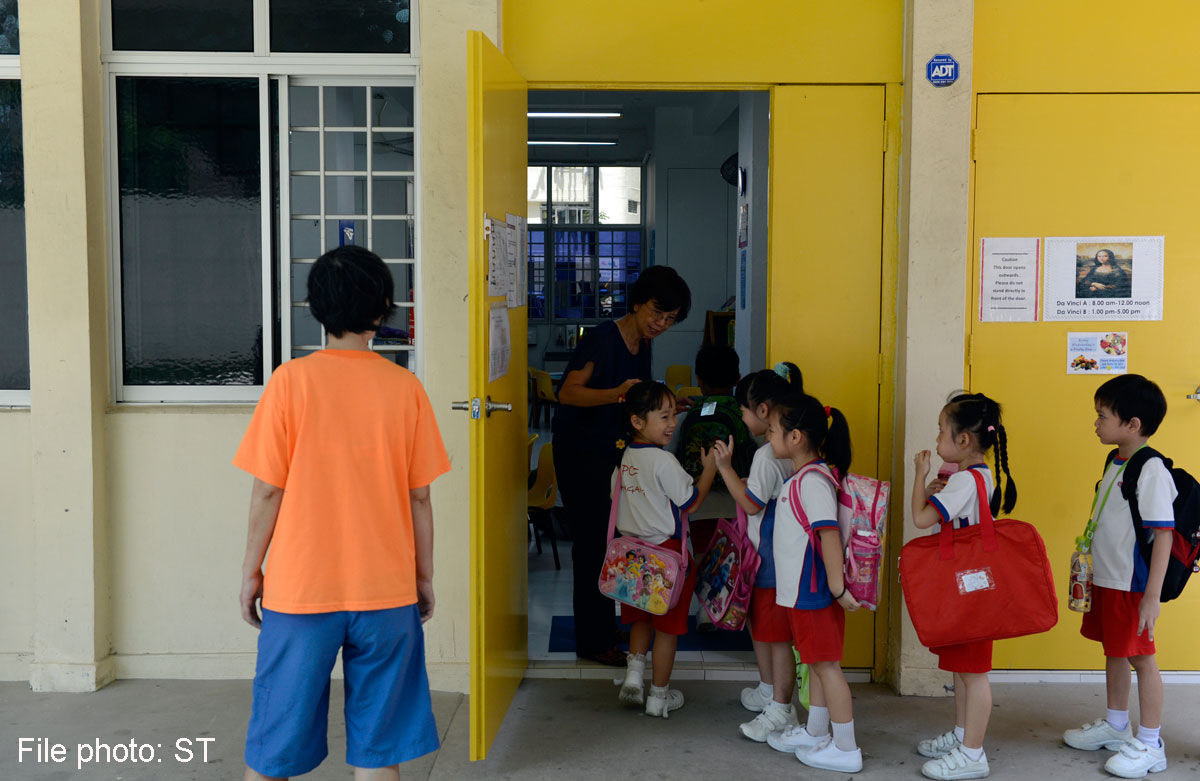 SINGAPORE - Five new kindergartens set up by the Ministry of Education (MOE) opened their doors this past week.
These kindergartens, which welcomed 250 children, are the first of 15 to be set up by 2016.
One would expect parents to be excited about the MOE pre-schools.
I mean, how wrong can it go with a ministry-led curriculum?
It emphasises learning through play, and that means no spelling tests or hanyu pinyin for those taking Chinese.
Instead, children will learn through stories, songs and dances with a distinct Singapore flavour.
Teaching resources include big picture books in English, Chinese, Malay and Tamil, with stories referring to Singapore culture and set in local neighbourhoods.
Sounds fun and less stressful, right?
One would have thought that parents would love the concept.
But no.
Housewife Vianna Goh, 34, disagrees with the concept even though she admits that "my girls will love it".
She has two daughters, five and three. She chose to send the older one to a kindergarten run by the PAP Community Foundation (PCF), which is about a 15-minute walk from her home in Tampines.
This despite there being an MOE-run one at Tampines Street 45, just two blocks away from her flat.
Madam Goh tries to justify her decision, saying: "I don't have the patience to teach my daughters and I need to rely on the teachers to help me.
"What if my daughter takes it too easy and later fails to catch up when she goes to Primary 1?"
Madam Goh is among 22 of the 30 parents we randomly approached who do not believe in play in a very competitive environment.
Mr Edwin Hon, 39, a marketing communications manager, says he is not comfortable with a learning environment that is less focused on academics.
"It seems attractive and I have read media reports on how these five centres are to raise the quality of pre-school education," he says.
"Maybe it is because my wife and I are more 'kiasu' (Hokkien for afraid to lose), and we don't want our son to lag behind his peers later."
Mr Hon registered his five-year-old son at a private kindergarten, which also offers extra English and Chinese tuition classes.
"I am sure it is a better choice even though the fees are twice as much."
Two pre-school teachers, who spoke on the condition that we do not name them, reckon it will take more time and some effort to convince young parents that a more holistic education is better.
Says one teacher who works in a PCF-run kindergarten: "Sometimes when we choose to drop spelling for a week, or when we include outings, we get parents calling us to complain that we are not doing our job."
Another pre-school teacher, who just started work at a private kindergarten, recalls how a group of parents called for an urgent meeting at her previous workplace in Bishan.
She says: "A group of about 20 parents and grandparents turned up to demand for an explanation from the principal.
"They were upset that we had not given the children homework for a week. And a few of them even threatened to pull their children out from the centre."
This Heartland Auntie is quite grateful that her kids are in secondary school. The competition and kiasu-ism is so intense at the pre-school level these days.
I agree that it will take much work - hard work - before parents can accept this new structure.
And unless this mindset changes, it might be hard for the MOE kindergartens to lead the way.
As a parent, I sympathise with the concern of keeping up with those who might have had a more intense education.
But parents, let's also remember that our children are going to be children just once. It's up to us - and enough of us having the courage to say, it's okay to have fun.
Maybe we could give them a break, let them play and be children, while they are still children.

Get The New Paper for more stories.