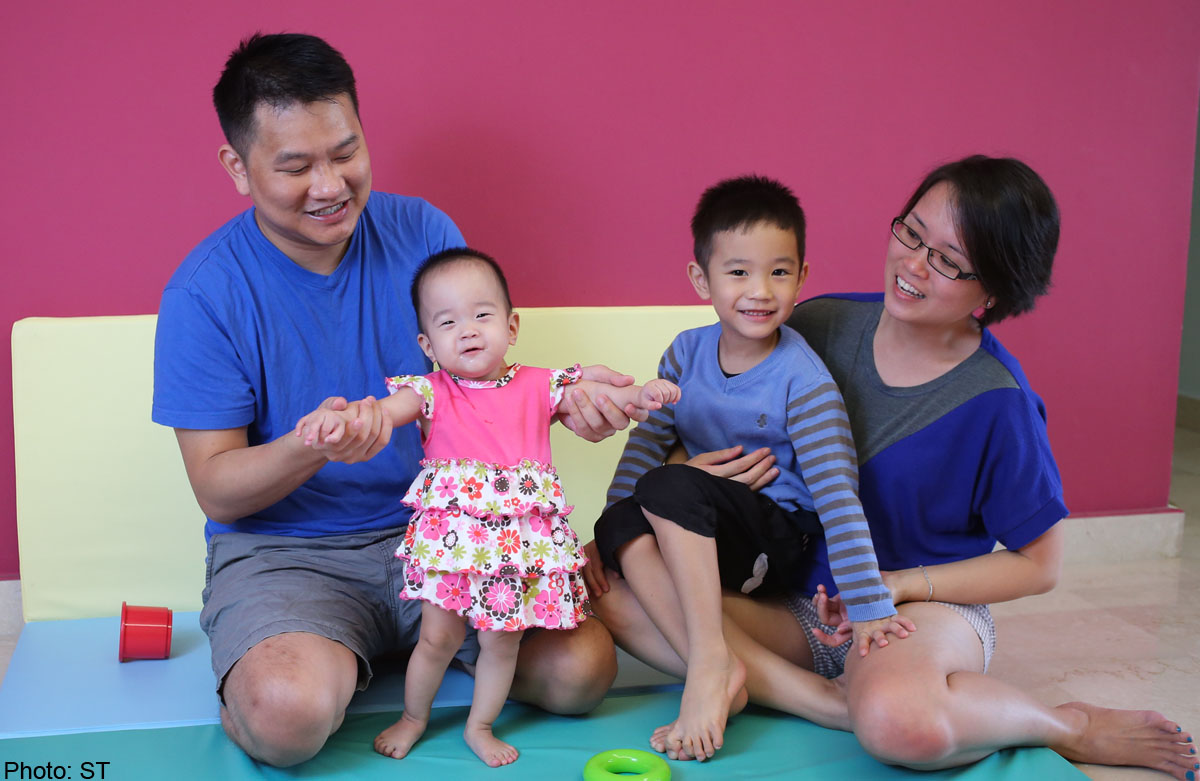 While Singapore welcomed the first babies born this year yesterday, other families celebrated the new year's gift of health for their children.
This time last year, Kemi Chu was just under a month old and in the neo-natal intensive care unit at KK Women's and Children's Hospital (KKH). She was born on Dec 3, 2013, three months too early.
Weighing only 770g, Kemi also had a congenital heart defect that had to be fixed via three operations.
"She was so small, you could just scoop her up in your hands," recalled her father, 36-year-old salesman Kenny Chu, cupping his palms together to show her size then.
Only around 12 to 13 babies a year are born so young, said Dr Kong Juin Yee, an associate consultant with the hospital's neonatology department.
Mr Chu visited his little girl every day. He could touch her but not hold her in his arms until she was out of ICU. Mr Chu would go home with details of Kemi's progress which he shared with his wife, Mrs Mikki Chu, who was resting during the confinement period. Mrs Chu could only start visiting Kemi regularly one month after the birth.
"Every visit to the hospital, I cried," recalled the 35-year-old mother, who also has a four-year-old boy, Mikken.
Another baby who had a difficult start in life is Tan Sih-Fa, who was born on Sept 13 last year with a rare heart and lung condition.
Most babies with this condition die in the womb or hours after birth, said his father, general practitioner Tan Eng Chun.
Sih-Fa was moved from Mount Elizabeth Hospital to KKH within days of his birth and hooked up to machines to help him stay alive. But doctors warned the family that the outlook was bleak.
"They prepared us for the final journey," Dr Tan recalled. "The hard decision we had to make then was, do we give up? Or do we continue even though they told us the treatment may not work?"
They took a leap of faith and decided to press on. Just before Christmas last month, Sih-Fa was moved out of intensive care.
He is still warded and tube-fed, but has gone into the new year in stable condition. "He's a very happy baby now, and he smiles a lot," said Dr Tan. "To us, he is a miracle."
As for Kemi, Mr and Mrs Chu took her home after half a year in the hospital.
Last September, she stopped being fed via a tube.
A year since her birth, Kemi is as healthy and energetic as any baby her age.
"She used to be very easily tired, but nowadays, she's cheerful and very active," said Mrs Chu. "You can see the difference - now, she's like a monkey."
This article was first published on January 2, 2015. Get a copy of The Straits Times or go to straitstimes.com for more stories.