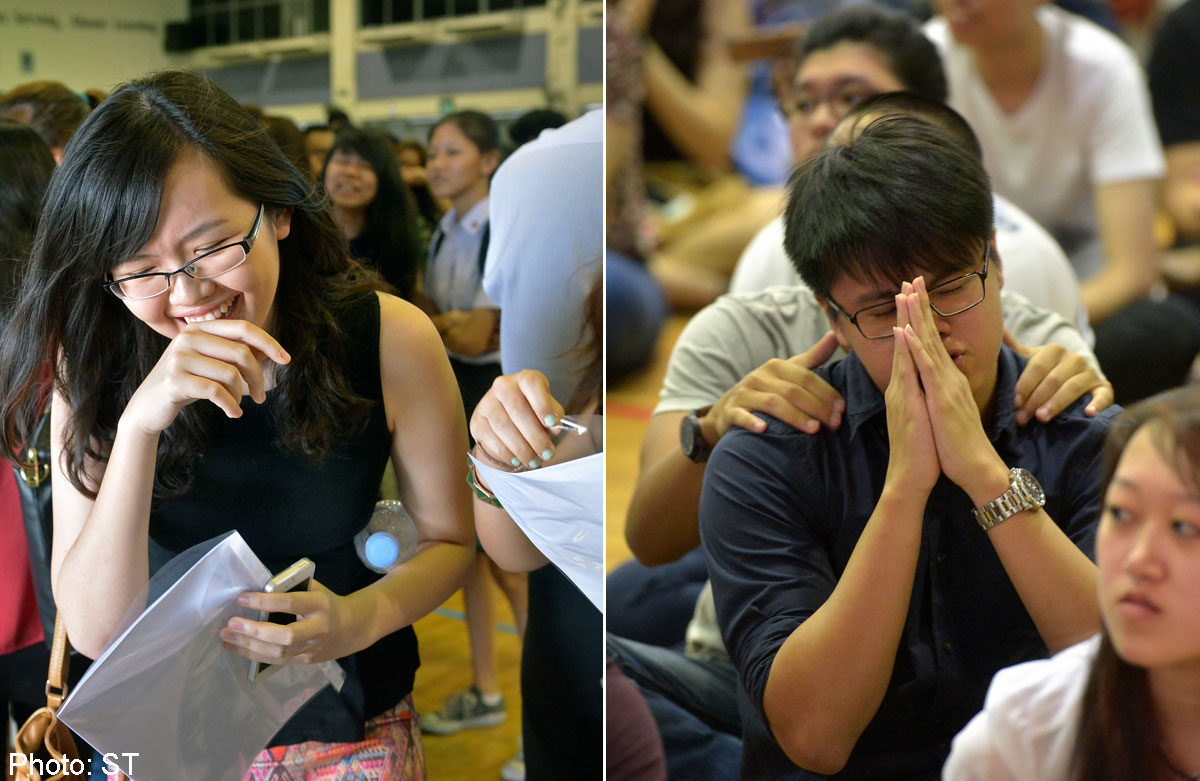 Answers to queries by A-level students provided by:
- Mr Chris Lee, Deputy Director, Recruitment and Marketing, SMF Institute of Higher Learning
- Mr Rhys Johnson, Vice-President, Teaching, Learning and Student Support, Kaplan
- Mr Kenneth Choo. Managing Director of SAA Global Education Centre
- Dr Susie Khoo, Dean and Senior Vice-President, PSB Academy
- Mr Loh Siew Meng, Managing Director, Informatics Academy
- Dr Timothy Chan, Academic Director, SIM Global Education
ABOUT THE COURSES
1. If I don't do well in my A levels, is it better for me to retake my exams or apply for private education?
It would be better to seek a private consultation with an education counsellor on this. The pedagogy and learning methodology at A levels and the PEIs have different objectives.
You must identify why you failed to make the grades. Be completely honest with yourself and be sure that the second time around, you will make some improvement and be capable of obtaining a higher grade.
Otherwise you will be repeating the same mistakes.
If you have a particular career path in mind, it may be worth exploring what your suitable degree options are and check with the PEIs whether your grades are acceptable. In some cases, you may have to do bridging courses before starting the degree programme.
2. How do I know if the subjects I have studied are relevant to the course I want to study in future?
If you have already decided on a programme that you would like to study at a PEI or university, you should take a look at the information on course requirements before you finalise your subject choices.
In most cases, however, the subjects are more or less pre-determined for the course.
Students can either find out more on the courses through the school's website, talk to the school counsellors, programme executives, or faculty members at the annual Open House (SIM GE's Open House is on March 14-15).
SIM GE also organises a Parent Information Session at the Open House where parents and potential students can learn from career coaches more about the tertiary education options in Singapore as well as get tips from speakers on making an informed education choice.
3. What types of courses are available at PEIs?
There are specialised courses such as Cyber Forensics or Exercise and Sports Science that PEIs such as SMF Institute provides. Most PEIs offer popular courses that are available in local universities. The university courses offered at the PEIs are as good as the ones offered at the main campus of the universities. There are also courses that are unique to PEIs. (Details on Page 6).
4. What exemptions can I get when enrolling in PEIs as an A-level holder?
A-level students can get direct admission into the Bachelor's degree courses without going through a foundation course. They are generally able to gain direct entry into the second year of many Bachelor's degree programmes offered by the university partners of the PEIs after completing a relevant diploma with the PEI and meeting the university's requirements.
5. If I do not like my course or find I'm not suited for it, can I change courses midstream? How easy or difficult is this?
There are different points of opportunities for students to change disciplines subject to availability. Students have the flexibility of switching programmes or majors at or before midstream.
Although that option is available, students are encouraged to carefully consider their choices based on their strengths, interests, and career choices. It is also not advisable for students to switch courses when they are at the advanced stage as they would have already spent a lot of time, effort and money.
Depending on the programmes, there may not be exemptions and the student may have to go through a full course after the switch. Students who cannot gain direct admission to the degree programme may enrol in a diploma programme for subsequent articulation into the degree programmes of their choice.
6. When pursuing further education, should I follow my strengths or my interests?
Education is a very personal choice and there are various factors to consider, such as the social and economical environment.
Rather than focus on factors that are beyond their control, students should look at getting themselves work-ready and being always ready for change.
School leavers need to consider their interests and strengths in subjects they do well. These should influence their choice of programme. If they are unsure, seeking the advice of their parents, teachers and/or programme consultants at the PEIs may also help them make informed decisions.
If a student pursues his or her individual interest, he or she needs to ensure that the skills are built up to sustain the interest. If the individual pursues strengths, he/she needs to learn to cultivate the interest. There needs to be a balance as higher education builds the foundation of a career, and in the workforce, one can't survive without the other.
Students need to consider and weigh both options. They will find it easier to study in an area where they have strengths and will enjoy something that they are interested in.
7. How do the courses offered at PEIs compare with courses at NUS, NTU, SUTD, SIT or SMU?
Public universities are geared towards local content. In the past decades, more new courses have been offered by PEIs as compared with the local public universities.
PEIs often specialise in a few disciplines, in contrast with local universities which provide a comprehensive range.
For example, PSB Academy offers the Bachelor of Environmental and Occupational Health and Safety (EOHS) awarded by the University of Newcastle, Australia, which is the only bachelor degree programme in Singapore that encompasses environmental and occupational health and safety.
The modules offered in the programme range from science, laws and regulations, to management and practices. There exists a good balance of environmental, occupational health and safety and integrated EOHS courses.
The programmes at the PEIs are also offered in a more compressed and accelerated mode which means students can potentially graduate within a shorter time and enter the workforce earlier.
PEI courses allow students to embark on a fast academic advancement track and graduate with a recognised overseas qualification.
The programmes expose students to everything that matters both in the local and international context, and the experience is as if the students are undertaking an overseas qualification in Singapore.
8. Where can I find out about internship or job attachment opportunities for my courses?
SMF Institute of Higher Learning offers internships which can be checked on their website at: smf.edu.sg/current-students/internship
Students at PSB Academy can opt for assistance in either internship or job opportunities through the Career Assistance Scheme Programme. The duration of internship is between three and six months, subject to the needs of the respective partner organisations.
SAA Global Education Centre has a professional attachment scheme which assists its students in securing internships with organisations to have some working experience while studying.
ABOUT THE SCHOOLS
9. How can I know if my degree is recognised in Singapore?
There is no formal recognition framework by the Ministry of Education. Most employers follow the mechanism that the qualification must be recognised in the country of origin.
Quoting the Ministry of Education's website, "There is also no central authority in Singapore that assesses or grants recognition for degrees obtained from overseas universities. The reason is that the employer should be the one deciding whether a degree-holder has the qualities desired for the job and the qualification most relevant to his needs. The employer is in the best position to decide how much value he will assign to a person's qualification."
For overseas universities offering degree programmes in partnership with local PEIs, it is important that the PEI is EduTrust-certified - assurance of its quality of delivery and financial stability.
A degree opens doors for graduates to enter the workforce. Their career success is still very much dependent on other factors, such as attitude, experience and drive.
10. How do PEIs choose their university partners?
The university must be recognised by its country of origin. All partnerships need to be submitted to the Council for Private Education for approval.
University partners are chosen based on their overseas collaboration experience, range of suitable programmes offered by the university, a mutual interest and commitment in delivering quality programmes offshore.
These are important considerations as both parties are responsible for ensuring that the quality of learning opportunities and support from the university offered through a collaborative arrangement are adequate to enable the students to achieve the academic standard required for the university's award.
PEIs refer to university ranking guides like QS World University Rankings or The Guardian University Guide, which rank universities by faculty, subjects, or to the universities' overall ranking (comprising composite factors like academic reputation and research citations) as an indicative headline trend.
They also refer to accreditation by professional bodies and international accreditation agencies like the Association to Advance Collegiate Schools of Business, European Quality Improvement System and Association of MBAs.
11. How large is the percentage of international students in each course at the PEIs?
Generally, international students make up 20 per cent of the student population.
12. Where do the lecturers at PEIs come from and what are their backgrounds?
Lecturers at PEIs have a wealth of industrial and academic experience. This shapes how the classes are conducted.
Students in fact appreciate the concepts better because of the real-life experiences shared by the lecturers.
Programmes at PEIs are taught by a combination of full-time faculty from the partner university and the PEI as well as by a practitioner faculty of business leaders and successful professionals from a wide variety of organisations, industries and functions, and who have extensive experience in the subject areas they teach.
Their delivery of the theories are supported by real business examples and contemporary applications, which makes the lessons interesting and improve the learning experience and outcomes of students. All PEI lecturers are registered with the Council of Private Education and their qualifications can range from Bachelor's degrees to PhDs.
13. How many per cent of the lecturers at PEIs are full-time staff?
This figure varies from PEI to PEI . On average, 50 per cent of the degree programmes are taught by full-time staff as well as the PEI's partner university's professors who fly into Singapore on a regular scheduled basis to deliver the lessons.
14. What are the advantages of private education here compared with applying for overseas universities?
Further education choices are now made more convenient, eliminating the geographical challenges in the past. Students can study with an education institution in Singapore that offers degrees awarded by renowned universities from Europe, Australia and professional bodies around the world thus receiving an overseas education locally
Compared with studying on-campus at the universities overseas, it definitely saves cost for students to complete their studies through distance learning at the PEIs here. The diverse and dedicated pool of educators at the PEIs emphasise academic rigour and excellence, and that ensures that the learning experience students receive here is equivalent to that which is on-campus overseas.
Many students also choose to study at a PEI for the shorter course duration and flexibility to be able to continue holding a full-time job and studying at the same time.
AFTER YOU GRADUATE
15. How hard will it be for me to find employment after graduating from my course?
Looking for a job can be very challenging but a double major from Murdoch University will give you an edge as you will have more options.
PSB Academy prides itself on providing a variety of opportunities for students to excel academically and to gain valuable personal skills and hands-on experiences in their chosen field of study.
Its academic programmes allow students to build on both the "hands-on" experience as well as academic knowledge.
The PSB Academy Graduate and Employment Survey 2013 shows that:
More than 90 per cent of PSB Academy's graduates are currently employed
Ninety per cent of their graduates receive job offers within six months
Less than three months on average for their graduates to find employment
Two job offers received for every three interviews attended
Sixty per cent receive a pay rise and/or promotion after graduation
16. Which jobs have the highest salaries?
Looking at data gathered from various job portals such as JobStreet, doctors and research scientists command some of the highest salaries. Finance, banking and information technology-related positions are among the top-paying jobs too.
Accounting and audit jobs also draw stable and substantial incomes.

Get The New Paper for more stories.