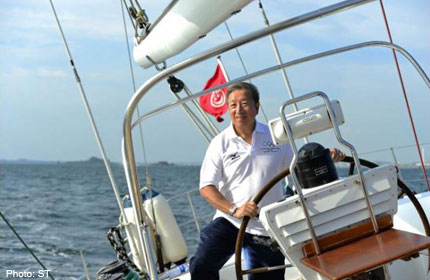 SINGAPORE - In part 1 of this Supper Club interview, veteran sports administrator Ng Ser Miang talks about his failed bid a fortnight ago for the most powerful role in world sports - the presidency of the International Olympic Committee.
Q: You got back from the IOC session in Buenos Aires a week ago. What have you been doing since?
It was a really long flight to get back, about 30 hours. First thing was to catch up on sleep, deal with the jet lag. It's good to be home. But I started work straightaway, clearing e-mails, responding to messages, phone calls.
I played one round of golf on Sunday at Marina Bay. But I was very stiff (from the travels). It was horrible, I don't know the score. I play at different courses, but usually at Marina Bay.
Q: What have friends been saying to you since you got back?
The past few days have been overwhelming. Even this afternoon when I was at a friend's factory opening, people talked about it with me.
It was very heartwarming and quite surprising that this campaign has created so much interest and attention.
Fellow Singaporeans are happy and they all understand it's a very tough race.
They had very kind words of encouragement. I've been receiving messages from the Prime Minister, President...and a very nice note from (Acting Minister for Community, Culture and Youth) Lawrence Wong as well. Truly very touched.
Q: You say it was a tough race. You exited in the second round. What was the first thing you did when you discovered you had lost?
After the second round, the scrutineer said members had elected a president and an announcement would be made one hour later.
The first thing I thought was, based on all the calculations, probably Thomas Bach had won, so I went over to congratulate him.
Also, the calculation was that if anybody was going to beat Thomas, it would probably be in the fourth or fifth round.
Q: Some insiders in your camp said before voting began, you had sewn up around 20 votes. But you only got six votes in both the first and second rounds. What happened?
This is a race where there's only one winner. It was tough from the start, but the members have taken their decision. I accept it, and life goes on.
Q: What was your sense of how support for you changed over the course of the past few months?
I've always been very conservative and to win, I would have had to go through a few (voting) rounds. I would need 15-20 votes to start off to get through the first round, then second, third round, should be starting to accumulate votes.
I thought I had an outside chance of winning a few months ago, when I first announced my candidacy, as there were six candidates of which one was very strong.
When I arrived in Buenos Aires, I was feeling pretty good, that there was a better than outside chance of a win.
Then there was a lot of speculation that if Tokyo won the bid for the 2020 Olympics host city, there would be some effect on the vote for the presidency a few days later. But when you come to that stage, you just focus. When you go into a race, you do what you can and just wait for the results.
Q: Over the past few months you've been trying hard to garner support, and must have had some basis for forming the estimate of 20 votes. But now with such a result, did you seek out those who had said they would support you, and find out what happened?
This is a case where you campaign hard, it's up to members to decide on the type of leadership they want.
Q: But surely, if someone says they will support you and you don't get it, you would feel disappointed. Would you say your dynamics with these members has changed, especially as you will see them still in the IOC in future?
You know, one thing is, the voting is secret. And you learn to accept the decision of the members.
So it's really unproductive to speculate. Many colleagues came round to congratulate me on a good campaign, that my input definitely contributed to the future of the IOC and the Olympic movement.
To me that was the important part. That in my running, I'm also contributing to the movement's future. Members can look at my manifesto and look at the others', and they can react to changes in circumstances. I was quite satisfied with how this whole campaign was conducted.
Many came up to me to say that whatever happened, I'm still one of the most respected members and I would still have strong influence in the movement. I believe my standing has not changed.
Q: Looking back now though, would you have done anything differently, that might have made the result better for you?
Given the set of circumstances and the rules, I believe that I put out the best campaign, the best manifesto, spelt out my vision, conveyed to the membership what I would like to see as the future of the IOC. I believe that there's probably nothing more that could be done. I stuck to my principles, I fought a clean campaign with no regrets.
Q: You were proud of how your own campaign went, but there were allegations of vote-buying swirling around other candidates. How does this impact on the reputation of the IOC?
There were various reports about the allegations, but it's something for the IOC Ethics Commission to take action if there's any truth to it.
Q: Going back to the voting process, some 26 IOC members are from Asia out of over 90 who cast votes. But the two Asian candidates got only a total of 12 votes in round one. You'd think that they would unite behind the Asian candidates. What happened there?
The continent came together to support Tokyo and Tokyo won (the right to host the 2020 Olympics).
Q: What was the difference then, between the vote for the 2020 host city and the presidency?
I won't be able to speculate on the dynamics of it.
Q: Seven of eight previous IOC presidents have been European. Why is it not yet Asia's time?
The Olympic movement has always been European-centric, for historical reasons. It originated there, the performance of the European athletes have been outstanding. But definitely this is changing. I believe sooner or later there will be Asian president. I'm quite sure at the next presidential election there will be Asian candidates again.
Q: How many countries did you visit over the past few months, and how much did you spend flying around campaigning?
I started flying around a year ago to get a sense of where I stand and whether I should be running.
I flew around the world four times, each time I'd visit a few cities. London was a base to visit Europe. I went to Africa three times, South America twice. Europe countless times.
About 70 per cent of the past year was spent overseas, I visited every continent. I didn't keep track of how much it cost, but I've clocked up more miles than I can use.
Read part 2 of the interview here.

Go to Singapolitics for more stories.