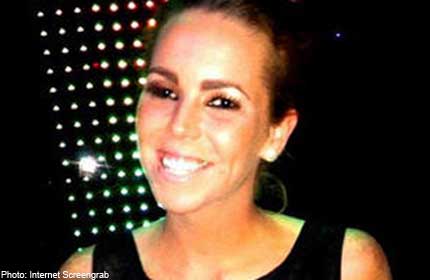 SINGAPORE - A young Irish woman (above) was found dead in her Queenstown home on Wednesday.
The police received a call just before 11pm and found her motionless in the apartment near Stirling Road.
A paramedic pronounced her dead at the scene, a police spokesman said last Friday night.
The Irish Independent newspaper identified the woman as Ms Orla Daly, a 25-year-old aspiring club DJ from Dublin.
She is believed to have been a Montessori teacher for the past few months. The Independent's report also said she had been working in marketing sales for the Singapore Private Aircraft Conference and Expo in April this year.
Police investigations are under way, but the spokesman said preliminary evidence revealed no evidence of foul play.
A report by Newstalk 106-108 FM, a radio broadcaster in Ireland, said she had been found in her bed by a friend.
Ms Daly's Twitter feed and Facebook timeline revealed an attractive young woman who had enjoyed her sojourn here.
In January, she tweeted pictures of Singapore, including the pool at the Queens condominium where she lived.
In a Twitter conversation in April, she spoke about how she loved it here so much and wasn't planning to go back.
The following month she said she "couldn't be happier" in Singapore and that "everything is falling into place".
She also cherished her family. In May, she posted a photo of her father gardening, calling him "the main man in my life".
Her family was reported to have left Ireland for Singapore on Thursday.
Ms Daly was a keen DJ in Ireland and the Independent said many of her friends were club regulars.
Actor and DJ Byron Kumbula told the paper he had been "devastated" to hear of the death of the woman he called his "sister".
"Young, beautiful and full of life, Orla was a girl who would make time for anyone - she was a dedicated friend," he told the paper, adding: "She always greeted people with a hug, a kiss and a smile."
In shock
Musician Sophie Richard said in her Facebook feed on Thursday that she was in "shock and shivers" over her friend's death.
Ms Richard, featured on The Pump Room's website as a performer, said she had celebrated her birthday with Ms Daly just 24 hours earlier.
She alluded to a "sickness" she "hadn't noticed" and paid tribute to an "amazing woman, business lady and upcoming DJ" who was among the first to "embrace me as a friend and future colleague in Singapore".

Get The New Paper for more stories.