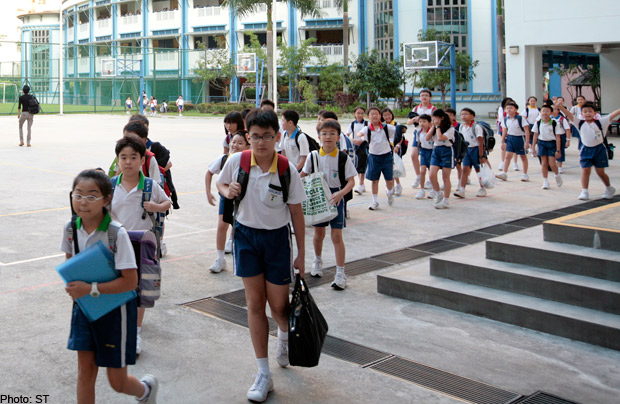 The relentless high-pitched whine - like twitchy mosquitoes revving furiously in your ear - rattles the nerves. The race is on. Not the recent Formula 1 SingTel Singapore Grand Prix, but the race for top grades in schools.
I have loads of sympathy for the families but I have been covering my ears to block out the stressed parental sounds bouncing off the walls in Singapore even as primary school pupils have started their engines for the dreaded Primary School Leaving Examination (PSLE).
Schoolchildren seem, at first glance, to be having it so much worse than a generation ago; driven - hear the screeching tyres, smell the smoke rising - by parents from school to enrichment class to tuition class and back again the next day.
But even as I reel from the mind-boggling primary school maths problems posted by frustrated parents on social media, I sometimes wonder if children today are really suffering more stress than previous generations.
There is that seductive school of thought that times and things were simpler and better in the past. I am not seduced by this school of thought as I like the present. I remember the nasty stuff from the past - being at the mercy of grown-ups, the spit-covered broken sidewalks, not much air-conditioning and no Wi-Fi.
Look, I remember flipping through dog-eared catalogue cards, then trying to hunt down dusty library books just to get one piece of information. Google? What Google? A random goo-goo sound made by a baby? The present feels good with my own money and independence; the present feels like a gift.
Yet my memories of school in the 1980s and 1990s are of me laughing my head off on the netball court; the satisfaction of raising the flag in the morning and shooting silencing death-ray looks at noisy girls I was in charge of; the adrenaline-kick of competing in track-and-field events; the fun of singing, skits, marching and bellowing Malay drill commands.
While there was some "suffering" in the form of maths homework - the formulas looked like mystical, curly towgay (beansprouts) - and Chinese homework - looking less mystical but curlier, prettier towgay - I don't remember the sense of battling for pole position in school.
Even the desperation of struggling with certain subjects was tempered by the hilarious absurdity of how I coped: I once drew graphs while on a moving bus.
So I did think that school was less of a pain in the past, until I recently read a newspaper column published in the 1970s about the horrible pressure of passing examinations, no thanks to a parent who exerted it fiercely. It was horrible in the past for some students, it is horrible in the present for some students, and it will be horrible in the future for some students. Maybe the cries of suffering today are amplified by the megaphone that is social media.
Mashing up that old philosophical chestnut, "If a tree falls in a forest, and there's nobody to hear it, does it still make a sound?", one wonders: If a student fell over from overwork in her or his room, and there was no one to snap a photo and post it on Facebook, Twitter et cetera because there was no such thing as social media a generation ago, did the suffering exist then? Is suffering writ large because you are more skilled in tweeting about pain in fewer than 140 characters?
For the bulk of each cohort, I wonder if the stress they feel is just what is normal to them.
Unlike their parents, the kids don't have anything else in their life experience to compare what they are going through to. So I wonder if children think grown-ups who rail against tuition are being as quaint as, let's say, someone who blames the Internet for all things evil. And as the syllabus grows tougher, the resources and tools at students' fingertips are more pimped out. Perhaps we will reach a breaking point one day when no amount of pimped out tools can help students. But not today. Today, at least for those in the PSLE race, the chequered flag is at last in sight.
denise@sph.com.sg

Get a copy of The Straits Times or go to straitstimes.com for more stories.