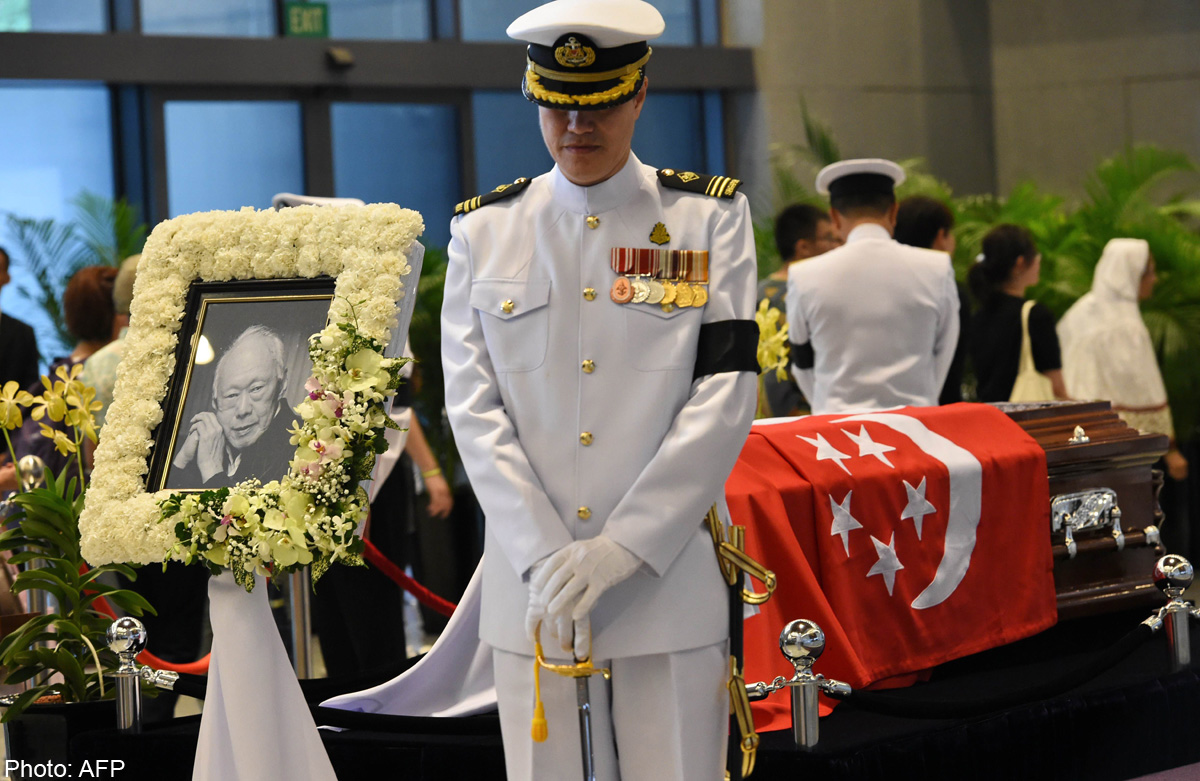 The Singapore Armed Forces made a big impact when it organised Mr Lee Kuan Yew's state funeral in March that ran without a hitch despite the huge logistics involved. And no wonder. The military has had years of practice organising large-scale events. The payoffs include exposure to mass-scale situations in real-time conditions. But is this what we want of our fighting men? Insight takes a look.
Sunshine and clear skies were forecast for the state funeral of Singapore's founding prime minister Lee Kuan Yew.
But Colonel Lawrence Lim, 42, in charge of planning and coordinating the state funeral procession, has been trained to factor in all contingencies.
For example, what if it rained? This might scuttle plans by the Singapore Armed Forces (SAF) to fire four ceremonial 25-pound howitzers for the 21-gun salute at the procession's start.
The ageing guns usually are fired only during National Day Parades (NDPs). Rain could damage the firing mechanism.
So the Chief Artillery Officer tested the guns ahead of time - by submerging a shell in water for 30 minutes, then loading it himself. The howitzer fired.
So when the rain came on the morning of March 29, the day of the funeral, Col Lim was unfazed.
"Even when the Chief of Defence Force asked me 'Can it be done?', I told him, 'Sure can'."
That same week, Col Lim was also keeping a keen eye on the 4,000-plus participants rehearsing song-and-dance routines at Khatib Camp for the opening ceremony of the 28th South-east Asia (SEA) Games. He also had to oversee moving 4,500 contractors into the National Stadium to set up in time for daily rehearsals for the event's June 5 opening show.
Col Lim, chairman of the Singapore SEA Games Organising Committee (Singsoc) opening and closing ceremonies, tells Insight: "Stopping the rehearsals would have been the easy option to free up capacity, but we decided to carry on and toggle both sides."
Such scenarios are not unfamiliar to SAF personnel whose presence of mind and organisational skills make them the go-to guys to plan and execute big events with military precision.
Whether they are one-off events like a state funeral, the upcoming SEA Games ceremonies or the 2010 Youth Olympic Games, the SAF has been largely responsible for ensuring events run without a hitch. Thousands of Singapore's soldiers, sailors and airmen are also roped in every year to organise the NDP, one of the SAF's largest annual peacetime operations.
But as a largely conscript army set up to defend a tiny island state, is the SAF stepping beyond its remit of keeping the country secure when it lends its muscle to large-scale non-military events?
Who else can do the job?
Unlike Singapore, militaries elsewhere are not handed responsibilities such as organising mass civilian events like an opening ceremony or parade involving tens of thousands.
Most countries would simply outsource the job to a civilian contractor, as was the case for the London Olympic Games or the Games in Rio next year. At best, military men would be called in to draw up security plans and provide protection.
But Singapore can ill afford to spend tens of millions of dollars to turn over the annual NDP to the private sector. Foreign players, for example, may be unfamiliar with conditions here to get the job done efficiently and successfully.
And few, if any, civilian organisations here can tap the large pool of manpower the SAF has - over 40,000 active and 300,000 reserve troops who can be activated at a moment's notice.
Indeed, for Mr Lee's state funeral - Singapore's biggest ever - 10,000 men and women from the SAF were deployed to ensure it ran like clockwork. And for the annual NDP, it is a year-long operation involving more than 7,000 people from the defence force, schools and civilian organisations who put in over 2,000 hours in meetings and rehearsals.
The People's Association is probably the only other body that has accrued experience organising mass events. It stages the annual Chingay Parade, which in scale is about half the size of the NDP.
But as Col Lim notes: "We have the ability to integrate things very quickly because most of the planning, logistics, technical demands and processes are adopted from what we do in conventional military operations."
Militaries have vast experience in organising large bodies of people and diverse pools of resources to solve problems quickly and efficiently, points out defence analyst Ho Shu Huang.
"I wouldn't say only the SAF can handle the organisation of such events, but few other organisations have the discipline and systems," adds Mr Ho, an associate research fellow at the S. Rajaratnam School of International Studies at Nanyang Technological University.
Also, the "atypical" nature of civil-military relations here has blurred the lines between the military and civilian worlds: "The SAF is a shared national resource whose use doesn't have to be limited to just defence or security."
Mr Ho attributes this to the lack of historical military tradition here, and the belief that public-sector talent, including the military, should be shared.
So although the SAF is primarily still a military force, "it is, above all, an organisation whose skills and resources, acquired primarily for defence, can and will be applied to other non-military tasks if necessary".
But there are some who say that the SAF's use of servicemen, including full-time national servicemen (NSFs) and NSmen, in non- military events simply exploits cheap labour to do mundane tasks that are not relevant to warfare.
This was one of the perceptions the SAF wanted to correct when it launched a high-level Committee to Strengthen National Service two years ago, chaired by Defence Minister Ng Eng Hen, which looked at how to improve and streamline the NS training system.
Former second defence minister Chan Chun Sing, now the labour chief, said then that the aim was to ensure NS training is more efficient and "meaningfully makes use of their (servicemen's) time".
And it seems to be the case for NSman Jervois Sng Min Han, part of the SEA Games show-committee media team. Although Mr Sng completed his two-year stint in March, he has been going back to the National Stadium to help out. "We started this project and wanted to see the project to completion. I will get this sense of fulfilment knowing that I have contributed in a way to an important regional event."
Still, some wonder if troops are being overstretched. For example, as military personnel helped undertake state funeral crowd control, 50 from the Republic of Singapore Air Force and Singapore Civil Defence Force were 2,500km away in Thailand, helping put out forest fires.
At the same time, men from the Island Defence Task Force were preparing for a counter-terrorism drill, dubbed Northstar, which ended last weekend.
Earlier this week, 38 SAF servicemen flew home after treating 3,000 victims of the Nepal earthquake.
Chief of Defence Force Ng Chee Meng, 47, gave the assurance that while "they are always on 24/7", planning ensures that "we keep the SAF balanced towards operations and the other national events".
Lieutenant-General Ng says he is careful not to overstretch the SAF. A case in point: When he took over as defence chief in 2013, he took the step of holding off or bringing forward some training exercises and wargames to free up the SAF for golden jubilee events in 2015.
The Artillery and Guards formations, for example, are in charge of the upcoming SEA Games opening and closing ceremonies, and the NDP.
LG Ng, who also heads the National Day Celebrations Committee, says: "I remember saying that 2015 is a very important year for Singapore and the SAF must be able to contribute to this aspect of nationhood and nation-building - (but) we don't want to breach our capacity."
Civilian duties well worth it
Clearly, the deployment of the military for national events has benefits for Singapore. But what is in it for the armed forces?
Defence observer David Boey says there are intangible benefits that come with the planning and organising of mega events, some of which are meaningful and "last a lifetime".
Such events go beyond military exercises in improving the SAF's operational readiness and in teaching the "art" of war.
They sharpen the SAF's ability to partner other agencies to resolve issues. For instance, NDP organisers deal with at least 20 military sub-committees and 50 external agencies.
Getting the whole act together involves compiling more than 40 detailed plans covering all aspects of the event, from the time performers get to centre stage, to when food and refreshments arrive.
Many who spoke to Insight say pulling off such mass displays is akin to executing dawn-to-dusk military training.
Military jargon is bandied about among SEA Games organisers - the process of looping in everyone during meetings and rehearsals is described as the "battle cycle", and post-mortems are dubbed "hotwash".
They even have weekly "table- top exercises/wargames" - simulations of every single movement executed during the parade using matchboxes, wooden blocks and models.
Mr Boey, a member of the Advisory Council for Community Relations in Defence, notes: "The mental preparation and conditioning that come with making sure mega events run smoothly is invaluable. The command-and-control processes mirror the skillsets that military and humanitarian and disaster relief operations will demand."
Where there are snafus, the show organiser is also trained to recover quickly, says Mr Boey.
One such glitch happened during the first NDP at the Marina Bay floating platform in 2007.
SAF commandos were geared up to rappel head down from the Benjamin Sheares Bridge when sparks from fireworks obscured them from view.
Yet, the commandos went ahead with their stunt and plunged into the bay to the oohs and ahhs of spectators - as SAF officers scrambled to find out why the fireworks had ignited early.
Investigations revealed that the fireworks contractor had armed the pyrotechnics early, and shock waves from the military display triggered a premature ignition.
Another gain for Singapore is that a number of senior military officers involved in previous NDPs have risen up the ranks, moved on and now continue to contribute in the Government and private sector.
Among notable NDP alumni are the Chief of Army, Major-General Perry Lim, who helmed the 2013 parade; and Social and Family Development Minister Tan Chuan-Jin, who was the 2009 NDP executive committee chairman.
Mr Tan first introduced the Pledge Moment, a segment that has become an NDP staple. He is now among those seen to be at the core of the country's fourth-generation leadership.
Others have made a difference to Singapore's landscape, right up till today.
The floating platform, known formally as The Float@Marina Bay, was the brainwave of retired Brigadier-General Teo Jing Siong when he was chief engineer officer in 2004. It has become a permanent feature on Singapore's skyline, and the social and sporting calendar, since it was first used as an NDP venue in 2007.
Singsoc's executive committee chairman Lim Teck Yin was in charge of the show segment in the 2002 NDP, while Mr Goh Kee Nguan led the 2006 NDP committee before being appointed chief executive officer of the Singapore Youth Olympic Games Organising Committee two years later.
Not just a war machine
It is true that managing crowds, setting up tents or putting together an entertaining show are a far cry from being caught in the heat of battle.
But as Brigadier-General Chiang Hock Woon, who was in charge of managing crowds at the Padang when Mr Lee was lying- in-state at Parliament House, puts it: "We are not just a war machine that shoots and kills. We play an instrumental role during peacetime."
LG Ng adds that the SAF is value-adding by playing a part in nation-building "to ensure Singapore moves forward and moves ahead. The epitome of strategy is to win without fighting".
"We are not a perfect organisation but I hope we will continue to nourish this system, refine it along the way, (and) nevertheless ensure this important institution will be ready and have the right values to serve Singapore and Singaporeans."
jermync@sph.com.sg
SEA Games by the numbers
As Singapore counts down to the SEA Games here next month, here are some statistics on the mega event.
Military organisers are in charge of the 6000 performers taking part in the three-hour opening ceremony at the National Stadium.
A total of 4,500 SAF men and women are involved in staging the opening and closing ceremonies. They come from seven ground units and report to the Chief Artillery Officer, Colonel Lawrence Lim, who is coordinating the ceremonies.
More than 100 rehearsals will have been held by the time the event opens.
Over 100 soldiers will appear in the show carrying more than 60 props, including floats, giant puppets and a ship.
More than 1,000 cues are needed to coordinate the movement of the performers - about one cue every 10 seconds.
More than 5,000 fireworks will be launched, including indoor and outdoor displays.
At least 1,440 bottles of water are consumed a day during rehearsals and meetings.

This article was first published on May 16, 2015.
Get a copy of The Straits Times or go to straitstimes.com for more stories.