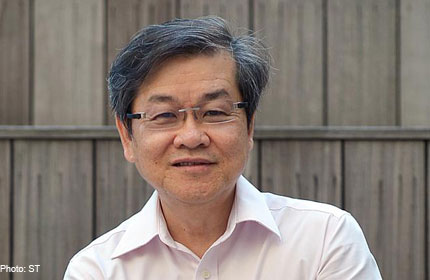 You could say that Mr Seah Seng Choon, executive director of the Consumers Association of Singapore (Case), takes his work home.
Once, while walking past a provision shop in Woodlands, the 60-year-old spied a bloated carton of expired milk and gave the shopkeeper an earful. A subsequent check found the dubious item taken off the shelves.
Another time, a taxi driver took him on a meandering $18 ride from Tanjong Pagar to Shangri-La Hotel where he was to give a talk.
"I told him, you are a bad driver. You are spoiling Singapore's reputation. I scolded him all the way," said the usually soft-spoken man who paid the cabby $6 and made a report to the taxi company.
Fighting for the consumer is what he does at work - a 9am to 7pm job - which involves dishing out advice to distraught consumers, urging merchant associations to rein in errant members and writing to businesses to ask them to play fair.
The job has grown more demanding over the years too, as consumers become more aware of their rights.
The association attended to a total of 25,733 consumer complaints last year, up 16 per cent from 2011. It helped to resolve almost three-quarters of the cases, and assisted consumers in recovering $3.3 million in total.
Mr Seah, a father of three, is on hyper-alert mode even when he is off-duty, always ready to sniff out even a hint of mischief.
When he shops, he goes by a list of shopping "safeguards": Always read product labels, get the trader's contact details, ask for how to get a refund and put guarantees down in writing.
Although most well known for his role at Case, he is also president of the Foreign Domestic Worker Association for Skills Training and sits on seven other committees, including the Genetic Modification Advisory Committee and the Council for Estate Agencies.
You could say that fate played a crucial part in deciding his career.
Mr Seah joined the Singapore Industrial Labour Organisation by chance in 1979.
The then 25-year-old was playing football with friends on a field in Farrer Park. Desperate for an air-conditioned room to cool down in, they spied the union's office nearby. It happened to be recruiting and a receptionist handed him an application form.
The National University of Singapore graduate in history and economics filled it up, got the job and also a wife - he ended up marrying the receptionist, Miss Phyllis Ho, two years later.
He was posted to the National Trades Union Congress a decade later and then to Case in 2002. He found it to be the perfect job for him - it quenched his burning desire to help others.
This desire was seeded at a young age, he said, in the kampung he grew up in - incidentally located on the site of Ulu Pandan Community Centre that now houses Case.
He remembers dirt roads and a father who left the family when he was two years old.
His mother, then a domestic servant to the British forces, single-handedly raised him and his two sisters.
She lost her job when the British forces left in the 1950s and the family struggled. He recalls a childhood of begging for food from neighbours and scavenging for leftovers.
Eventually, one neighbour helped feed the family, dishing out meals to them for about six years.
That was when he realised how important it was for society to help the underprivileged.
When his mother eventually opened a hawker stall selling street food, she never short-changed customers and food was never kept overnight. Unsold food was distributed to the poor.
"That's why I feel very unhappy when businesses are not being honest. There's no excuse not to," he said.
The bespectacled man does not track how much he has personally helped consumers to recover in his years at Case's helm.
But his toughest encounter was in 2003 when about 700 angry AIA consumers showed up at Case "shouting and banging tables".
They were sold life insurance policies under the impression that they would not have to pay premiums after a guaranteed "critical year" but were later told to keep on paying.
Both parties geared up for a court battle, but the matter was settled when AIA backed down and allowed certain affected policyholders to continue to receive dividends on their policies even after they stopped paying premiums. But the challenge at home was not one that could be as easily overcome.
His wife was diagnosed with breast cancer in 2002, the start of a long battle with the disease. She rejected any chemotherapy or medication and died in 2008.
Mr Seah remarried in 2011, after meeting a church pastor on the Internet. He proposed to her in a shopping centre in Klang in Malaysia after six months of dating.
"We were surrounded by consumers, in one of our favourite malls," he said, matter-of-factly. "It seemed apt."
limjess@sph.com.sg

Get a copy of The Straits Times or go to straitstimes.com for more stories.