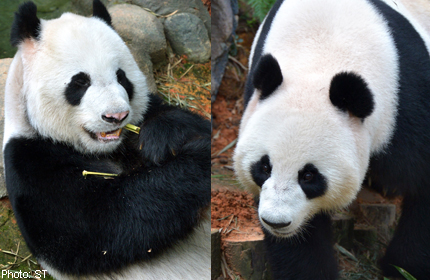 SINGAPORE - Today is the one-year anniversary of cuddly duo Kai Kai and Jia Jia's Singapore debut, but panda cubs are not on the cards just yet.
The giant pandas, here on a 10-year loan from China, have not shown signs that they are ready to mate.
Both pandas celebrate their birthdays this month. Female Jia Jia turned five on Sept 3, while male Kai Kai will turn six 11 days later.
Giant pandas usually start to breed around the ages of 51/2 to seven, but the pair is a "unique case", said River Safari's assistant director of zoology Ang Cheng Chye.
Pandas' mating behaviours are believed to be triggered by seasonal changes in daylight as winter turns into spring. Females come into heat for between 12 and 25 days each spring, and are fertile for less than two days during that period.
"With Kai Kai and Jia Jia being the first pair (in the world) to stay in the tropics for a long period of time, their mating behaviour will be a unique case study for researchers," said Mr Ang.
The two currently live in separate enclosures at the River Safari but once Jia Jia shows signs that it is ready to mate, both pandas will be put together, he added.
"Natural mating would be the first option, although we will consider artificial insemination if the former doesn't work."
The latter has proven effective, at least in other territories.
Last month, a giant panda gave birth at the US National Zoo in Washington, DC after the procedure.
The month before, Taipei Zoo welcomed its first cub after multiple attempts over four years to impregnate a female panda artificially with its partner's sperm.
But even if cubs are born here, Singapore will not get to keep them for long.
As part of the original agreement with the China Wildlife Conservation Association, the cubs will be sent back to the country when they are two years old.
mellinjm@sph.com.sg

Get a copy of The Straits Times or go to straitstimes.com for more stories.