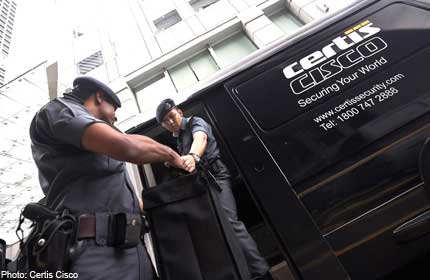 SINGAPORE - Certis Cisco has said that police investigations show no theft has been committed of its safe deposit boxes.
"On June 27, the Bedok Police Division wrote to inform us that the police have completed investigations and evidence did not suggest that theft had been committed," a spokesman said last Friday.
Some reports had been made of alleged thefts at the security and consultancy company's building in Paya Lebar last year in July and August.
The spokesman said Certis Cisco was consulting its legal advisers on the possible courses of action against comments made by people alleging losses.
While investigations were ongoing, Certis Cisco extended its closed-circuit camera system.
The coverage of the new system will, however, still not be extended to the private rooms used by owners of safe deposit boxes.
"The onus still remains on the customers to ensure they keep track of what they choose to keep in their own boxes - and what they remove," the spokesman said.
She added that there had been several occasions when loss claims and reports were made, after which customers found their belongings and informed Certis Cisco.
There have been no substantiated claims for the past 27 years, the spokesman added.

Get a copy of The Straits Times or go to straitstimes.com for more stories.