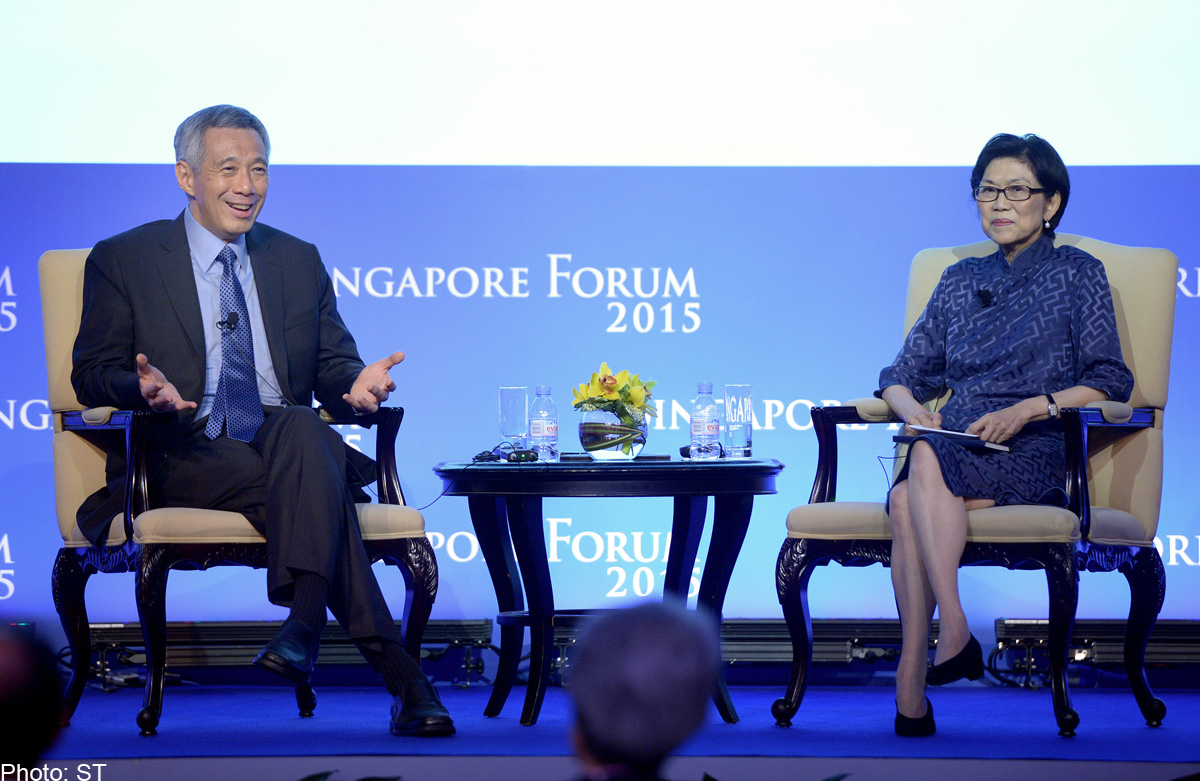 ASIA'S economies are on an upward trend, having weathered the recent global financial crisis much better than expected, Prime Minister Lee Hsien Loong said last night.
But whether the region continues to prosper will depend on how the countries work through some of the non-economic issues on the horizon.
PM Lee, who made the comments at the inaugural Singapore Forum, highlighted the trend of rising nationalism, territorial disputes and terrorism as areas of concern for Asia.
"We don't always think about them, but unless those things work out right, all these things about growth and prosperity will be based on a lot of presumptions which may or may not come true," he said during a dialogue with 250 political and business leaders, moderated by Ambassador-at-large Chan Heng Chee.
The two-day forum is a platform for Asia's policymakers and opinion leaders to discuss challenges facing the region.
Kicking off the forum last night, PM Lee said Asia had come some way from the 1997 Asian financial crisis, when it seemed like it was "the end of Asia".
From the lessons learnt, Asian economies also emerged relatively unscathed from the 2008 global financial crisis, he said.
Still, continued economic growth and prosperity in the region also depends on other non-economic factors.
While acknowledging that each country has its own problems to deal with, PM Lee said policymakers had to take their minds off day-to-day preoccupations and also take a longer term view.
One area to watch is the trend of rising nationalism, which is evident not just in Asia but also in Europe, he said.
While nationalist sentiments can have a positive effect, such as in giving people pride and pushing them to do well, taken to extremes, these can also cause them to turn inward and spark conflict between nations, he warned.
Mr Lee said that such sentiments are a result of historical factors, and are also a response to globalisation and uncertainty.
Another area of concern is territorial disputes between countries.
Citing claims by China and Japan over islands in the East China Sea, as well as territorial disputes in the South China Sea, he said that while these disputes have not escalated into wars, they produce tensions that will not disappear.
"No country is going to stand up and say: My claim is less legitimate than yours. My claim is indisputable, your claim is also indisputable. And when two things are indisputable, you have a dispute."
Allowing these tensions to escalate could lead to a "mishap", he said.
The third area of concern for the region, said Mr Lee, is the threat from terrorism.
He said that the terrorist group Islamic State of Iraq and Syria (ISIS) had attracted fighters from all over the world to the war in Syria, including hundreds from Indonesia, dozens from Malaysia and even a couple from Singapore: "They come back, they bring the virus... and ISIS has told those who might be supporting them in countries far away (to) do something in our own place, cause some mayhem."
He urged countries to take the issue seriously, saying that it does not just affect security, but also religious and racial harmony.
PM Lee said that as Singapore is a multiracial society, a terrorist attack will change the tenor of racial relations. "You can heal it over a long time, but the suspicion and fear will be just under the surface. That will be a very dangerous situation. That's why we take it very seriously."
The forum continues today, with former Indonesian president Susilo Bambang Yudhoyono giving the keynote address.
yuenc@sph.com.sg

This article was first published on April 11, 2015.
Get a copy of The Straits Times or go to straitstimes.com for more stories.