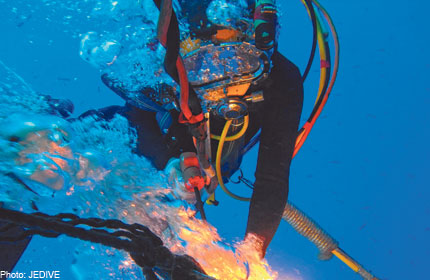 It does not take much to become a commercial diver.
Just taking a five-day scuba diving course allows you to be hired as one, after which the company will provide in-house training.
But diving among fishes and corals in places like Tioman island is very different from using a blowtorch to weld ship parts or navigating around dangling cables in murky waters.
And although it has been four years since the authorities recommended a higher standard of training and certification for commercial divers, this has not been followed.
Two leading scuba organisations - Professional Association of Diving Instructors (Padi) and Scuba Schools International (SSI) - offer certifications, which range from basic to instructor levels, as well as different specialisations such as cave diving.
But divers who hold fairly basic recreational Padi or SSI certificates can be hired for commercial diving work.
That's because to be employed as an occupational diver in Singapore, all you need is to show that you know how to dive.
This despite calls from the Commercial Diving Association Singapore (CDAS) to ban this practice.
That same year, the Manpower Ministry's Workplace Safety and Health (WSH) Council also said that recreational licences were not enough for commercial work.
But recreational diving instructor at Simply Scuba, Mr Christopher Lee, said he still gets students who take his open water diving course with the intention of working in the industry.
Mr Lee, who has been diving for more than 25 years, said: "Out of 400 students that we train, there will be at least two students who want to go do diving work with the certificate."
That should not be the case, said CDAS chairman Edwin Tan.
He questioned: "How can it be that divers who dive for fun are qualified to work in a dangerous marine environment?"
Former commercial diver Wayne Goh, 40, said: "There are so many things that can go wrong, even if you take all the precautions in the world."
For divers using air cables, danger can come from bad weather and moving ships, which can collide with the diver and cut off his air supply, said Mr Goh, who did commercial diving for seven years and holds a UK commercial diving qualification.
Many foreign commercial divers also start their careers with only a background in military diving, said Mr Tan. This contravenes WSH Council regulations. Said Mr Tan: "For years, people have been getting (diving) jobs by saying they're from some Myanmar or Vietnamese navy. But we don't know if their training is good enough."
Code of Practice
The industry has long been aware of this problem.
In 2005, Spring Singapore developed a new code of practice for commercial diving tailored for local use.
Known as the Singapore Standards 511, it is a 48- page list of standard safety requirements for both divers and diving companies.
In 2009, freelance commercial diver Gerald Chia, 21, was killed during his first offshore commercial dive.
A 120-page technical advisory for commercial diving safety was published by WSH Council later that year, and CDAS was started to represent views from the industry.
Despite the availability of the code of practice and the technical advisory, many marine companies are still not compliant to either.
A WSH Council spokesman said errant companies will be penalised only if an incident occurs.
This is because the onus is on companies to ensure that their divers are not only competent to do the job but also adhere to safe practices.
Companies looking to conduct commercial diving courses are encouraged to adopt good practices in accordance to WSH Council guidelines, he added.
Lack of Training Options
Mr Tan, who is also the vice-president of marine company Mencast Subsea, believes that this is due to the lack of training programmes in Singapore that can train divers to attain the local standards. He said this is why some divers go overseas for training.
But it is expensive to do so, said Mencast Subsea senior manager Victor Wong, whose company employs 40 commercial divers.
It costs around $20,000 to $30,000 to train in Australia or the UK to obtain an internationally recognised commercial diving certificate.
Said Mr Wong: "That's why companies cut costs and hire improperly trained divers."
Their company set up a training programme for its divers earlier this year to meet local standards, purchasing a 54m ship and commercial diving training equipment.
Divers are expected to pay only around $8,000 to $10,000.
Mr Tan claimed it is the first training programme here to help convert divers with various qualifications and experience to the local standard.
The programme is conducted by commercial diving instructors from KB Associates, a training provider.
Said Mr Tan: "We want to show that there's a way for us to locally train commercial divers, too." While the programme is only available to Mencast Subsea's staff, there is hope for others.
The WSH Council is hoping to launch a framework to accredit more training providers by 2014, its spokesman said.
Said Mr Tan: "The local standards are not as strict as international standards.
"But at least we can be assured that commercial divers are competent enough. What we want is uniformity."

Get The New Paper for more stories.