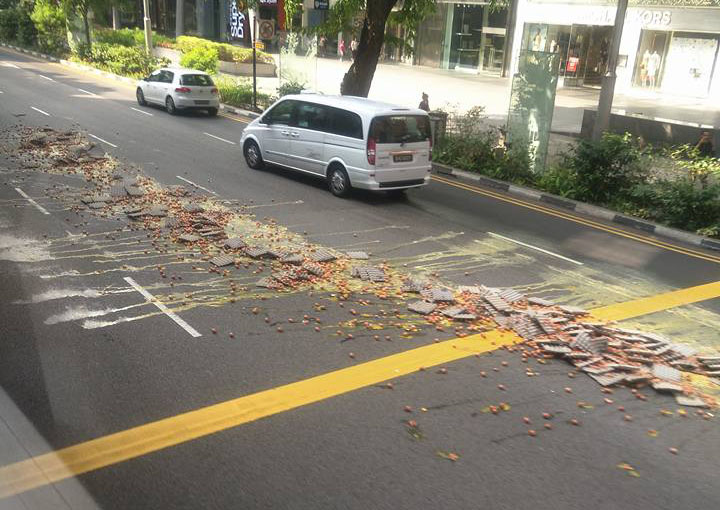 An egg spill happened at Orchard Road outside Mandarin Gallery on Thursday (July 27) morning.
To clarify things, the spill was not a small one that could be quickly cleared up with the combined effort of a few passers-by.
The spill, according to a Singapore Civil Defence Force (SCDF) spokesperson, measured a whole 15 metres - enough to pose a serious obstacle to traffic.
SCDF personnel were alerted at 10.25am and promptly responded to the incident.
Upon arrival at the scene, officers proceeded to clear up the eggs and mess while SPF (Singapore Police Force) personnel helped to direct traffic.
Many Singaporeans were unpleasantly surprised by how SCDF resources were being deployed, taking to the keyboard to express their anger and incredulousness at the entire scenario.
In essence, several netizens felt that the SCDF having to clear up a potentially dangerous road obstacle via any means was unheard of, and decided to ridicule the force accordingly.
Other internet users, however, disagreed, stepping in to defend as well as praise the officers who were on scene.
 There was also this comment:
For the record, neither the SCDF, SPF, or any public force for that matter, charges any kind of fee for their services to the country.
Many netizens also saw the opportunity to display their wit and punny creativity.
According to a spokesperson from SCDF, the force does not usually perform road cleaning duties on a regular basis. However, taking into consideration the magnitude of the spill as well as the interest of public safety, SCDF forces were deployed to clear up the affected area.
No injuries were reported, added the spokesperson.
nicchew@sph.com.sg