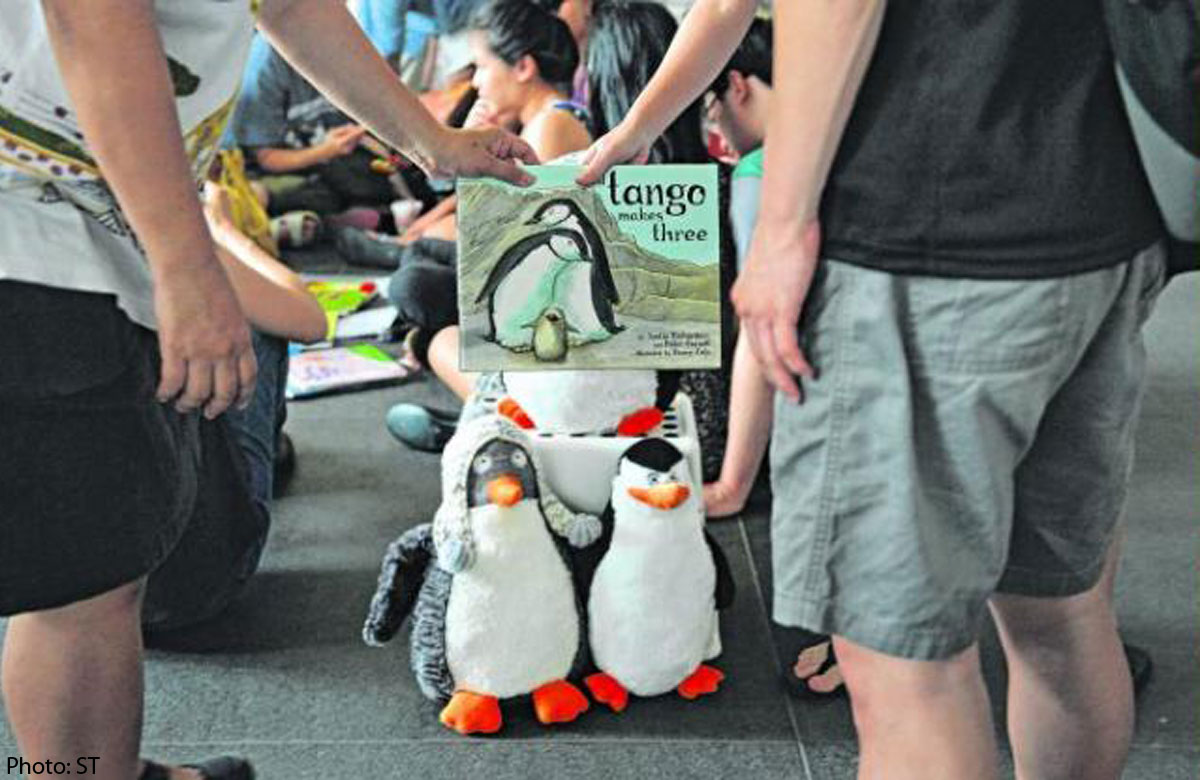 This was a first for Singapore - a protest through reading.
It was aimed at the National Library Board's (NLB's) decision to remove three children's books from its shelves - and, ironically, NLB made the National Library Building available for the protest to go ahead.
Some 400 people showed up to make a "peaceful statement" by making the withdrawn books available for the public to read.
The organisers, writer Jolene Tan, 31, and Ms Germaine Ong, 30, who did not know each other prior to the event, put it together in a flash.
Ms Ong, a freelance marketer, had created a Facebook page, Singapore's Parents Against Library Censorship, to express disagreement with the library's decision to remove the titles.
"It made me quite disturbed that my daughter would not be able to experience as wide a range of stories... reading about experiences that are not your own is what prepares you for real life," the mother of one said.
Ms Tan got in touch with her and they decided to make a statement in a "physical space".
"How can we make (the books) available... except physically? It was also meaningful for a large group of parents to get together and read to their kids," said Ms Tan.
The two mothers got a permit from police, as well as permission from NLB, just a day before the event. They pulled in about 10 friends to help out.
The books that have been withdrawn touch on themes like homosexuality and are targeted at children.
The titles were laid out on the floor yesterday, along with penguin stuffed toys - one of the books has two male penguins as its key characters.
Pia Rozario, 40, a mother of two, said: "Our society is diverse. Children need to learn to respect others who are different."
The student care teacher read King & King with her 10-year-old son - a story of a prince who does not fancy princesses and falls in love with another prince.
Some writers showed up to protest against the censorship of books.
Storyteller and writer Rosemarie Somaiah argued for the right to read and make your own judgment. "Books are only dangerous if you make that decision about them," she said.
Stage actor Ivan Heng and activist Vincent Wijeysingha also showed up.
Heng said: "When you read these books you will understand that at the core they are about love."
Meanwhile, an online group has released an open letter to the "We are against Pink Dot in Singapore" group, in response to "malicious" comments about the mass-reading event.
Clarifying that it does not support Pink Dot, the Concerned Parents SG group wrote: "You have turned into extremists and you are the ones whose passion... will lead to, or encourage crimes of unrest in Singapore."
thrinat@sph.com.sg

Get MyPaper for more stories.