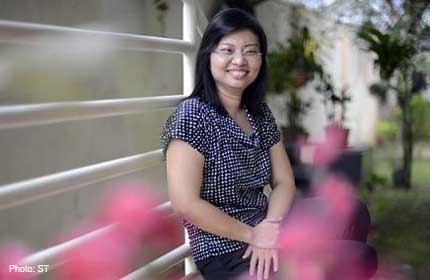 SINGAPORE - The secretary-general of opposition National Solidarity Party (NSP), Ms Hazel Poa, is stepping down owing to health problems.
She had made the request to the party's central executive committee (CEC), and this was approved at its regular monthly closed-door meeting yesterday, NSP president Sebastian Teo told The Straits Times. He said Ms Poa, 43, has had health problems for around two months. Initially, he added, the NSP decided to give her some time to rest, but at the end of it, she had not recovered and had made the request to leave her post.
Mr Teo said: "The secretary-general's job is very tough, we really need people with time, energy and stamina to do the day-to-day duties. She felt she could not recover in the near future. We want to thank her for her past efforts."
But she will remain as a council member. Mr Teo added that he had no details about her health issues.
Ms Poa did not turn up for Thurday's CEC meeting at the NSP's Jalan Besar headquarters.
Along with her husband Tony Tan, she was touted as one of several "star catches" by the opposition in the 2011 General Election. The couple are former government scholarship holders who went to Cambridge University.
Ms Poa, who left the Administrative Service to set up a chain of tuition centres with her husband, fought her first electoral contest in Chua Chu Kang GRC in 2011.
The NSP was the opposition party that fielded the biggest number of candidates - 24 - in 2011, and contested in four group representation constituencies and four single-seat wards.
Ms Poa became secretary-general in June that year and was elected for a second term in April this year. Her husband is the NSP's organising secretary, and will remain in his post.
Ms Poa could not be reached by The Straits Times yesterday.
It is not made known yet who will replace her. Mr Reno Fong and Ms Nicole Seah are first and second assistant secretary-general respectively.
Mr Teo said the party expects to elect a new secretary-general in about a month or longer, at a party congress.
Meanwhile, council member Praveen Velu, 33, will step down from the council due to work commitments.
chinlian@sph.com.sg

Get a copy of The Straits Times or go to straitstimes.com for more stories.