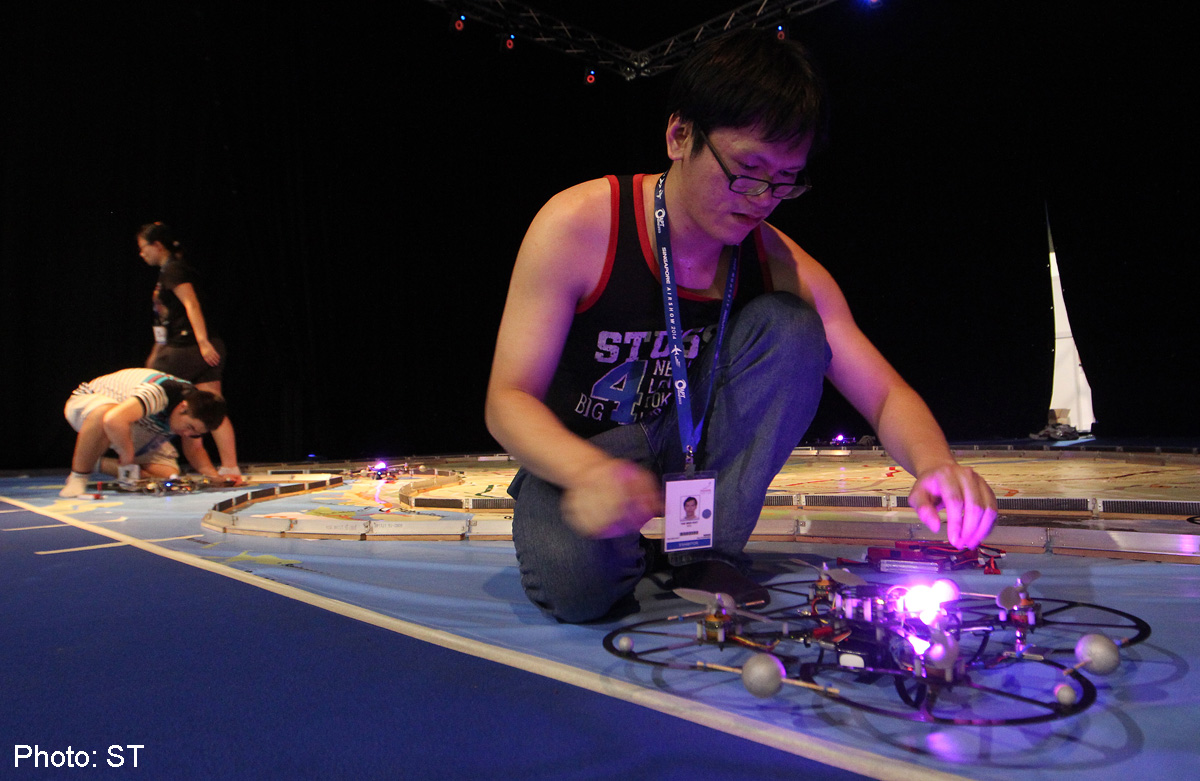 SINGAPORE - The air force's Black Knights will not be the only ones flying in formation at the Singapore Airshow. A group of drones built by the Nanyang Technological University (NTU) will be showing off some fancy aerial moves as well.
This has been made possible after a research team from the university developed a system to solve the tricky problem of getting drones to move together, without crashing into each other.
A possible use of the system, which took over three years to build, could be to co-ordinate the drones as they search for survivors in a disaster zone.
Taking into account the search area's boundaries, the system can compute the flight routes the drones, known as unmanned aerial vehicles (UAVs), should take while avoiding collisions with each other and other obstacles.
''Our objective was to design a system which can fly UAVs automatically without human intervention in an (unknown) environment,'' said Professor Xie Lihua, one of the project's lead scientists from NTU's School of Electrical and Electronic Engineering.
The system will be showcased, with support from the Ministry of Defence (Mindef), at the Singapore Airshow, which kicks off last Tuesday at the Changi Exhibition Centre, but was open to the public only last weekend.
Visitors to NTU's drone showcase will be able to see 12 custom- made drones fly in various formations, using the new control system. They can also try their hand at controlling a drone, with a claw, which they need to get past three other flying drones and grab an object.
In another game developed by the National University of Singapore, visitors can pen a word on a tablet, which a drone carrying a brush will then try to copy. Ngee Ann Polytechnic also contributed to the drone project by helping with assembling and testing the UAVs.
The next step for NTU, which might take up to a year, is to develop an outdoor navigation system so that the drones can avoid obstacles. The current system, which is based on cameras which track marker balls on the drones, only works indoors.
Mini drones, which look like small helicopters, have been of interest to military organisations.
A spokesman for Aeryon Labs, a Canadian maker of small drones, told The Straits Times that customers for its four-bladed Aeryon SkyRanger drone, which was announced last year, are primarily government and military organisations.
The SkyRanger has infrared and high-definition cameras, and can operate in sub-zero temperatures, while withstanding wind gusts of 90kmh.
Last September, the United States Air Force also launched a project to build a system which can allow a four-rotor drone to navigate by itself with minimum human input.
kennyc@sph.com.sg

Get a copy of The Straits Times or go to straitstimes.com for more stories.