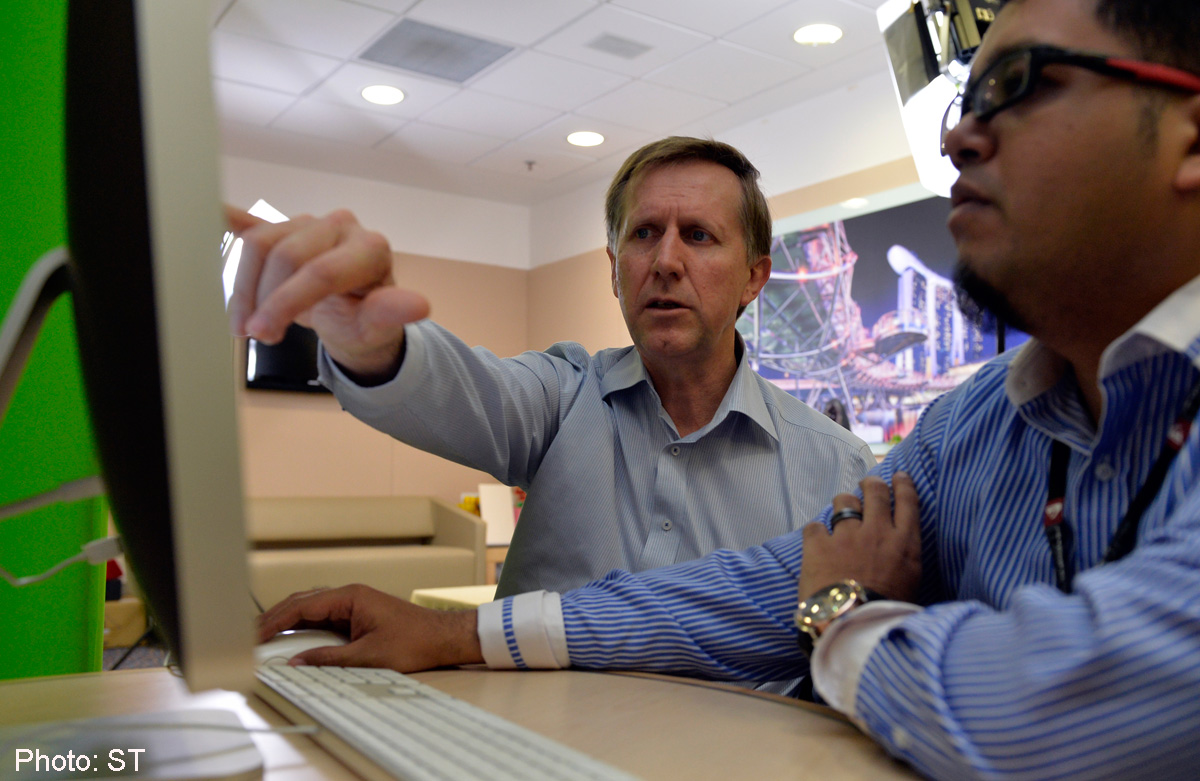 SINGAPORE - Nanyang Technological University's (NTU) foray into online learning this month is going to count for more than just spreading knowledge.
It will allow undergraduates who take up certain courses taught by its professors on the popular Massive Open Online Course (Mooc) platform Coursera to earn academic credits towards their degree.
Working adults, and polytechnic, junior college and secondary school students who pass the courses will also be able to transfer their credits to NTU if they later enrol as an undergraduate.
The bold move comes four months after the National University of Singapore (NUS) announced that it will allow national servicemen to take up its online courses hosted on Coursera even before they start on their degree studies proper.
But while NUS' credit-bearing courses are open to only NSmen who have already gained a place in the university, NTU has gone further by deciding to make it available to all its undergraduates and prospective students.
Professor Kam Chan Hin, NTU's associate provost in charge of undergraduate education, said students who take up its very first offering - "An Exploration of Symmetry" - on Coursera on Feb 17 can earn three credits, the equivalent of an elective module in its undergraduate programme.
While not all NTU courses on Coursera will offer credits, Prof Kam said he expects many more credit-bearing courses to be launched over the next few years.
"I foresee that over the next few years... students can choose to study up to five of their elective modules online. That means they can save up to a semester and graduate earlier. They can use the time saved to take up another course or go on work or research attachment," he added.
When asked how NTU will ensure there is no cheating, Prof Kam said the credit-bearing courses will be run on Coursera's "signature" track.
This allows students to use webcams to show they are the ones doing the work. Also, at the start of the course, a student's unique typing pattern will be captured.
"Everyone of us has a unique way of typing, so it will be like a fingerprint to verify the identity of the student," Prof Kam said.
Coursera's courses are free but students who sign up for the signature track have to pay a small fee ranging from US$29 (S$37) to US$69. The fee for the symmetry course will be US$29 but NTU students will not have to pay.
Taught by the university's materials science professor Tim White, NTU's first course already has 13,000 sign-ups from around the world, said Prof Kam. The majority of students are from North America, Europe and India.
The eight-week course, which requires between four and 10 hours a week, teaches students how to recognise symmetry in nature and art, for instance, and understand its relevance.
NTU will launch its second course in May and that will also be on Coursera's signature track.
The course, called "Introduction to Forensic Science", will be taught by Professor Roderick Bates from NTU's School of Physical and Mathematical Sciences. It will offer a peek into how investigators analyse crime-scene evidence. It has already attracted over 14,000 applicants.
NTU has at least another three Mooc courses in the pipeline.
Professor Alan Chan, who is the dean of the College of Humanities, Arts and Social Sciences, is planning one on Chinese philosophy. Top business teacher Professor Vijay Sethi, from Nanyang Business School, is designing a course on e-commerce and technology.
Meanwhile, world-renowned geology expert and NTU's Earth Observatory of Singapore director Kerry Sieh is planning a course on natural hazards.
Prof Kam also revealed that NTU has redesigned four TV studios for the development of the Mooc courses.
He said: "We now boast one of the best digital media facilities in a university, which is supported by a development team that includes top-notch faculty, e-learning design specialists such as learning designers, videographers and multimedia experts."
Full-time national serviceman Peter Wee, 21, who has applied to study engineering in NTU, is keen to sign up for the courses.
"Why not? Especially if the courses are relevant and interesting," he said. He added that he will be glad to finish his degree earlier as he will be supporting himself through school.
sandra@sph.com.sg

Get a copy of The Straits Times or go to straitstimes.com for more stories.