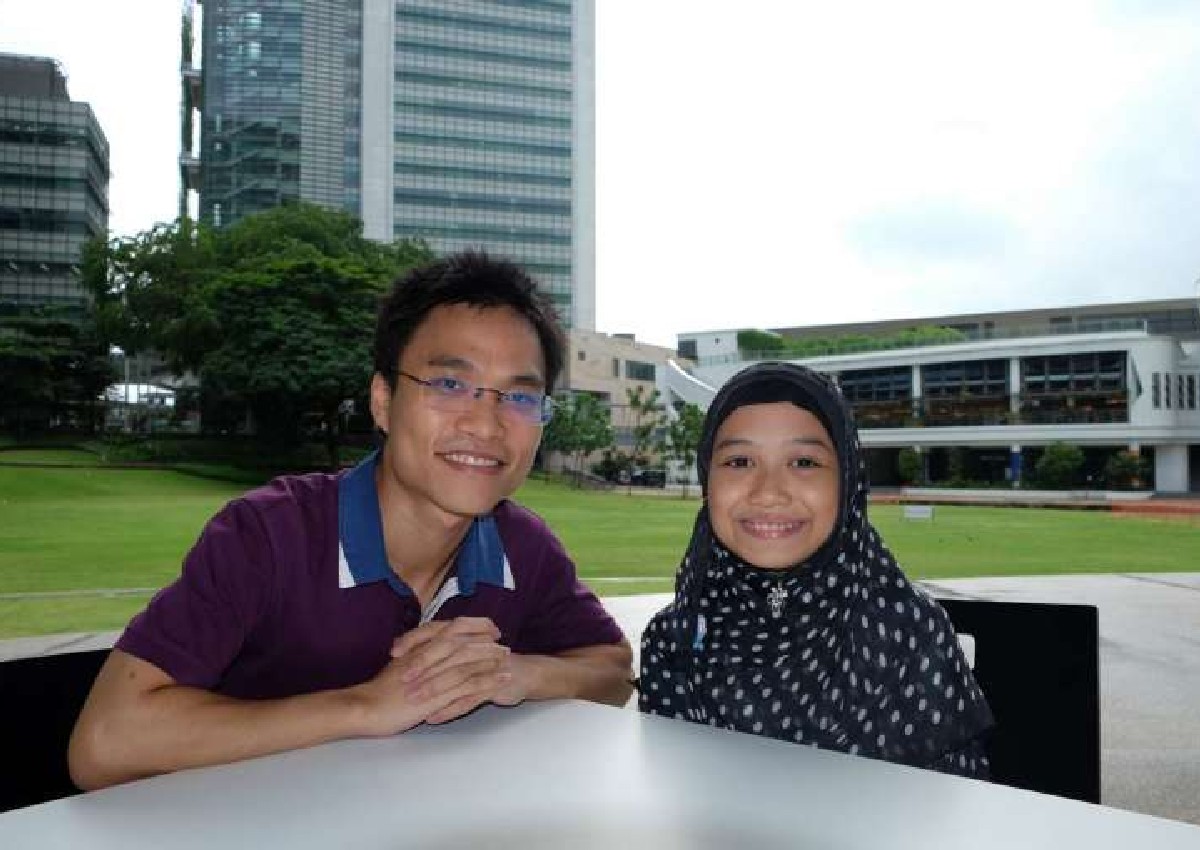 Most students may groan at the thought of having to head out for tuition after a long day at school, but not Nur Dhamirah Amiszan, 11.
The Primary 6 pupil from Chua Chu Kang Primary School receives free weekly tuition under Connect Tuition, which was started last year by a group of University Scholars Programme (USP) students from the National University of Singapore (NUS).
Tutors give free one-to-one tuition for 1 1/2 hours every week during the university semester to students from interim rental housing flats.
The students first have dinner together at an NUS residential college's dining hall, using meal credits donated by undergraduates staying there, before attending their individual tuition sessions.
"The tutors are helpful and friendly, and we also play games sometimes, which makes it fun," said Dhamirah. "The food is also good."
Connect Tuition started last January with 28 primary and secondary school students from interim housing units in Dover. It received more than 60 applications for tutors, which it cut down to an initial team of 30.
Founder Lynette Wong, 26, started Connect during her last year in NUS as an English literature undergraduate. " It was started to connect disconnected communities," said Ms Wong, who now works in advertising.
"Talking to some university students, we realised that not many have an awareness of the interim housing units in Singapore, that they exist or how they work."
The sustainability of the project was a major concern for her right from the start. "A lot of tuition projects had tried to get started in the past, but they weren't sustainable: Tutors are very busy, students go on exchange, or they move on.
"So we needed to tailor a programme that would have continuity and have tutors in core teams who are always trained. This way, the families know you're not going to leave them in the middle of the semester when you get busy."
Since then, the number of tutors and tutees has more than doubled over the past two years. There were 64 tutees supervised by 65 tutors last semester, which started in August.
The initiative is also expanding to other districts. Starting in January, Connect will take in tutees from interim housing estates in Telok Blangah.
Dhamirah's mother, Madam Hafidatun Athali, 41, said her daughter's grades had improved tremendously since starting tuition with Connect last year. "Her maths marks went from always failing to slightly above average, more than 50 marks now."
One of the tutors, Mr Brian Teo, 26, continues to give tuition every week with Connect even though he graduated more than a year ago.
The A*Star research officer, who graduated with a degree in biomedical engineering last year, said: "It's something I can contribute to the community. I felt fortunate to be able to have a good education, so I'm giving back to some people who are less well-off and who may not get the same opportunity as me."
But tuition is not the only thing that Connect provides its tutees, said Ms Wong. "It's also about mentorship and life skills."
To that end, it holds non-tuition programmes once every semester. These include arts-and-craft workshops, where students learn how to design and make paper wallets, and a recently concluded Coding Week, where tutees were exposed to basic programming skills.

This article was first published on Dec 14, 2015.
Get a copy of The Straits Times or go to straitstimes.com for more stories.