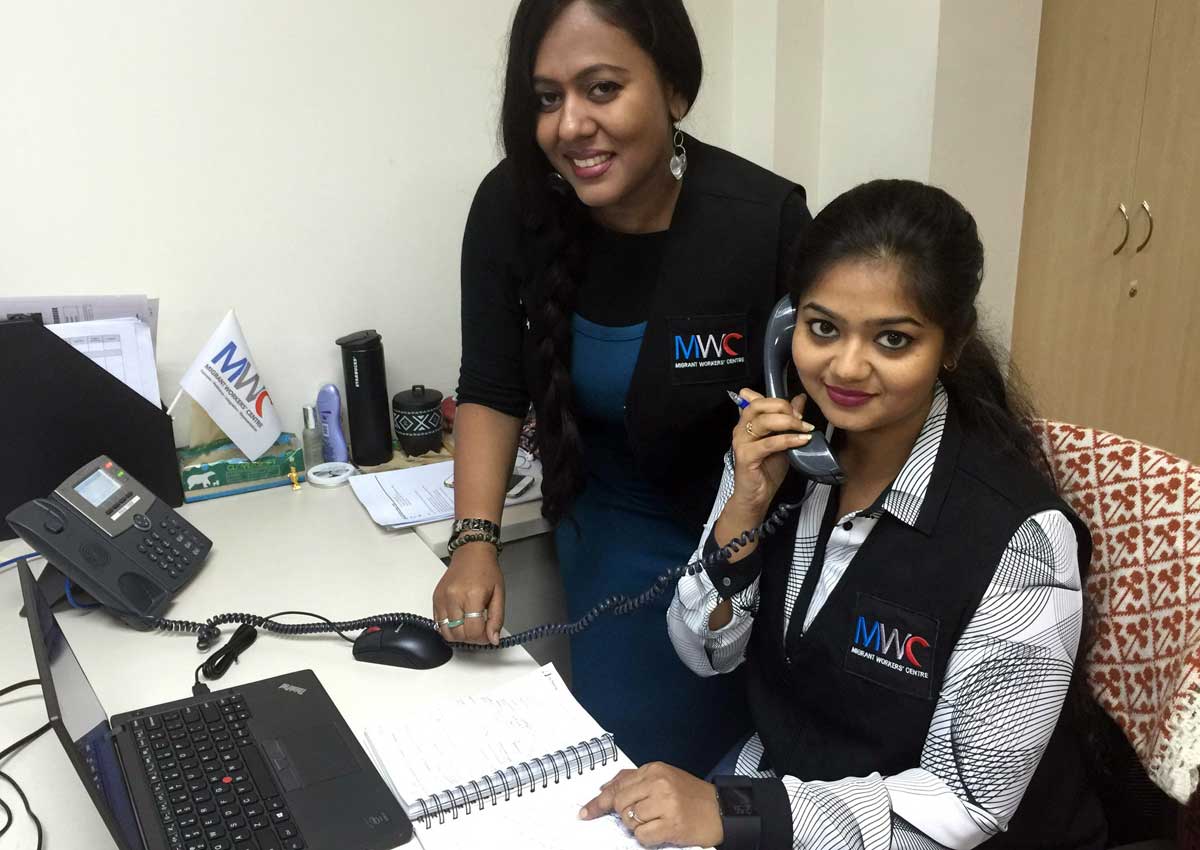 They are the voices of hope for troubled foreign workers.
When a problem arises, they are just a phone call away.
Ms Kavitha Rajoo, 38, and Ms Reshma Basu, 34, are among the 18 officers who man the Migrant Workers' Centre's 24-hour helpline.
It is Singapore's only 24-hour hotline where foreign workers are able to express themselves in their native language.
The 13 languages include Thai, Bahasa Indonesia, Mandarin, and Chinese dialects like Hokkien, Teochew and Cantonese.
The helpline, which started in July 2014, receives an average of 20 calls a day.
The number is higher on weekends but Ms Rajoo and Ms Basu are determined to help - picking up calls from distressed workers in the wee hours of the morning.
Ms Rajoo, who speaks Tamil, said her job gives her a huge opportunity to help foreign workers and make their lives here meaningful.
She said: "I view these migrant workers as equals, just another human being who needs help.
"I like helping them be more self-reliant so they know their employment rights and can't be mistreated."
The most common calls received are pleas for help regarding salary issues and injuries, but sometimes they receive tip-offs about larger issues like illegal and overcrowded dormitories.
In November 2014, the MWC received a call from a foreign worker claiming that their employer had not been paying 120 of them for the past six months.
The MWC took action and solved the case within 48 hours.
Ms Basu, who can converse in Hindi, Bengali and Punjabi, said: "Whenever we talk to these workers, we really listen to their stories and try to understand their problems.
"We are there for them and listen to everything they have to say and hopefully start to build trust. They start to realise that MWC is by their side no matter what they might be facing."
Seeing that the MWC helped them and were trustworthy, one of the 120 workers gave them another tip-off, this time on their horrific living conditions. (See report on right.)
PIONEER
Ms Basu, who moved to Singapore in 2008 after getting married, was one of the pioneers of the MWC, which started in 2009.
She said: "I am disappointed with certain employers. They lack humanity.
"Paying them is the basic necessity. That's why they left their country, their loved ones, to come here."
She even visited a training centre in Bangladesh and met workers who were getting ready to come here.
She said: "To them Singapore is a dreamland. They don't realise what they're getting themselves into.
"Seeing those smiling hopeful faces turning into faces that cry is very difficult.
"I think what I'm doing is very noble work as I am solving someone's pain. It fulfils me when I get to see the difference I can make."
What is MWC?
Set up in 2009, the Migrant Workers' Centre (MWC) is an initiative of the National Trades Union Congress and the Singapore National Employers' Federation.
The MWC is a non-governmental organisation whose mission is to champion fair employment practices and the well-being of migrant workers in Singapore.
They provide advice and assistance to migrant workers seeking remedies against unfair employment practices.
They also facilitate social acceptance and integration through outreach activities, community engagement, advocacy and public education. For example, more than 5,000 migrant workers turned up on Dec 13 at last year's International Migrants Day (IMD) celebration held in Little India. This was the seventh IMD celebration organised by MWC since 2009.
The MWC also engages schools through an immersive and interactive attachment programme that aims to build greater understanding of the migrant worker environment in Singapore.
During this two- to three-day attachment programme, students will get different opportunities to learn about and interact with migrant workers.
They also find out about real case studies previously handled by MWC and experience how to manage and assist migrant workers in such cases.
HELPLINE
Migrant workers in need of assistance can call MWC's 24-hour helpline at 6536-2692
natmeah@sph.com.sg

This article was first published on January 8, 2016.
Get The New Paper for more stories.