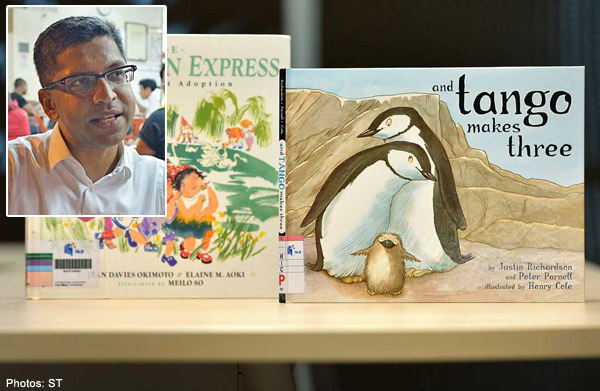 SINGAPORE - Just over half of Singaporeans agree that books which are not in line with traditional family values should not be placed in the children's section of public libraries.
The National Library Board's (NLB) decision to remove three children's books from its shelves was also supported by 45 per cent of people who were aware of the controversy, with 28 per cent disageeing. About a quarter were neutral about the issue.
These were the results of a telephone poll by the Government's feedback unit Reach.
Despite the massive fallout following NLB's move, four in 10 Singaporeans remain unaware of the saga, according to the survey of 843 citizens.
This was even with writers pulling out of NLB-linked events, and a crowd of 400 turning up for a reading session at the National Library Building's atrium to protest against NLB's decision.
The board had removed the books after receiving complaints that they were not "pro-family".
Of the 60 per cent who were following the debate, about one in five believed the books should be pulped.
But most - 55 per cent - suggested other alternatives, with the top choice to move them to the library's adult section.
Reach chairman Amy Khor said the results of the poll, which was conducted from Monday to Thursday, "remind us that there are still issues that are divisive and can fracture us as a country".
"It is therefore important not to let these divisions deepen and tear us apart," added Dr Khor, who is also Senior Minister of State for Health and Manpower.
"In the interest of all Singaporeans and future generations, let us discuss this rationally and find a common ground that we can agree on."
asyiqins@sph.com.sg
This article was first published on July 19, 2014. Get a copy of The Straits Times or go to straitstimes.com for more stories.