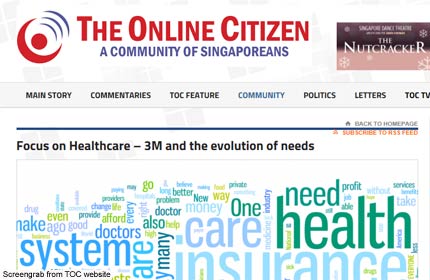 SINGAPORE - The Government's approach to providing and funding health care came under criticism on Saturday from representatives of five opposition parties at a forum.
One main concern they raised was the Government's "philosophical approaches to financing health care". At the heart of it is the co-payment principle, which the Government says prevents over- consumption and promotes self-reliance.
Non-Constituency MP Gerald Giam from the Workers' Party said co-payment may deter some - especially the low-income - from going for screenings or treatment at an early stage. Reiterating points from his adjournment motion in Parliament last month, he asked for a cap on out-of-pocket expenses that go towards co-payments for MediShield.
National Solidarity Party member Ravi Philemon said co-payment should not apply to preventive measures and called for all citizens to be given free check-ups at polyclinics without means testing. The speakers at the forum at Rendezvous Grand Hotel, organised by The Online Citizen, also criticised the commercialisation of the health-care system, which they said has helped drive up medical costs.
Dr Paul Tambyah, from the Singapore Democratic Party, said the "unbridled use of non-evidence-based medical treatment" helps drive medical inflation and mooted a single-payer universal health insurance system.
The Government has made recent moves to boost the health-care system. It will raise its share of national spending on health care from one-third to about 40 per cent and introduce MediShield Life.
All the speakers - the remaining two were Mr Leong Sze Hian representing the Singapore People's Party and Reform Party member Osman Sulaiman - said the Government still spends too little, and people have to pay too much out-of-pocket.
The speakers also called for the levelling of barriers between primary care and acute or long-term care, as well as between the public and private sectors.
Human rights group Maruah's president Braema Mathi - one of more than 100 people who attended the forum - proposed making the hospital and polyclinic system "classless", so that beyond a top tier for private patients, everyone else gets equal access to doctors and health-care personnel.

Get a copy of The Straits Times or go to straitstimes.com for more stories.