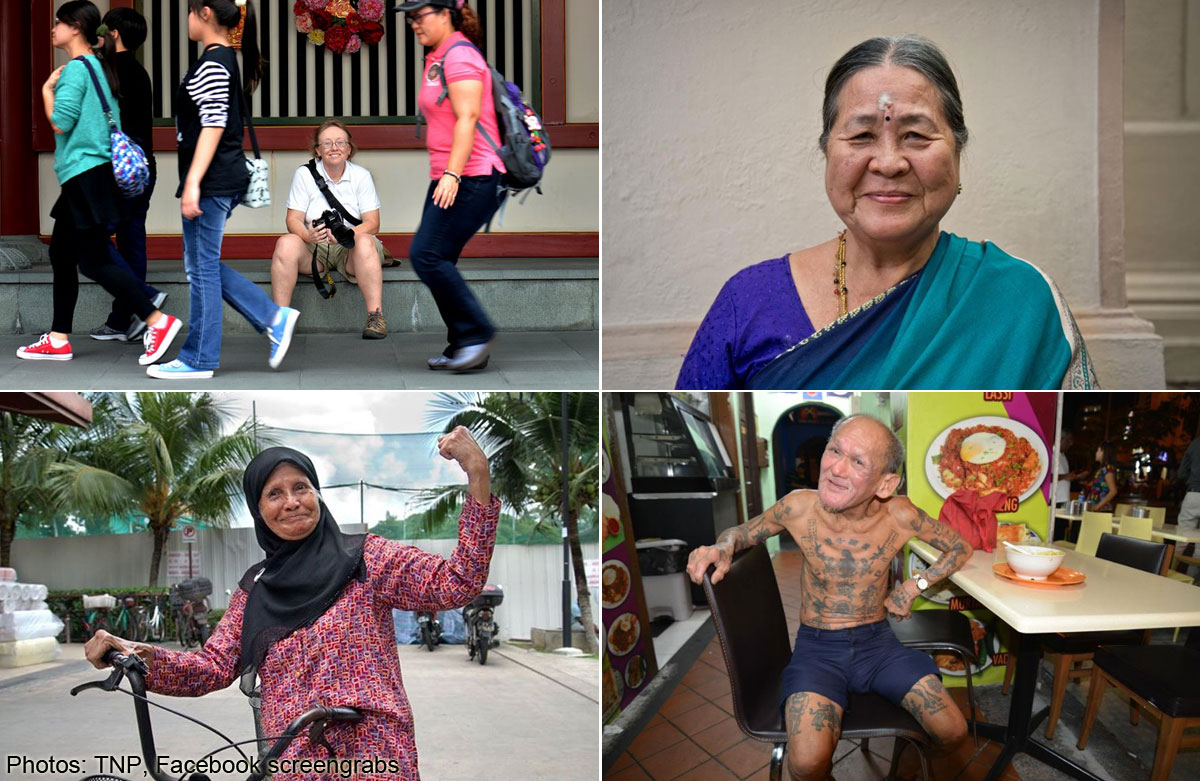 She sits on the floor of the Buddha Tooth Relic Temple at Chinatown, resting one hand on her Nikon camera.
"There's this interesting woman who frequents this place. She used to be a 'sor hei' (dialect for 'live-in domestic servant').
"Today, she collects cardboard for a living," says IT consultant Robin Ann Rheaume, 50.
She is waiting for her because she wants to try to photograph her again, even though she had been rejected before.
"The woman told me I shouldn't take her picture because she's poor, and it's shameful to be poor," says Ms Rheaume.
"In general, people think their worth is based on how many of the five Cs they have. I hope to dispel that."
To do that, the Canadian-born Singapore permanent resident started a Facebook page and Tumblr blog two years ago, called The People of Singapore.
There, she showcases her photographs and conversations with strangers she meets.
She has featured more than 500 stories of ordinary people living and working here, from migrant workers to lonely retirees.
She has spoken to a gamut of people - from a taxi driver who spends 16 hours a day on the road, a karung guni man who peddles his wares at
Sungei Road and even a 97-year-old retiree who was a Japanese prisoner-of-war.
S'POREAN IDENTITY
"Too often, we see stories of people being successful.
But I think they make ordinary people feel bad about themselves," says Ms Rheaume.
"This (The People of Singapore) is just my contribution to the larger discussion of the Singaporean identity."
We tag along on one of her photography hikes in Chinatown.
"Meet me at the place where all the old men play chess," she says, adding that the place is one of her favourite ones to get stories.
As she walks among the crowd, it is clear that many of the old folk there recognise her.
They smile and say hi.
Some have been featured by her before, while many others wave her away when she asks politely to photograph them.
"How are you? Remember me? Can I take your photo today?" she jokes with a smiling elderly gentlemen who, once again, rejects her.
"If I had to guess, I would say only 5 per cent of people I approach actually agree (to be photographed)."
At Hong Lim Complex, one shop owner who Ms Rheaume has shot before squeals in delight when she spots her.
"Ah, it's you! Welcome back!" says Ms Yong Mei Yee, 53, who runs Tian Xiang Snack House.
"She (Ms Rheaume) appeared out of the blue one day.
She was very interested in what I was doing, so I let her photograph me," says Ms Yong, whose vegetarian restaurant offers free meals to people over 60.
Not everyone shies away from her.
There are those who are only too willing to be photographed.
"Once, I was invited to join a table full of drunk uncles at a food centre.
Turns out that they all had great stories to tell," she says.
Ms Rheaume was inspired by the Humans of New York project started by American photographer Brandon Stanton in 2010.
She says its harder to do such a project here. "People don't open up as easily," she says. "There's also the language issue."
She has picked up some basic Mandarin from the people she meets.
Singlish is also not a problem.
But the best way to connect with people, she says, is through human warmth.
"It's amazing what a smile and a greeting can do."
She moved here from Montreal, Canada, to work as an investment banker 23 years ago.
Back then, it was not easy for her to integrate into the local culture.
"For the first six months, I felt it was really hard to make friends. People have their own lives and are suspicious of those they don't know.
"It was really hard work.
I just kept bugging people till they included me in their circle," she recalls with a chuckle.
Besides this project, Ms Rheaume also helps out at charities and non-governmental organisations.
There, she made many lifelong Singaporean friends, some of whom still tip her off on interesting stories for The People of Singapore.
"It's not right to just come to Singapore, take and then leave.
I think people should move out of their 'Tanjong Rhu ghetto'.
"In Singapore, magic lurks behind every corner," she says.
ngjunsen@sph.com.sg

This article was first published on February 2, 2015.
Get The New Paper for more stories.