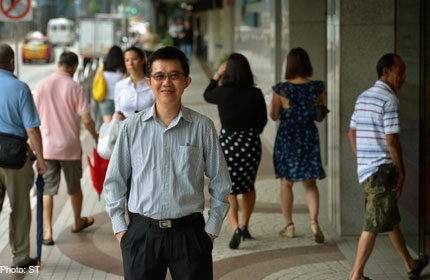 Mr Harry Ho may be skinny, bespectacled and soft-spoken, but the 51-year-old strikes fear as a debt collector armed with a warrant card.
His job, which involves millions in dollars, has taken him from seedy streets in Geylang to the resort island of Sentosa.
The Central Provident Fund (CPF) Board inspector has the authority to enter offices without notice to question tardy employers who fail to pay CPF contributions to their workers.
How does he see his job? "I am collecting money owed to ordinary workers, so I am like the people's debt collector," he said with a smile.
In May, the CPF Board announced how its enforcement and recovery team, of which Mr Ho is a part, recovered a mammoth $293 million in arrears from errant companies on behalf of more than 200,000 workers last year.
The bulk of the money, $283.7 million, were late payments made after a 14-day grace period. The other $9.4 million was from employers which defaulted.
A CPF Board spokesman told The Straits Times last week that the CPF Board and Manpower Ministry are currently reviewing whether to impose heavier penalties on errant employers.
First-time offenders currently face a fine of up to $2,500 and repeat offenders, $10,000.
"Singaporean workers count on me and my colleagues to recover their CPF, which is their hard-earned money, so we owe it to them to do our work well," said Mr Ho, who joined the CPF Board 18 years ago.
The diploma holder does not track how much he has personally recovered in the 16 years as an enforcement officer.
But his toughest case involved being part of a four-man team probing car dealers which did not pay CPF contributions to their salesmen for loan and insurance commissions. When the two-year investigation ended in 2009, the team recovered a record $31 million.
Not all the cases that left an impression involve large sums of money, he said. A visit to a Geylang shophouse 11 years ago still sticks in his mind.
Instead of finding the employer he was looking for, he stumbled onto what he believed to be a gambling den. "I saw strangers entering and leaving," he said.
It turned out later that the employer he was investigating had moved out.
Glamorous locations are not unusual for him too. In a case last year, he went to Sentosa to check on a contractor who was suspected of hiring workers off the books. He declined to provide details on the ongoing case.
"A case is closed only after all the money is paid up," said Mr Ho, who typically takes on 20 new cases each month and handles another 50 to 60 cases that are at various stages of investigation.
The oldest file on his desk is eight years old, involving a cleaning company boss who has not been discharged from bankruptcy.
He is still paying the CPF contributions he owes to workers, through instalments.
Mr Ho's favourite words when he telephones a worker are "the cheque is ready".
"It means that one case is concluded and I can focus on a new one to help another worker."
He recalls how emotions flowed a year ago when he personally delivered a cheque even though he was not required to.
But he made an exception for the wheelchair user. Mr Ho's wife, who works as an administration clerk, tagged along because the worker was a woman.
"The worker was very touched and she kept thanking me, and my wife got a little emotional," he said. "She told me later she understood why I kept doing this job."
The father of two school-going boys, aged 16 and 18, admits that he does not talk much about his work to his boys.
"But I am sure they are proud that I am helping other workers."
Dealing with errant bosses has not eroded Mr Ho's faith in them.
"Some genuinely face cash flow problems, but most usually pay up after I listened and explained the law to them."
tohyc@sph.com.sg

Get a copy of The Straits Times or go to straitstimes.com for more stories.