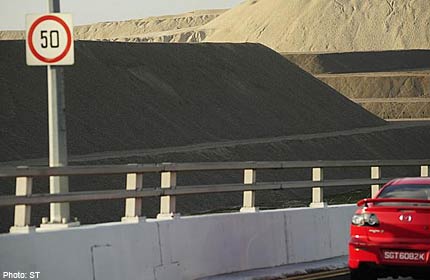 SINGAPORE - Travelling along Tampines Avenue 10 is like riding into a holiday - yes, truly.
You may think deep heartland territory is hardly a romantic setting for relaxation, but the vastly different scenes make the ride seem like you're being transported to the landscapes of different countries.
Scenes from other worlds flash by: sand dunes, rolling grassy plains and what could be UFOs set to take flight.
The sky is open and vast, and ruby shafts of sunset turn clouds into pink cotton candy as cars shoot by on the highway each evening.
The 10-minute drive takes travellers past objects that, although exotic in another setting, have far more practical names and uses.
Water towers which seem to pop out of nowhere at one end of the road belong to the national water agency, PUB.
Two cones, looking permanently frozen mid-flight, are elevated tanks created for storing that pillar of Singapore's water sustainability, Newater.
Buildings, taking their spaces between large fields, favour the blocky look.
Among the squat and square are bedrocks of industry and commerce - sprawling wafer fabrication plants, worksites, and the behemoth shopping trio of furniture retailer Ikea, Giant hypermart and electrical, IT and furniture store Courts.
The fields remain untouched, for now. They are serene sanctuaries of green, a favourite of bird-watchers, plant foragers, kite-flyers and hobbyists with buzzing remote aircraft.
At the other end of the tarmac, row upon row of sand pyramids and trapezoids lie fenced within the Tampines Stockpile Site, which comes under the Housing Board's Building Technology Department Resources Management.
Sand, together with granite and cement, is a crucial ingredient of concrete - and needed to feed the country's insatiable building industry.
But squint a little, and you can almost see a sphinx emerge from the soft, feathery mounds.
Beyond the main road lie more treasures that add to the holiday feel in an urban setting.
Venture a little off the beaten track and you'll encounter fish farms and animal sanctuaries, orchid gardens and majestic temples, all within minutes of one another.
Sometimes you don't have to look far for adventure.
So if you're tired of fancy resorts or don't have the time or money to take in the sights abroad, perhaps it's time to get your kicks on Singapore's own Route 66.
ailien@sph.com.sg

Get a copy of The Straits Times or go to straitstimes.com for more stories.