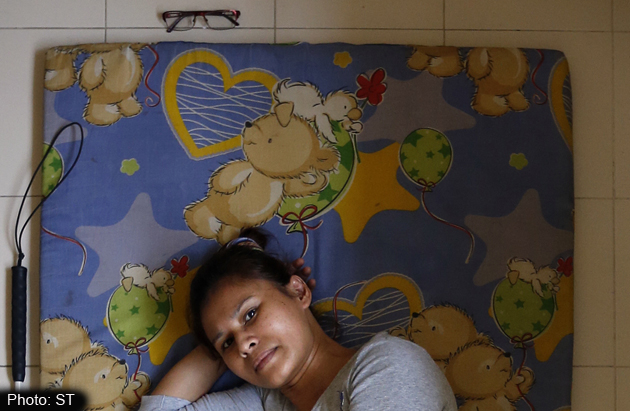 Madam Hirnie Tahir lost her cashier job when her degenerative eye disease became worse last year. Her former husband was in jail and she needed money for her four children, aged five to 11.
Then came a surprise one-off gift of $200 from the Community Justice Centre (CJC).
"I was really surprised and grateful for the help," said the 38-year-old. "I thought the CJC officer just wanted to find out about my financial situation and refer me to other agencies."
She is one of a growing number of people getting help from the centre, a charity set up in 2012 to assist those who cannot afford lawyers. It also chips in with cash assistance, provides food rations and collaborates with other social agencies for longer- term support.
In less than two years, it has already helped more than 8,000 people. Last year, the centre's Social and Referral Services programme helped 477 needy people, many of whom required financial aid. In the first eight months of this year, the number of people helped was already 489.
And this month, the centre launched the On-site Legal Advice Scheme, under which two lawyers are on hand at the State Courts five days a week to give free legal advice. An average of 14 people use the service every day, said the centre's executive director, Mr Leonard Lee.
Criminal lawyer Josephus Tan, who volunteers at the centre, which is based at the State Courts, called it a "one-stop hub" where the needs of the underprivileged could be addressed as a whole.
"Underprivileged litigants would usually have many other problems apart from the legal ones," he said. "If the root of the problems is unresolved, their lives would continue to be miserable."
The centre, a collaboration between the Ministry of Social and Family Development, the Ministry of Law, the courts, the Law Society and the Tan Chin Tuan Foundation, was set up because more people had begun representing themselves in court.
More than $420,000 was raised at its inaugural charity golf event at Sentosa Golf Club last Friday, according to Presiding Judge of the State Courts See Kee Oon, who is also the centre's chairman. The aim is to raise $800,000 in total.
For Madam Hirnie, the centre's contribution helped tide her over until she could get help from the community development council. She said: "The $200 help may not have been much to others, but it certainly helped to put food on the table for another two weeks."

This article was first published on Sep 30, 2014.
Get a copy of The Straits Times or go to straitstimes.com for more stories.