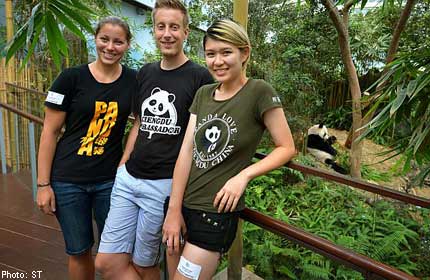 SINGAPORE - Global "panda ambassadors" Melissa Katz, 25, Jerome Pouille, 32, and Erica Chen, 27, visiting Kai Kai (in background) and Jia Jia at the Giant Panda Forest at the River Safari on Monday.
Ms Katz, a field hockey assistant coach from the United States, Mr Pouille, an ecologist from France, and Ms Chen, a fashion magazine editor from China, were winners of last year's Chengdu Pambassador competition, which saw 1.16 million applicants.
Since July 27, the winners have been on a trip to visit pandas in 14 cities and to promote conservation. Singapore is their seventh stop, after places including Japan and Thailand.
On Monday, they gave free guided tours and interacted with about 40 visitors to spread the message of conservation. They also shared their training experience at Chengdu Panda Base, a breeding and research base for giant pandas, earlier this year. Their visit comes ahead of Panda Party Week, from Sept 7 to 15, which marks Kai Kai and Jia Jia's first year in Singapore and their birthdays.
Get a copy of The Straits Times or go to straitstimes.com for more stories.