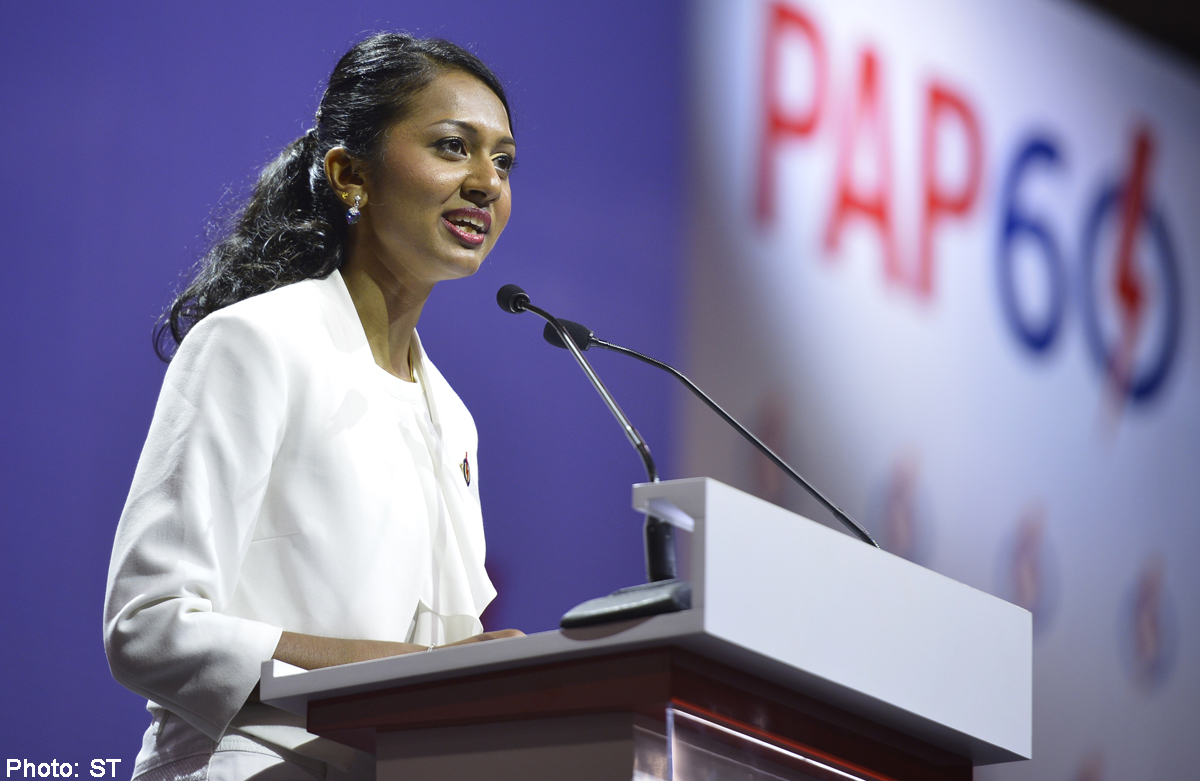 The founders of the PAP were in their 30s when they dreamed of freedom and a society of equals 60 years ago, Young PAP member Cynthia Mark, 29, said yesterday.
And she has a vision of a Singapore where all jobs are equally respected and people pay taxes not because they have to, but because they want to help fellow citizens.
"In 50 years, we dream of a Singapore with no cars, no waste, 100 per cent recycling and a sense of collective destiny driving our social behaviour," she told the party's 60th anniversary rally.
Ms Cynthia, a manager with a shipping company, was one of four PAP activists who spoke about their hopes for the country to, among others, be inclusive and have active citizens.
Another speaker, Mr Saktiandi Supaat, 41, previously identified as a potential candidate, said Singapore cannot become stratified and segregated, or leave behind the underprivileged.
Instead, said the PAP Policy Forum member and head of foreign exchange research at Maybank, the nation must be a place where people "readily extend their hand to those lagging behind".
Ms Cheryl Chan, 38, of the PAP Women's Wing, said it was key to minimise the debilitating effects of a widening social gap.
Dr Kee Wei Heong, 65, a gynaecologist who volunteers in Bukit Gombak, spoke about the need to engage seniors, including party stalwarts who had a wealth of experience to share.
The speakers said that for all this to happen, a spirit of volunteering should be encouraged.
Ms Chan, who is head of electronic materials at a chemicals firm, said: "We cannot be happy to only seek entitlements without any associated responsibilities."
Prime Minister Lee Hsien Loong acknowledged this in his speech, calling on individuals to come together to take part in community life and solve problems.
Still, activists said politics was not for the faint of heart. Ms Cynthia said: "You will get flamed... you will be criticised online and offline."
But she urged them to take heart: "If this be so, we walk in the footsteps of our political fathers. They battled for Singapore. Everything was against them."
charyong@sph.com.sg

This article was first published on Dec 08, 2014.
Get a copy of The Straits Times or go to straitstimes.com for more stories.