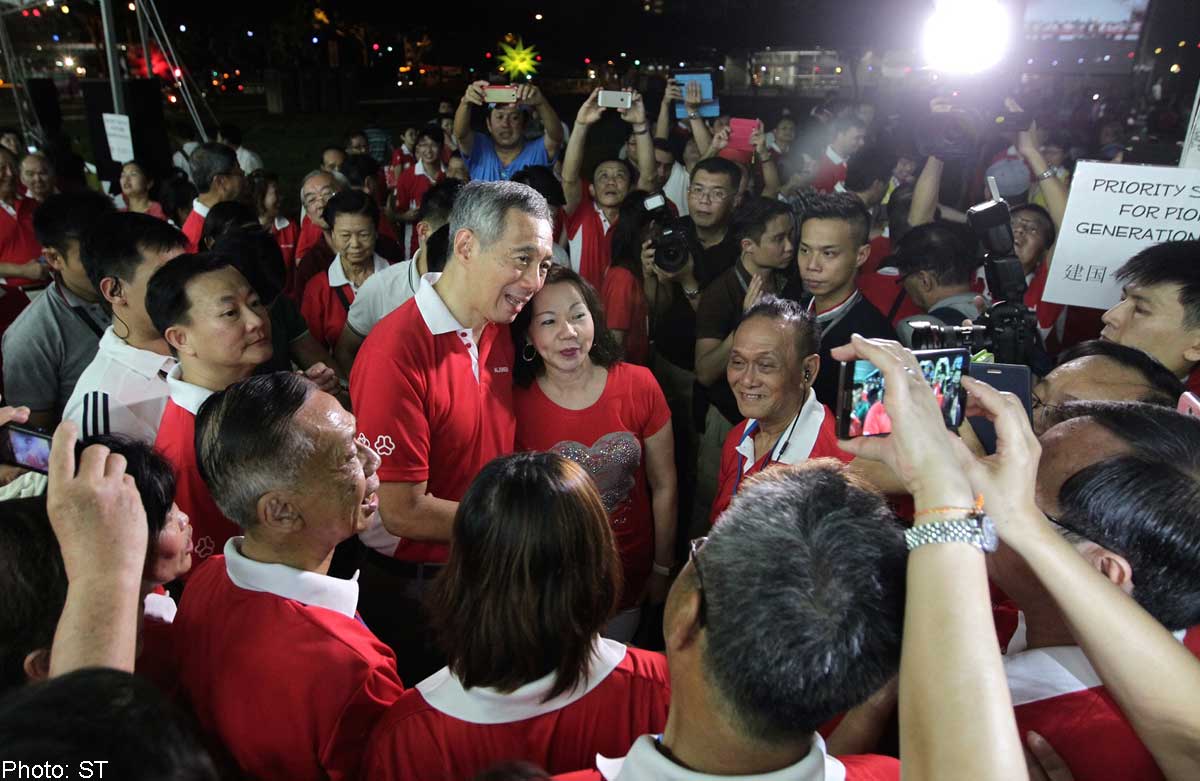 The People's Action Party's (PAP) slate of potential candidates for opposition-held Aljunied GRC is "getting into place", former PAP chairman Lim Boon Heng said last night.
He spoke to reporters during a community event attended by Prime Minister Lee Hsien Loong, in the PM's first public appearance in Aljunied GRC since his party lost the constituency to the Workers' Party in the May 2011 General Election.
PM Lee mingled with residents before delivering brief remarks on stage on the launch of the Care programme, which stands for communication, action, response and engagement. It is a community messaging and alert system rolled out by the Bedok Reservoir-Punggol Citizens' Consultative Committee (CCC).
Mr Lee said Care would allow people in the GRC to communicate with and help one another should anything happen. "Tell your friends and ask them to also join in the care network and support your CCC chairman and your grassroots so we can make this a good place," he added.
More than 5,000 people attended last night's launch, and what was planned as a 20-minute session for Mr Lee to meet and greet residents stretched to more than 45 minutes, as hundreds of people surrounded him and asked to take "selfies" with him.
Speaking to reporters on the sidelines, Mr Lim, a former Cabinet minister who has made several appearances in Aljunied GRC since the last GE in his capacity as special adviser to the chairman of the People's Association, said: "As you can see, the morale in the grassroots has improved since 2011. The level of activities has increased... Residents are also getting used to the team."
He was asked about the PAP's current slate for Aljunied GRC, now that Mr Ong Ye Kung, 44, has announced his move to Sembawang GRC.
Mr Lim said in reply: "It is getting into place. Of course, party strategy can change according to the situation.
"We've a number of people working on the ground but have to see if they are best suited for this place or not."
Mr Ong is the only member of the PAP's 2011 Aljunied slate to still chair a PAP branch in the GRC, in his case, Kaki Bukit.
The other four members of that slate have stepped down as branch chairmen. The current chairmen of the PAP branches in Aljunied GRC are long-time party activists Victor Lye, 51, in Bedok Reservoir-Punggol; Mr K. Muralidharan Pillai, 46, in Paya Lebar; Ms Chan Hui Yuh, 37, in Serangoon; and Mr Chua Eng Leong, 43, in Eunos. In the running to take over the Kaki Bukit PAP branch chairmanship from Mr Ong is Mr Kahar Hassan, 45, a deputy director with rail operator SMRT.
The PAP's branch chairmen are usually its elected candidates in that ward. Where it is not in power, the branch chairman is usually its defeated - or prospective - candidate for the ward.
When asked about the new line-up, including Mr Kahar and Mr Chua, Mr Lim said: "They are very committed. To me, they are the hard-working type."
Last night's event also included a performance by the Singapore Chinese Orchestra, sponsored by Singapore Press Holdings (SPH) as part of its SPH Gift of Music series.
Mr Lye, who also chairs the Bedok Reservoir-Punggol CCC, said of the turnout: "There are people who know the Government can do a good job. While it is not perfect, they know this Government is doing something for the people - it is not short term."
When asked about his political future, he said: "Let the ground throw up leaders who must serve the people first. Politics should come later.
This article was first published on July 14, 2014. Get a copy of The Straits Times or go to straitstimes.com for more stories.