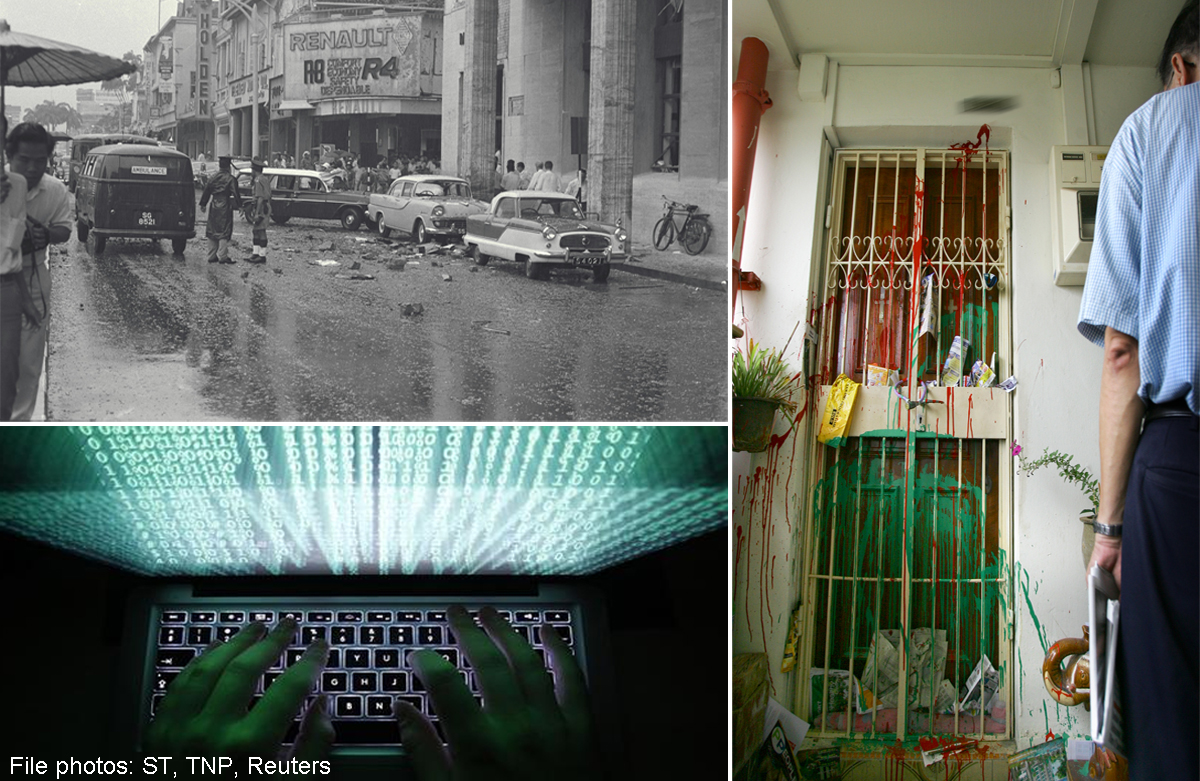 The Problem: O$P$
People who allow loan sharks to use their bank accounts will have their ATM and Internet banking facilities terminated. Dealing with illegal moneylenders was among topics discussed during the Committee of Supply debate in Parliament last Thursday.
CURRENT ACTION
Tough laws enacted:
1. Use of closed-circuit television, such as installing police cameras in more than 2,000 HDB multi-storey carparks and residential blocks.
2. Community involvement, such as having nearly 10,000 volunteers patrolling their own neighbourhoods and promoting a greater sense of vigilance.
3.Public education, including the police highlighting to people how they can protect themselves against harassment.
Second Minister for Home Affairs S. Iswaran says: "Police will also press ahead with the community outreach efforts to educate the public, especially the financially vulnerable, on the perils of borrowing from loansharks..."
EFFECT
Unlicensed moneylending and loanshark harassment cases fell from a high of more than 18,000 cases in 2009 to about 8,300 cases last year.
The cumulative decline is more than 55 per cent in the past four years.
Shift in harassment tactics: For instance, harassment cases with damage to property fell by almost one third, or 2,461 cases, over the past year.
Deputy Prime Minister and Home Affairs Minister Teo Chee Hean says: "A coordinated and integrated approach including strengthened laws, coordinated and sustained enforcement, effective use of technology and strong community partnerships, brought the (unlicensed moneylending) issue under control."
NEW ACTION
More tightening against:
1. Those who help loan sharks
Three-year pilot in which the police works with banks to terminate ATM and Internet banking facilities of those convicted of or severely warned about helping loan sharks use their bank accounts.
Termination to last a year and banks to assess if the services will be reinstated after that.
Second Minister S. Iswaran says: "On the enforcement front, police has detected an increasing incidence of debtors assisting unlicensed moneylending syndicates by allowing their bank accounts to be used for transactions."
2. Syndicates
New laws against overseas-based groups with activities in Singapore. Details to come.
DPM Teo says: "Because many... syndicates are now transnational, with ringleaders based overseas, our investigation officers also work closely with their overseas counterparts to track them down, dismantle the syndicates, and bring the perpetrators to justice."
The Problem: Tackling 'serious' drug concern
About two thirds of the new drug abusers arrested last year were below 30 years old, said Senior Minister of State for Home Affairs and Foreign Affairs, Mr Masagos Zulkifli, on Thursday.
He also pointed out that close to three-quarter of the new drug abusers last year took methamphetamine - more commonly known as "Ice" - and cannabis.
MPs Vikram Nair and Alvin Yeo pointed out that these drugs, which some may deem "party" or "lifestyle" drugs, have been gaining popularity of late.
The numbers prompted Mr Masagos to call the drug situation in Singapore "a serious concern". He then outlined the Home Affairs Ministry's approach to cope with the drug problem here, particularly for youths and first-time abusers.
SOCIAL MEDIA
The Central Narcotics Bureau (CNB) will continue using social media sites to reach out to youths.
Last April, the bureau launched youth-oriented blog LiveItLoud.Sg to promote a healthy and drug-free lifestyle.
PARENTS
As parents can play an active role in speaking to their children, guiding them to the right information and keeping them away from drugs, CNB will be working with popular local magazines throughout the year to touch on topics like the effects of drugs and the importance of family support.
CNB is also working with the Ministry of Education (MOE) on articles with anti-drug information for parents on MOE portals and individual school websites.
QUICK ACTION
Early intervention programmes for young drug abusers will be strengthened.
With sufficient support, these low-risk young abusers have a good chance of turning over a new leaf and staying away from drugs, said Mr Masagos.
A collaboration with the Ministry of Social and Family Development to introduce counselling for young first-time drug abusers last July has benefited 28 youths, aged 14 to 20.
Later this year, there will be a Community Rehabilitation Centre for moderate-risk youths.
The move will allow youths to continue their schooling and employment in the day, before returning for counselling and programmes in the centre.
The Problem: Cybercrime and attacks
Singapore experienced systemic threats to critical information infrastructure last year.
The number of cheating cases involving e-commerce more than doubled last year compared to 2012.
Internet love scams also increased by more than 60 per cent: The amount cheated last year - more than $5 million - was five times that in 2012.
ACTION TAKEN
Computer Misuse and Cybersecurity Act amended last year to strengthen defences against cyber attacks.
National Cyber Security Centre to start operations next month and work 24/7 to detect major national cyber threats.
Cyber Security Lab in the Home Team Academy to open in September - to provide realistic hands-on training for those overseeing national critical information infrastructure.
The Problem: Terrorism
Concerns include political instability spawning new terrorist groups and self-radicalisation.
ACTION TAKEN
Since 2007, five self-radicalised individuals have been detained under the Internal Security Act (ISA). Restriction orders were issued against six others.
(All were radicalised through the Internet and intended to wage armed jihad in overseas conflict zones.) Community efforts to counsel and rehabilitate those involved in terrorism-related activities, including 66 detained under the ISA since January 2002.
More than two-thirds have been released.
The Problem: Automated External Defibrillators (AEDS)
To improve emergency medical response, AEDs will be made more accessible.
ACTION TAKEN
The Singapore Civil Defence Force (SCDF) and Singapore Heart Foundation to set up and maintain the National AED Registry - to guide members of the public to the nearest AED in an emergency.
SCDF to develop a complementary mobile app alerting volunteers trained in AED and cardiopulmonary resuscitation (CPR) to emergencies in their immediate vicinity.
Encourage AEDs to be installed in public places with high human traffic.
Train more first responders in the community.
Install AEDs in community centres, conduct cardiopulmonary resuscitation and AED training sessions for People's Association staff and the public.
kohht@sph.com.sg

Get The New Paper for more stories.