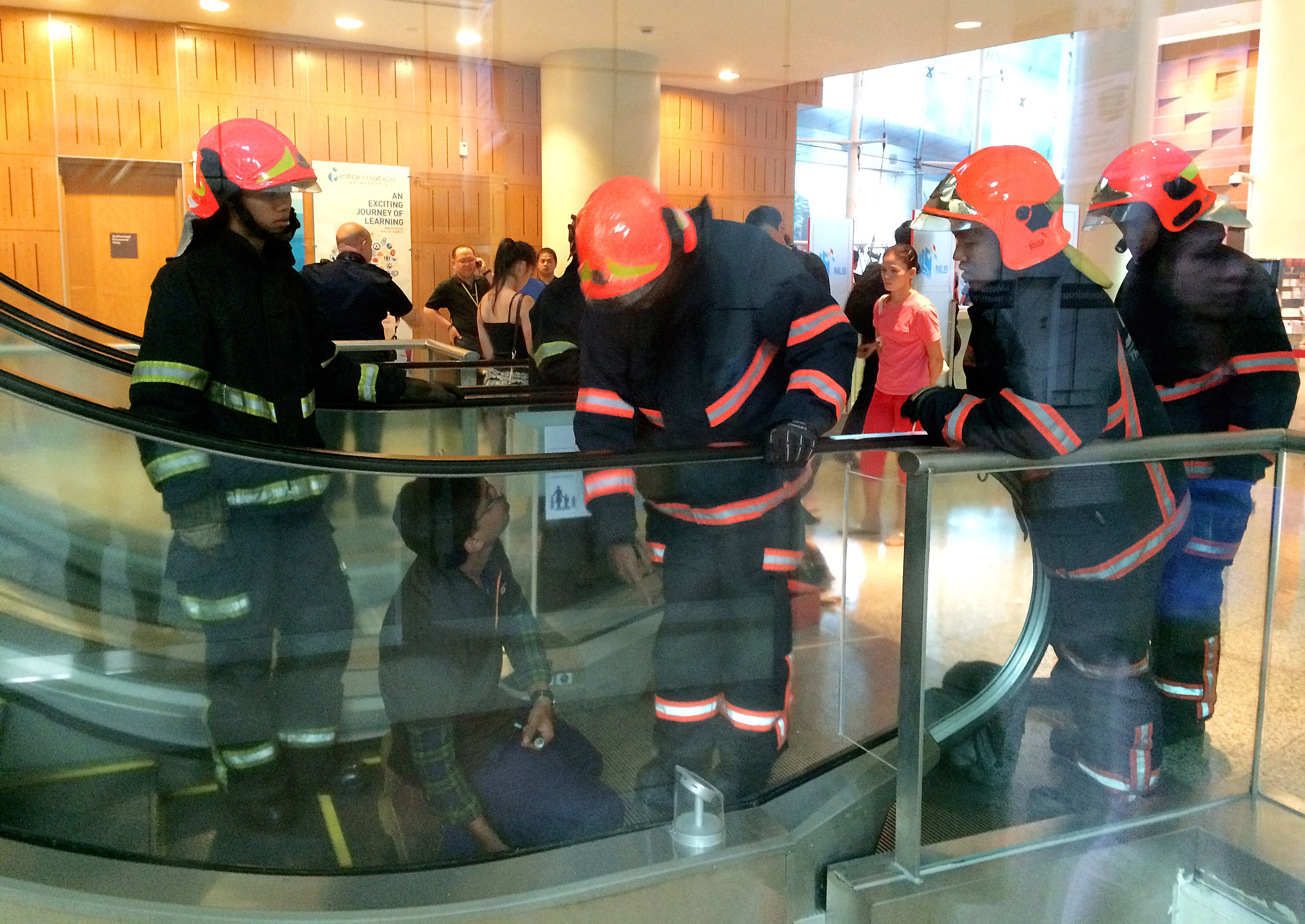 The piercing screams came from behind him.
When Mr Greg Choong (right) turned around, he saw a woman and a boy on an escalator.
They were in the middle section of the escalator and were struggling wildly. The escalator leads from the second to the first storey of the National Library in Victoria Street.
Said Mr Choong, 50, a director of sales in the telecommunications industry: "I immediately thought of two scenarios. They had either lost their balance or the boy's foot was stuck in the escalator."
He dashed to their aid, running against the downward-moving escalator. He was right - the boy's right foot was caught in the escalator.
The incident happened on Saturday at about 6pm.
Mr Choong, who was leaving the National Library with his family when he heard the screams, said the boy managed to free his foot soon after he reached him.
Mr Choong grabbed him and carried him to the first storey, where he asked security officers for a first aid kit.
With help from library staff, he bandaged the boy's toe and foot.
"The top half of his right big toe was severed. I could even see the zigzag razor marks.
"There was blood everywhere," he said.
He said the boy was screaming and crying before going into a daze soon after his foot was bandaged.
"The mother was extremely distraught and seemed like she was on the verge of fainting," said Mr Choong, who noted that the boy was wearing rubber shoes.
Mr Choong's family members were also stunned by the incident.
He said: "My wife, children and maid did not even dare look at the boy's injuries. They were afraid they would be traumatised."
The Singapore Civil Defence Force said it was alerted to the incident at 6.10pm. It sent a fire engine and an ambulance to the scene.
The boy was taken to KK Women's and Children's Hospital.
The New Paper understands he is about five years old.
SIMILAR EXPERIENCE
Mr Choong said he had a similar experience five years ago, when his daughter's rubber shoe almost got stuck in an escalator. Fortunately, his daughter, now 12, escaped with light bruises and cuts.
The father of three said: "As a parent myself, it was very painful for me to see the boy's toe severed.
"I hope that this incident will not have any long-term impact on him."
A relative of the boy told TNP that the boy is recovering. 
krystalc@sph.com.sg

This article was first published on January 26, 2016.
Get The New Paper for more stories.