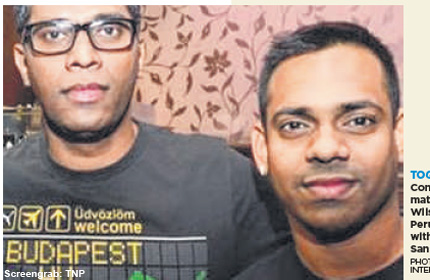 They knew each other for a decade and were like brothers. They kept close contact though they were in different parts of the world.
Chann Sankaran, the Singaporean who was arrested on Tuesday in the UK on suspicion of match-fixing, had visited convicted match-fixer Wilson Raj Perumal a few times in Hungary.
He had partied in nightclubs in Budapest, Hungary, with Wilson Raj, who he had proudly dubbed "boss" to an undercover investigator.
TNP found out that the two would even swap hats and T-shirts before hitting town. Yet, when Chann was caught in the sting by British cops, Wilson Raj had said he had no hand in the alleged kelong attempts.
Wilson Raj had attributed Chann's folly to desperation. He said in an e-mail to The New Paper yesterday: "Chann was broke, so he seized this opportunity when the agent promised to pass him 60,000 euros ($100,000) to bet in the matches he could fix. I did warn Chann on the dangers of sting operations in UK... Poor Chann bit the bait."
The Singaporean and another man, Krishna Sanjey Ganeshan, 43, who works for a sports promotion company, were charged yesterday.
Apparently, Chann had been lured through Facebook.
He had allegedly introduced football players to undercover agents when he flew to the UK on three occasions.
Chann was arrested before he could fly back to Singapore.
Said Wilson Raj: "In my opinion, Chann has never fixed a single match in all his life... He was set up."
SI Sports Intelligence's director of operations, Mr Michael Pride, said footage in which Chann boasted about his syndicate to an undercover investigator was damning.

Get The New Paper for more stories.